Description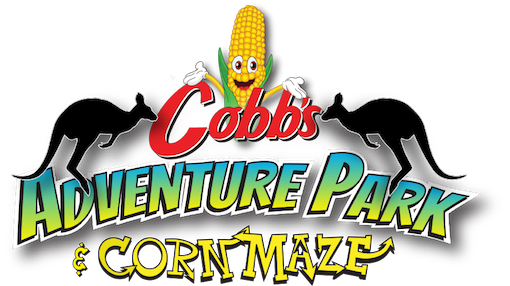 Roots invites ALL homeschool families to join us at Cobb's Adventure Park & Corn Maze! The park will be open from 9:30 am - 2:30 pm.

This event is suitable for all ages!
Registration Deadline: Sunday, October 1, 2017

IMPORTANT INFO:
- Please arrive at the park at 9:15 to sign in and receive your wristband. The park will open at 9:30.
- General Admission includes: Corn mazes, Rope maze, puzzle mazes, giant games, pedal carts, playground, Maze mountain slides, Bouncy World, tractor ride and much more! Check out Cobb's at http://www.cobbsadventurepark.com/attractions.html for a listing of all of their activities.
- If you would like to participate in a bonus activity please add it to your registration. You can choose one or both activities! These activities must be prepurchased, there will not be tickets for sale the day of the event.
-------------------------------------------------------------------------------------------------------------------------------------------------------------
The following Education Programs are included with general admission and will run on a schedule throughout the day. When registering please select the programs you would like to attend. (You can choose to attend as many as you'd like).
Plant Life Cycle: Ever wonder about the challenges of growing corn in Calgary's ever changing climate? Learn how our diverse weather affects how our plants grow and see the different stages of growth in pumpkin plant.

Animal Care with the 3 Little Pigs & Kangaroos: Meet Wilbur, Babe, and Mr. Kevin Bacon our resident 3 "little" pigs and our new Kangaroos! Learn some fun facts about Pot Bellied pigs and Kangaroos and what they need for proper care to stay happy and healthy.

Gemstone Mining: Students will learn about 3 different rock categories and how to identify rocks from each one, as well as some differences between rocks and minerals before sluicing out their own treasures to take home!

FAQs
I have a question, who do I contact?
Please contact Tanis (field-trip organizer and Roots HS mom)
Phone: 403-923-3490 or Email: thereuters@shaw.ca.

My child is not registered with Roots, can they still attend?
Yes! Roots is hosting this event but we are happy to have any homeschoolers come and join in on this day!

Do I have to bring my printed ticket to the event?
No, you do not have to bring a ticket. We will have a master list with all the registration info.
If I am unable to attend may I get a refund?
We're sorry but we are unable to provide refunds. But, please feel free to find another family to sell or pass along your tickets to.
What can I do for lunch?

Feel free to pack a picnic and bring your own snack or drinks. Or, Cobb's also has plenty of food options for you to choose from! From hamburgers, hot dogs, chicken fingers, french fries, poutine, nachos & fried pickles. We also have a variety of beverages – pop, juice boxes, water, slushies, & smoothies! They also have a Candy Store and Ice Cream Shoppe with ice cream, candy, mini donuts, popcorn, homemade fudge and more! Please note food will only be available for sale during the lunch hour, not all day.

Other Important Details:
Please check out Cobb's FAQ's page for more info:
http://www.cobbsadventurepark.com/visitor-info/plan-your-visit-faqs.html
Save
Save
Save
Save
Save