Description
Your family is invited to a "Shoeboxes of Hope" packing party in partnership with HART!
HART is dedicated to alleviating poverty and injustice in Eastern Europe
by working as a servant ministry alongside local Christian leaders, organizations
and churches - giving them the tools to build a better world for themselves,
their communities and their countries. For more information please visit http://hart.ca/
The boxes that we decorate and lovingly fill will be given to refugee, orphan an gypsy children in Eastern Europe for Christmas.
Date: Monday, October 17, 2016 (10am-12pm)
Location: 106, 90 Freeport Blvd, NE
This family-friendly event is open to all ages!
Registration Deadline: October 12, 2016
"Shoeboxes of Hope" Morning Schedule:
Welcome & Visiting
Slide Show Presentation on Ukraine, HART and the Shoeboxes of Hope program.
Decorating & Packing Shoeboxes (HART will provide boxes)

Snacks & Drinks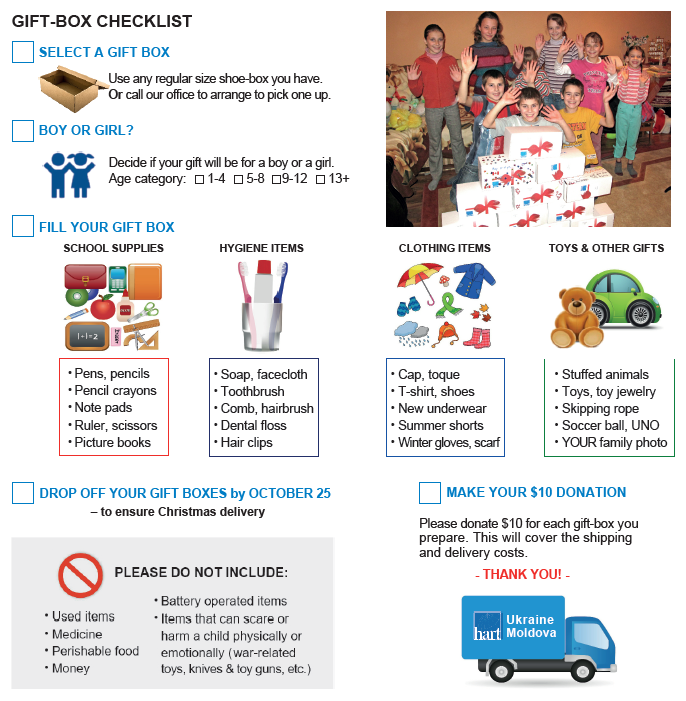 I have a question, who do I contact?

Please contact Marg Andrusky (HART volunteer) at marg@hart.ca. Or, Jennifer Scholten (field-trip organizer and Roots HS mom) at jenscholten@gmail.com.
My child is not registered with Roots, can I still attend?

Yes, you are welcome to attend! Root families were given priority to register first but now this event is open to all homeschoolers.
Do I have to bring my printed ticket to the event?
No, you do not have to bring a ticket. We will have a master list with all the registered families.

Save
Save