Description
Your family is invited to a "Shoeboxes of Hope" packing party in partnership with HART!
HART is dedicated to alleviating poverty and injustice in Eastern Europe by working as a servant ministry alongside local Christian leaders, organizations and churches - giving them the tools to build a better world for themselves, their communities and their countries. For more information please visit http://hart.ca/events/gift-boxes-of-hope-2/.
The boxes that we decorate and lovingly fill will be given to refugee, orphan an gypsy children in Eastern Europe for Christmas.
This family-friendly event is open to all ages!
Registration Deadline: September 25
"Shoeboxes of Hope" Morning Schedule:
Welcome & Visiting
Slide Show Presentation on Ukraine, HART and the Shoeboxes of Hope program.
Decorating & Packing Shoeboxes (HART will provide boxes)

Snacks & Drinks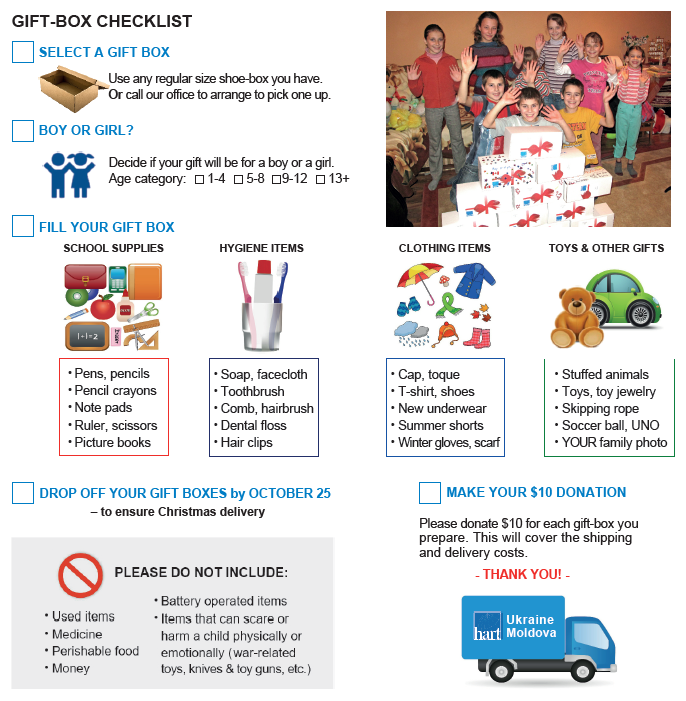 Bring items specific to the age/gender of child you choose
Boy/Girl
Ages 5-8, 9-12, 13-15
ITEMS TO BRING

School Supplies– Pens, pencils, crayons, ruler, scissors, sharpener, eraser, markers, highlighters, pencil case, geometry sets
Hygiene products-Soap, facecloth, toothbrush, comb, hairbrush, hair accessories, shaving razor & gel (essential for boys & girls aged 13-18), hygiene pads (essential for girls aged 13-18)
Clothing - Cap, toque, t-shirt, socks, underwear, winter gloves, scarf
Other Gifts– coloring/activity book, stickers, small stuffed toy, skipping rope, yo-yo, painting kit, multi-purpose tool (boys 13-18) sewing kit (girls 13-18) band aids, tote bags, YOUR family photo
Do Not Include- Used items, Medicine, Perishable food, Money, Battery operated items, items that can scare or harm a child physically or emotionally (war-related toys, knives & toy guns, etc.)
COST
Please include your donation of $10 for each gift-box you prepare to cover the shipping and delivery cost.
I have a question, who do I contact?

Please contact Olga Martinez (field-trip organizer and Roots HS mom) at olgacm@telus.net

My child is not registered with Roots, can I still attend?

Yes, all families are welcome to attend!
Do I have to bring my printed ticket to the event?
No, you do not have to bring a ticket. We will have a master list with all the registered families.