Join NAIOP for a condensed tour of Rossdale Power Plan, followed by a presentation by Prairie Sky Gondola.
About this Event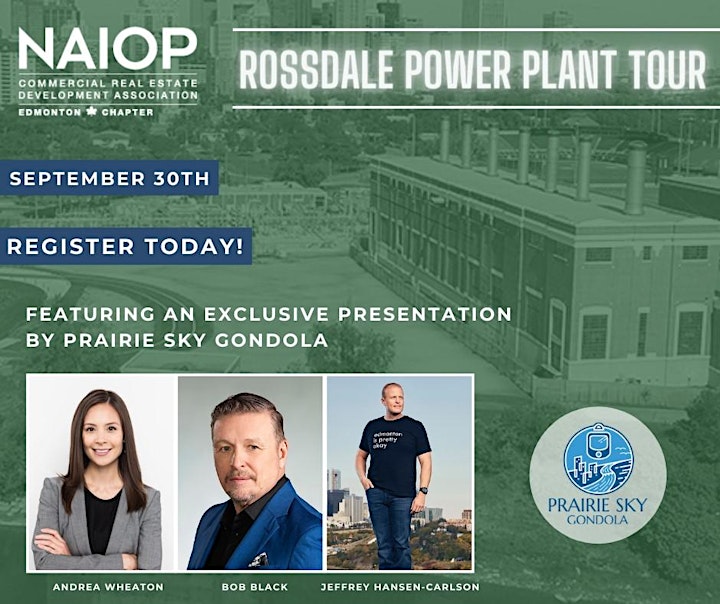 The history, ownership, and development complexities of the Rossdale Power Plant will be explored and discussed in order to provide context for the proposed re-development of the Rossdale area known as River Crossing.
New plans for the area rely on providing better access and connectivity – a problem that Prairie Sky Gondola is working with the City to address. This event provides a unique opportunity to understand the development of this important site and the current status of the proposed gondola.
About Prairie Sky Gondola
Prairie Sky Gondola is a privately owned company that was born out of the Edmonton Project in March of 2017. With the diligent work of some of Edmonton's most progressive and ambitious city builders, this lofty idea has continued to gain momentum and is now in phase two of project development with the City of Edmonton. The vision is to provide a modern-day urban transportation, river valley activation, and tourism experience that will connect communities and empower city builders.  
About the Rossdale Power Plant
Built in the 1930s, the Rossdale Power Plant represents an important part of our city's legacy including 10,000 years of archaeological record and several sacred indigenous sites. The plant stopped producing power in 1989 and received its historical designation in 2001. Prairie Sky leased the building this summer in order to provide Edmontonians with a chance to tour this historic site before it undergoes further repairs in October 2020. 
About the Speakers
Andrea Wheaton
Andrea Wheaton is Director of Wheaton Properties, a family-held commercial real estate investor in Western Canada. When asked why she's taken a seat on the board of Prairie Sky she said, "This project is bold, innovative, sustainable and just plain fun. It's the single most effective idea I've seen to not only enhance but reimagine how we enjoy the beauty and rich amenities of our river valley, Old Strathcona and Downtown."
Bob Black
Bob Black, Q.C. is a partner at the prestigious Western Canada law firm, MLT Aikins. Bob spent 10 years with the Katz Group and Oilers Entertainment Group during which he played a leadership role in the visioning, design and construction of Rogers Place Arena and ICE District. Commenting on why he was drawn to the gondola project, Bob said, "I've seen the power of city building projects up close and in person and I am compelled by the vision of connecting Whyte Ave, the River Valley and Jasper Ave with a seamless, sustainable, efficient, and experiential transportation system."
Jeffrey Hansen-Carlson
Jeffrey Hansen-Carlson has been leading Prairie Sky since its inception. He has spent his career in the construction and development industry in Western Canada. He is an Avenue Edmonton Top 40 Under 40 alumni and has track record of starting city building organizations. As a director at Ellis Don he brings finance, real estate, and project development expertise to the project. Why did he take the lead? "I had to. This came out of nowhere. It's special. Not often can private enterprise unlock such a profound public benefit."
Note: There is no parking provided on-site. Please view the following maps to find out where to park for this event: REMAX | Kinsmen