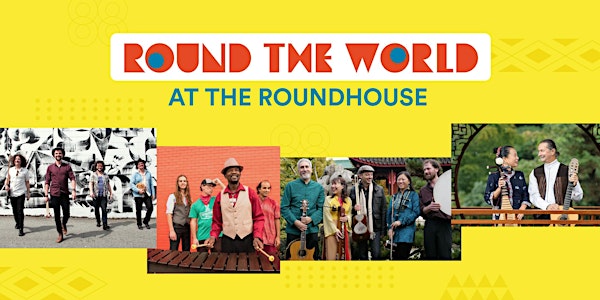 Round the World at the Roundhouse
Location
Roundhouse Community Arts & Recreation Centre
181 Roundhouse Mews
Vancouver, BC V6Z 2W3
Canada
Free outdoor concert series showcasing 4 exciting and creative world music groups over two afternoons .
About this event
NOTE: This is not a ticket or Advance Registration for this event, but a general donation to the organization and the artists performing. The event is first come first serve, with a capacity of 200 (20% of pre-covid legal capacity). People can and come and go. The Ticket link is to make a donation to Caravan for our events. LImited seating by the stage, and room for dancing further away.
Caravan World Rhythms and the Roundhouse Centre are overjoyed to once again present live music in front of live audiences after a long Covid hiatus. We launch the return, showcasing four of Vancouver's well-known world music groups over two afternoons, featuring some new collaborations and new works developed during Covid times!
The event will take place outdoors at the Roundhouse Turntable Plaza, at Pacific and Davie, in Yaletown, Vancouver, BC. There is limited capacity, some seating, and Dancing is Permitted!
On July 30, Zimbamoto and the Robin Layne & the Rhythm Makers will quickly get people on their feet dancing to infectious African and Latin American rhythms and songs, with the marimba being the centre-piece in both groups, in a showcase we have called "Marimba Madness"!
On August 1, the marimba reappears in but in a more classical and Asian context, with the Orchid Ensemble Sounds Global project. Also performing are Silk Road duo with special guest Chinese musicians. Both groups will be performing new collaborative works.
THE EVENT IS FREE, BUT DONATIONS ARE VERY MUCH APPRECIATED!
SCHEDULE AND PERFORMERS
FRIDAY, JULY 30 – MARIMBA MADNESS!
ZIMBAMOTO (4:30pm)Led by master Zimbabwean musician Kurai Mubaiwa, ZIMBAMOTO's 5-piece band brings an exhilarating flavour of traditional and contemporary music from the southern African region, centered around the lively marimba and traditional mbira (thumb piano), with songs in the Shona language.
ROBIN LAYNE & THE RHYTHM MAKERS (6:30pm)Marimba player and percussionist Robin Layne leads a vibrant ensemble with roots in rhythmic traditions from around the globe (West Africa, Cuba and more) delivering music that transcends the boundaries of jazz, world and folk.
SUNDAY AUGUST 1 – ASIAN VOYAGE
ORCHID SOUNDS GLOBAL ENSEMBLE (3:30pm)The Orchid Ensemble trio are joined by Moshe Denburg and Ali Razmi, in the new Sounds Global project, born from Covid times, with a diverse repertoire drawn from Jewish, Persian, Taiwanese, Vietnamese, Indian and Chinese music. Mesmerizing and enchanting!
SILK ROAD & GUESTS (5:30pm)Silk Road's virtuosity and imagination take you on a journey into a colourful music world. From ancient Chinese scores to contemporary compositions, from a foot tapping Irish jig to a heartfelt Chinese love song, and even some Spanish flamenco can be heard! Silk Road is led by Qiu Xia He and André Thibeault
For more info, visit caravanbc.com, roundhouse.ca.