Roundtable: Exploring the Future of Translation
About this Event
Voir plus bas pour la version française.
Join us and our panel of expert practitioners, managers, strategists and educators as we take a closer look at a rapidly growing and changing language industry. Hear first-hand accounts about the career development decisions made by enterprising language professionals in response to marketplace challenges and opportunities. Learn more about how technology is shaping, and will continue to shape, the day-to-day realities of translators and how the profession is poised to evolve in the coming years. Discover the strategies and skill sets that can make a real difference in getting ahead in the increasingly overlapping areas of the language industry. And find out how all this will impact your career trajectory as an aspiring or working language professional.
This discussion will delve into some of the issues that informed and inspired the recent revamp of McGill's Certificates in Translation. Offered in three language pairs (French to English, English to French, English to Spanish) and taught by active industry practitioners, these revised programs are designed to help tomorrow's language professionals kickstart their careers today.
This is the second in a series of conversations we will be leading throughout the year to reflect on the future of translation within the broader language industry.
Schedule:
6:00 p.m. to 6:30 p.m. - Wine & cheese networking
6:30 p.m. to 7:30 p.m. - Panel discussion
7:30 p.m. - Q&A
Guest Speakers:
Moderator:
María Sierra Córdoba Serrano - Associate Professor and Associate Director, Translation Studies, McGill University School of Continuing Studies
This event is free, but seating is limited. Make sure to reserve a ticket.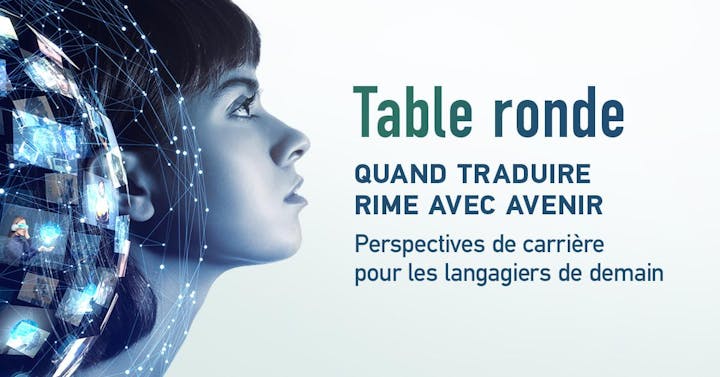 Joignez-vous à notre panel de praticiennes, de gestionnaires, de stratèges et de professeures afin de discuter de l'industrie langagière, qui connaît une croissance et une évolution fulgurantes. Venez entendre les témoignages de professionnelles entreprenantes qui ont su surmonter les difficultés et saisir les occasions offertes par le marché. Profitez de leur expertise pour mieux comprendre le rôle de la technologie dans la transformation actuelle et future de la réalité quotidienne des traducteurs, ainsi que des changements qui attendent la profession au cours des prochaines années. Découvrez les stratégies et les compétences qui permettent d'anticiper et d'embrasser l'accroissement des chevauchements des différents secteurs de l'industrie langagière. Venez également en apprendre davantage sur les conséquences de tout cela sur votre trajectoire professionnelle de langagier ou d'aspirant langagier.
Nous aborderons ainsi certains des enjeux ayant inspiré et alimenté la refonte récente des certificats en traduction de l'Université McGill, dont l'enseignement est notamment confié à des praticiens actifs de l'industrie. La nouvelle mouture des programmes, offerte dans trois paires de langues (du français à l'anglais, de l'anglais au français et de l'anglais à l'espagnol), est conçue pour aider les langagiers de demain à lancer leur carrière dès aujourd'hui.
Il s'agit là de la deuxième d'une série de rencontres qui se dérouleront tout au long de l'année pour réfléchir à l'avenir de la traduction au sein de l'industrie langagière.
Programme :
18 h à 18 h 30 - Réseautage autour de vins et fromages
18 h 30 à 19 h 30 - Panel
19 h 30 - Questions et réponses
Panélistes invités :
Amy Butcher - Traductrice, réviseure et rédactrice, mentor en traduction et propriétaire de Traductions Amy Butcher
Maïté Indacochéa - Spécialiste en référencement naturel et en référencement payant et stratège marketing chez Solution ERA
Josée Legault - Directrice linguistique principale, SDL
Deepti Limaye - Traductrice, interprète de conférence et chargée de cours à l'École d'éducation permanente de l'Université McGill
Nancy Locke - Traductrice chez Fasken, conférencière et rédactrice
Modératrice :
María Sierra Córdoba Serrano - Professeure agrégée et directrice adjointe, Unité de formation en traduction, École d'éducation permanente de l'Université McGill
Entrée gratuite. Places limitées.