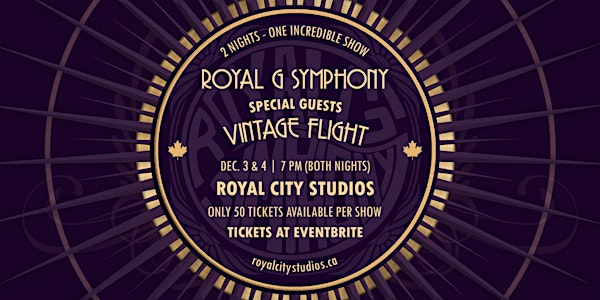 Royal G Symphony and Vintage Flight at Royal City Studios - Dec 3 and 4
2 kick-ass bands, 2 nights back to back! Prepare for a night to remember. All ages, licensed, free parking, accessible. Support Movember!
When and where
Location
Royal City Studios 930 Woodlawn Road West #Unit 1 Guelph, ON N1K 1T2 Canada
Refund Policy
Contact the organizer to request a refund.
Eventbrite's fee is nonrefundable.
About this event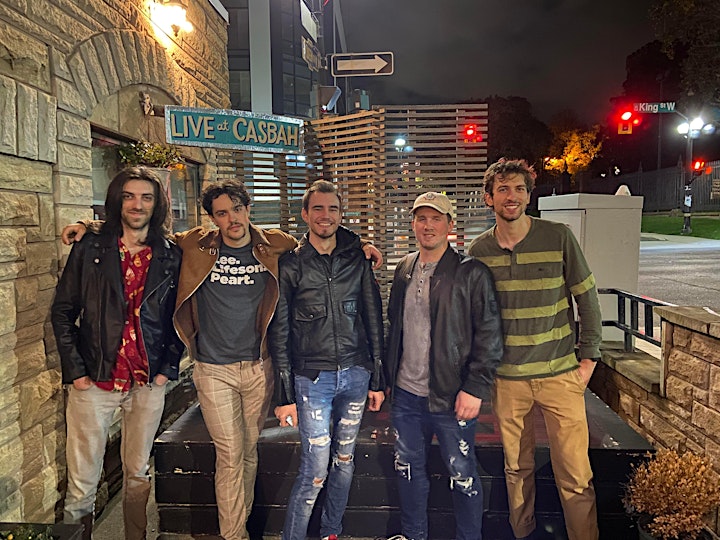 A new take on alternative rock! Members Calum, Tristan, Michael, Aaron, and Darian came together from across Ontario with different stories, idols, and musical influences. Combining these differences in the bars and music halls of Guelph, ON, Royal G Symphony presents a dynamic, diverse, unmistakably Canadian sound.
Authentic music pairs personal stories of love, loss, alienation and elation with carefully composed melodies and impactful rhythm.
In the first recorded work from Royal G Symphony, The King's Highway showcases the dynamic nature of their sound! Authentic rock influenced by Canadian radio that twists and turns like a Rocky Mountain road trip! Featuring the unreleased tracks "the Highway", "Merlot" and "I'm Not Crazy" as well as singles "Juno and "Don't Look Now", The King's Highway has a sound for every rock lover!
Check out their website: www.royalgsymphony.com
Vintage Flight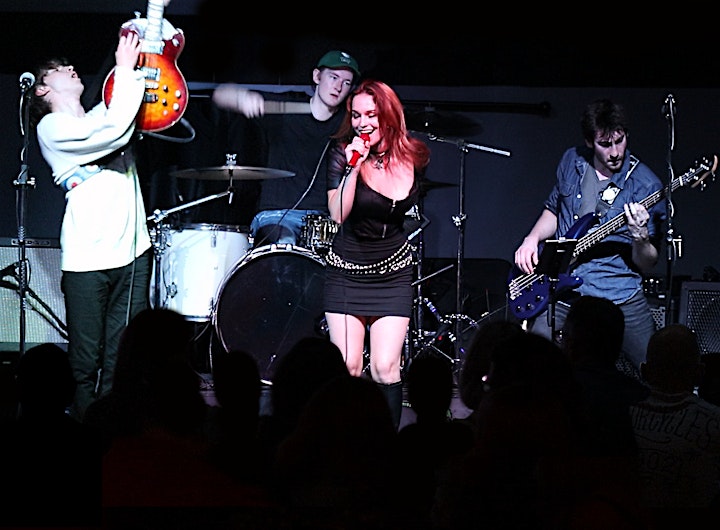 Like the great rock & blues bands that paved the runway for music, Vintage Flight's fans not only wear their cool band shirt, but actually listen to the music and go out of their way to see their concerts. They somehow capture that classic rock vibe complete with soul-filled powerhouse vocals, epic guitar solos, fat bass lines, memorable riffs, meaningful lyrics and drums that make you wonder how many hands one person can have... It's new music with a vintage edge and they will amaze and surprise you. If you love Led Zeppelin, Rush, The Who or Sabbath, you won't want to miss this young band whose talent, songs and tight, high energy performances are often compared to the bands that inspire them... That inspire all of us. They are Tyler Shea (drums), Matthew Gaston (bass and vocals), Jake Shepherd (guitar) and on lead vocals Avalon Bridger. Vintage Flight Band has played festivals and venues all over Ontario and in some parts of the US... Anywhere from a small bar to a festival stage for 15k people. A few words from some fans: "I saw this band last night... And I'm going to *try* to restrain myself here: this band kicked ass. I mean take-your-breath-away good. And they play vintage rock and blues... And the singer, her voice literally gave me chills." "I saw you guys for the first time last night and you honestly rocked my world. Your collective talent is indescribable. It was one of the best live performance experiences of my life!"
Find them at www.vintageflightband.com.