About this Event
[English version below]
Soirée d'information publique
Carbonleo (promoteur du projet Royalmount) a le plaisir de convier les citoyens à une soirée d'information au cours de laquelle les différents volets du projet éco-innovant seront présentés.
La présentation sera suivie d'une période de questions.
Veuillez les acheminer au préalable à questions@royalmount.com
Royalmount c'est quoi?
C'est un milieu de vie 100% piétonnier, fondé sur le développement durable. Une expérience hors du commun où se côtoient nature et urbanisme. Plongeant dans son univers unique et immersif, petits et grands s'y rassemblent autour d'activités enrichissantes tout au long de l'année.
Que vous soyez à pied, à vélo ou en voiture, nous vous accueillerons dès 17h.
Ouverture des portes : 17 h
Début de la séance : 17 h 30
Les places sont limitées !
Respectant les règles de santé publique, cette présentation s'adressera à tous ceux qui auront réservé leurs places, puisqu'elles sont limitées.
RSVP OBLIGATOIRE AVANT LE 13 JUILLET
L'événement aura lieu sous la pluie ou sous le soleil, sauf dans des conditions météorologiques extrêmes pour la sécurité de nos clients et de notre personnel.
Demandes média : Martine Robert mrobert@national.ca
Précautions Covid-19
Nous prenons toutes les précautions et suivons les recommandations des autorités gouvernementales; toutefois, nous ne pouvons pas garantir l'absence du virus.
Si vous êtes malade ou avez l'un des symptômes de la Covid-19, prenez soin de vous et restez à la maison.
Lors de votre arrivée à l'évènement, des stations de lavage de mains seront présentes près de l'entrée des piétons et des cyclistes. Vous serez invités à vous laver les mains avant votre entrée sur le site.
De plus, il y aura des stations de lavage de mains dans tous les autres lieux sur le site pouvant être utilisés par le public.Nous vous demandons de garder une distance d'au moins 2 mètres EN TOUT TEMPS entre les groupes/personnes.
Si vous sortez de votre véhicule, nous vous invitons à porter un masque ou un couvre-visage.
SOYEZ VIGILANTS ET RESTEZ EN SANTÉ!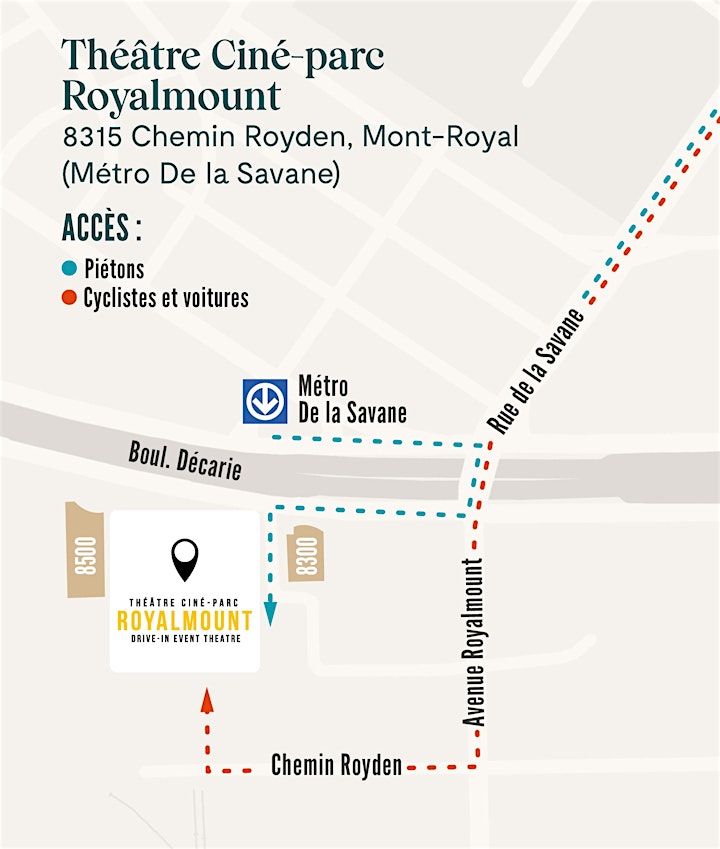 Public Information Session
Carbonleo (Promoter of Royalmount's project) is pleased to invite all citizens to a special presentation to learn more about the eco-innovative Royalmount project.
The presentation will be followed by a Q&A session.
Please forward any questions you may have ahead of time to questions@royalmount.com
What is Royalmount?
A 100% pedestrian eco-innovative neighbourhood that encourages modal shift. Royalmount is an escape from the everyday, an iconic destination where the serenity of nature meets the excitement of the city. A truly immersive experience, Royalmount offers something for everyone and for every season.
Whether you are on foot, by bike or by car, we will welcome you from 5pm.
Doors open at 5 pm
Presentation 5:30 pm
Places are limited!
The presentation will respect public health guidelines and, since places are limited, it will be open to those who have RSVP.
MANDATORY RSVP BEFORE JULY 13
Event will take place rain or shine except in extreme weather conditions for the safety of our customers and our staff.
Media Requests: Martine Robert mrobert@national.ca
Covid-19 Precautions
We take all precautions and follow the recommendations of government authorities; however, we cannot guarantee the absence of the virus.
If you are ill or have any of the symptoms of Covid-19, take care of yourself and stay home.
When you arrive at the event, hand washing stations will be present near the pedestrian and cyclist entrance. You will be invited to wash your hands before entering the site.
In addition, there will be handwashing stations in all other areas of the site that can be used by the public.We ask that you keep a distance of at least 2 meters AT ALL TIMES between groups/persons.
If you get out of your vehicle, we invite you to wear a mask or face cover.
BE VIGILANT AND STAY HEALTHY!