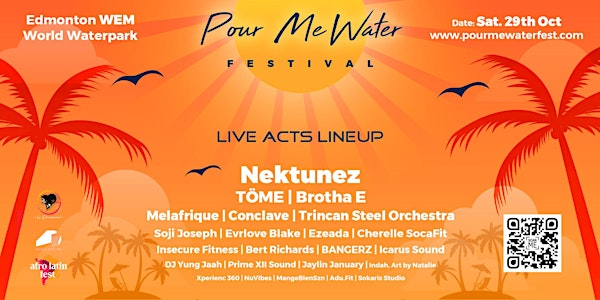 RSVP to PMW Fest: Canada's Largest Afro x Latin Indoor Beach Fest Halloween
RSVP to PMW Fest: Canada's Largest Afro x Latin Indoor Beach Tropical Staycation inside of North America's second Largest Waterpark.
When and where
Location
World Waterpark 8882 170 Street Northwest #1338 Edmonton, AB T5T 4M2 Canada
About this event
*Please note that this eventbrite page serves to grab RSVPs set a reminder for ticketing info & updates about Pour Me Water Festival. For your official tickets, please head to 👉https://bitly.pourmewaterfest.com/tickets
✨💃☀️🕺⛱️🥵 Pour Me Water Festival: Canada's Largest Afro x Latin indoor beach festival #WinterIsCancelled #SummerNeverEnds
LIVE ACTS LINEUP:
🎶 @nektunez (Atlanta-based, signed under @akon record label & produced the song Ameno Amapiano with Over 10 billion views on Tik Tok)
🕺 @brotha.e - International US-based artist🏆
@tomeofficial_ - Juno Award Winner🎸
Alberta-based renowned live bands - @melafrique_ x @trincan_famalay x @conclavecanada🎤
Performing artists/activators - @sojijoseph x @evrloveblake x @ezeada__ x @cherelle_socafit x @insecure_fitness x @teamrichards
🎧 The Best (Afro x Latin) DJs in Western Canada - @_bangerz x @icarusound x @djyungjaah x @djmarkusprime x @dj_rx3 x @jaylinjanuary
Event Description:
Inspired by the sandy beaches in Punta Cana, the nightlife in Ghana, the iconic carnivals in Brazil, La Connexional is bringing a unique tropical getaway experience in Canada. The Pour Me Water (PMW) Festival is launching Canada's largest Afro x Latin indoor beach festival at West Edmonton Mall World Waterpark on Saturday, October 29, 2022. 
Get ready for a colorful and exclusive experience with live performances, immersive dance experiences (Afrobeats, Reggeaton, Dancehall, Soca, and more), VIP Cabanas and so much more. With our impressive DJs spinning the best sounds, allow yourself to the opportunity of living unforgettable experiences you never thought possible in Edmonton. Leave your mark as we celebrate together.
Life shouldn't freeze because winter started; La Connexional always finds a way to #cancelwinter (this time with beach vibes!)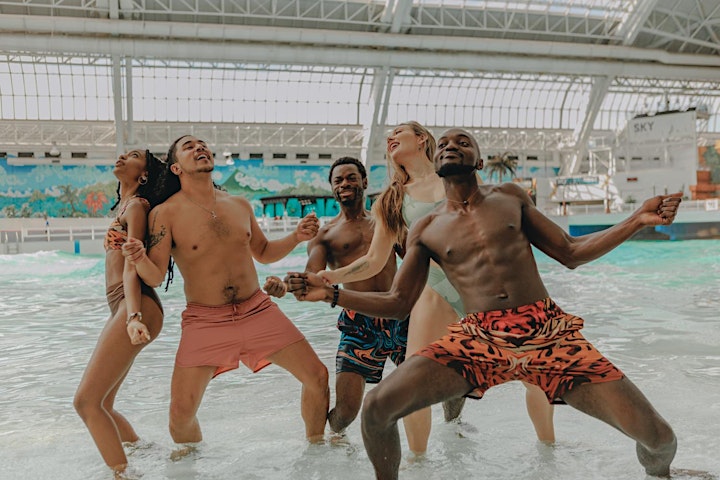 What To Expect on Saturday, October 29th
✅ 2 International artists, 1 Juno-award winner, 3 Alberta renowned live bands, 6 performing artists, 6 experienced & versatile DJs and more 🥁🎶🎤!
✅ Indoor Pool 🌊
✅ 360 Photobooth by @xperienc360
✅ Live Body Painting Station by @indahbynatalie
✅ Food & Drinks 😋
✅ World Class Stage & Sound by @production.world 💫
✅ Dance Tutorials and Live Flashmobs 💃🕺
✅ 31°C 🌞 inside of @official_wem World Waterpark 🏖️🥵
✅ BIPOC Vendors #SupportLocal 🛒🛍️
✅ GIVEAWAYS 😤
✅ 31 Hectares of space & fun inside the GIGANTIC Waterpark 😎
✅ Turn winter 🥶 into summer ☀️ for Halloween 🎃
✅ Interactive Visual Installations & more 🤩