RTC: Inside the Mind of...Jeanne Magram (CS0, Northern Biologics)

Thursday, 18 January 2018 from 11:00 AM to 1:00 PM (EST)
Event Details
Come get inside the mind of Northern Biologics' Chief Scientific Officer Jeanne Magram as she talks about going from a biology postdoc to her first industry scientist position, how she ended up heading up the science division for a major biotech company, and what she looks for when hiring PhDs and postdocs. Oh, and how to do all that and have a life! Snacks and coffee will be provided. 
"Inside the Mind of..." is a fireside chat series hosted by the Research Training Centre and modelled on Inside the Actor's Studio, QI, and Between Two Ferns. It's a chance for SickKids students, fellows, and research associates to get inside the mind of a field leader and practice speaking to and asking questions of today's decision-makers and agenda-setters. It is also a chance to think about how you could put the training, expertise, and drive for excellence they've gained at SickKids to work in the world as a research or industry scientist, in a non-scientist role, or through advocating for research-driven decision making and policy development in government, business, and elsewhere.
About Jeanne Magram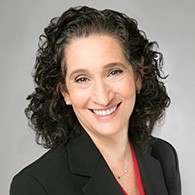 Jeanne Magram, PhD is the founding Chief Scientific Officer of Northern Biologics, a biotechnology company headquartered in Toronto's Discovery District and focused on the development of new immuno-oncology antibody therapeutics. The company is financed by leading venture capital firm Versant Ventures, and in early 2015 entered into a strategic partnership with Celgene Corporation. Northern Biologics is developing a pipeline of novel therapeutics, with its lead antibody entering Phase 1 in Q4/2017.
Prior to joining Northern Biologics, Jeanne served as the NY Site Head for Pfizer's Centers for Therapeutic Innovation (CTI), a partnership between Pfizer and academic medical centers to accelerate the translation of innovative discoveries into new medicines. Prior to CTI, Jeanne was Vice President, Immunology & Inflammation at Boehringer Ingelheim, leading drug discovery for autoimmune diseases.  Jeanne was Associate Director of GPCR Drug Discovery at OSI after the acquisition of Cadus and spent five years at Hoffmann-La Roche using model systems to understand the pathophysiology of disease.
Jeanne completed postdoctoral training with Nobel Laureate Dr. J. Michael Bishop at UCSF and obtained her PhD in the laboratory of Dr. Frank Costantini at Columbia University.
When & Where

PGCRL Amphitheatre, 2nd Floor
Peter Gilgan Centre for Research and Learning
686 Bay Street
Toronto, Ontario
Canada

Thursday, 18 January 2018 from 11:00 AM to 1:00 PM (EST)
Add to my calendar
Organizer
The SickKids Research Training Centre provides career and skills development to undergraduate students, graduate students, research fellows and research associates working at the SickKids Research Institute and the Hospital for Sick Children.