All Ruminants Winter Feeding and Nutrition Course
About this Event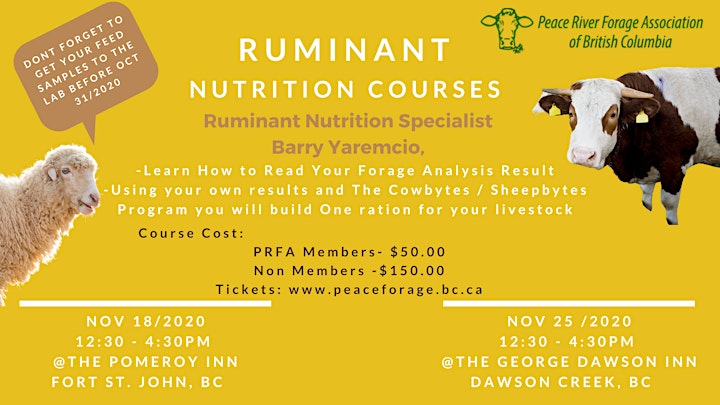 About this Event
You will learn how to read your forage analysis result. Using your own results and the Cowbytes / Sheepbytes program you will build one ration for your livestock with ruminant nutritionist Barry Yaremcio
If you would like to bring your own feed test results and work on Cowbytes / Sheepbytes with Barry, please send 2 feed test results to us ahead of time by emailing prfaevent@gmail.com
Attendance is Limited. Register Early to Guarantee Your Spot!
Date: November 25th
Time: 12:30pm
Location: George Dawson Inn, Fort St. John BC
Contact: Samantha Dilworth 250-784-4764 email:prfaevent@gmail.com
You Will Need
Laptop Computer with USB port & compatible with Word
Cowbytes Program- Cowbytes Program Link
Sheepbytes Program-Sheepbytes Program Link
Feed Sample Analysis - If you haven't received your analysis we can use a sample analysis so you will feel comfortable to work on the Sheepbytes/Cowbytes program and build a ration to best suit your herd.
About Our Speaker, Barry Yaremcio
Barry was raised on a mixed farm in northeastern Alberta. He completed a Bachelors degree in Agriculture specializing in Animal Science from the University of Alberta in 1984. He then worked for Alberta Agriculture as a District Agriculturalist, Laboratory Nutritionist, and Provincial Beef Nutritionist. In 1994, he left Alberta Agriculture to work in the private sector for various companies.
In 2003, Barry rejoined Alberta Agriculture as a Beef and Forage Specialist at the Ag Info Centre in Stettler. His responsibilities included providing advice to farmers and ranchers on cattle nutrition, forage production, animal management; troubleshooting production concerns; designing corrals; and handling facilities, hay sheds, and silage pits.
In 2009 he completed a Master's Degree in Animal Science (nutrition), evaluating the amount of feed waste by various feed delivery systems and the impact it had on the quality of feed consumed.
In March of 2020, he started Yaremcio Ag Consulting Ltd. as an independent ruminant nutritionist and production management consultant.