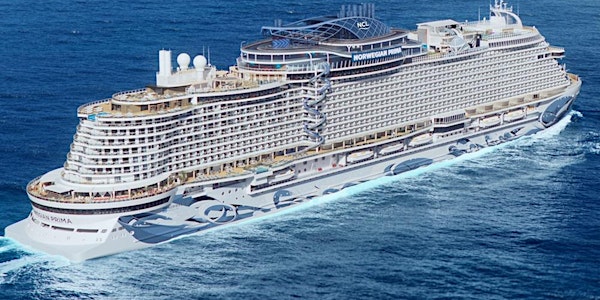 Run for Fun Cruise - Caribbean Run Package 2023 - Feb 26 -Mar 5, 2023
Run For Fun Cruise Tours - Run Package-Caribbean 2023-NCLPrima Feb 26-Mar 5, 2023
When and where
Location
9245 Charles M Rowland Dr 9245 Charles M Rowland Drive Cape Canaveral, FL 32920
Refund Policy
Contact the organizer to request a refund.
Eventbrite's fee is nonrefundable.
About this event
Tickets
Event Information
Join the RFFC in February of 2023 as we depart on the beautiful new Norwegian Prima from Port Canaveral, Florida for a running cruise vacation like no other!
About this event:
This is your Run Package only description. Please contact our RFFC Team at knewton@runforfuncruise.com to inquire about additional cruise cabin pricing. All Run for Fun Cruise participants must book their cruise with Run For Fun Cruise Tours Inc exclusively, no outside bookings are permitted.
We set sail Feb 26th, 2023 onboard the beautiful Norwegian Prima from gorgeous Port Canaveral Florida, for 8 days and 7 nights of running in the beautiful Caribbean!
Once again, we are proud have the opportunity to add the pre cruise Disney Princess Marathon events as an add on, for an additional cost before your RFFC Cruise! Arrive early into Orlando, Florida and take part in the pre cruise events.
There are run/race or events planned for the amazing ports of Cozumel Mexico, George Town Grand Cayman, Ocho Rios Jamaica and Great Stirrup Cay Bahamas, as well as lots of on board events for you to enjoy. Included in your run package will be all our running related events on board and on shore.
We also encourage you to become part of our "Runners Give Back" Program where for each port of call we visit, we find out what the needs are of that particular location and donate to that cause. Information regarding this years Runners Give Back will be provided closer to departure.
The Run For Fun Cruise Tours Family has donated over the years:
New and Used Runners to those less fortunate in Ocho Rios, Jamaica
Sporting equipment for the Youth Sports Academy in Cozumel, Mexico
Fem care and hygiene supplies for Hurricane survivors in Barbuda as well as St. Maarten
Medical supplies for local hospitals in Costa Maya, Mexico
Elementary school supplies in St. Lucia as well as Roatan, Honduras
Let our family take care of your family and create vacation memories that will last a lifetime! We welcome all levels of runners and walkers! There will be something for everyone in your party.
The RFFC team looks forward to welcoming you to RFFC Caribbean 2023.
Visit www.runforfuncruise.com for all the details and we'll see you on board!
Please be aware that this group is exclusive to Run For Fun Cruise Tours Inc. and must be reserved and booked through this agency. No outside bookings are permitted.
Also note that itinerary may change or cancel at any time, due to NCL, governments, health and safety and or weather related issues.
Join us and enjoy your "runcation" with like minded people just like you! Reminder: This is your Run Package only description. Please contact our RFFC Team at knewton@runforfuncruise.com to inquire about additional cruise cabin pricing.
Thank You And See You On The Road
Your RFFC Crew
FAQs
A Run for Fun Cruise Tours Inc Participation Agreement must be signed by all participants prior to any Run For Fun Cruise Events, without this signed agreement participation will be denied.
How can I contact the organizer with any questions?
You can contact us anytime by emailing Kim Newton at knewton@runforfuncruise.com ( cruise related questions ) or Don and Rebecca Gallagher at drgallagher@runforfuncruise.com ( running event questions ) or by calling the office at 1-833-786-4386
Minimum amount of Run For Fun Cruise participants for event to occur:
In order for the Run For Fun Cruise events to take place, a minimum of 50 participants must be reached.
COVID restrictions and policies:
All participants will be personally responsible to ensure all the necessary vaccination, COVD testing/ documentation and any other requirements deemed necessary by the Cruise Line, Norwegian Cruise Lines, all airlines, the state of Alaska, the USA, or Canada are met prior to and while on board the cruise and with any requirements deemed necessary to return home. Any costs incurred will be the sole responsibility of the participant.
COVID-19, and any other variants: I understand the hazards of the novel coronavirus ("COVID-19") and I am familiar with the Centers for Disease Control and Prevention ("CDC"), World Health Organization ("WHO"), and my Country and my local government's guidelines regarding COVID-19. I acknowledge and understand that the circumstances regarding COVID-19 are changing from day to day and that, accordingly, the CDC, WHO and Canadian and US government, and local government guidelines are regularly modified and updated and I accept full responsibility for familiarizing myself with the most recent updates. This includes all governing authorities include Cruise Lines, and Country boarder rules and restrictions related in any way to persons traveling. I understand the risks associated with COVID-19, which I readily acknowledge, I hereby willingly choose to participate in Run For Fun Cruise Tours Inc events/runs.
What's the refund policy?
Please be advised that there are no full refunds on your Run Package-they will be deferred to another itinerary and later sailing date that you will be able to attend.
If you, yourself or your travelling party do not meet the set enforced health and safety requirements along with any necessary vaccine requirements and are unable to board the NCL Prima on Feb 26, 2023, your run package will become non refundable.
Any Run Packages purchased after October 1st, 2022 for new cruise bookings made after Oct 1st, 2022 will need to purchase the run package prior to your cruise payment and will then follow the above stated rules. Your cruise is refundable up to final payment; please ask Kim for more details. Please note as well that Norwegian Cruise Lines reserves the right to alter the itinerary at any time and should this occur your branded items may not reflect accurate information.
This is the Run Package; how do I book the cruise?
You can contact the office directly by calling toll free at 1-833-RUN4FUN ( 1-833-786-4386) and speaking with either Kim or Anne. They can also be reached at knewton@runforfuncruise.com.
How long are the runs?
We will have a mix of 5K-10K runs/races/events planned. There will also be the possibility of trail runs as well based on popularity of previous itineraries. Please be advised that run itineraries may change due to factors such as weather, etc.
Is there a medal for each port?
No, there is a participation medal from the RFFC awarded to you at the awards ceremony.
Are there bag drops for each run?
We will work with our partners on each island to ensure your bags are well taken care of.
I'm a walker; am I going to feel out of place?
Absolutely not! The party is in the back with the walkers and we have a lot of them! We also have some of our events geared to having the walkers start the group off first which is fun!
Can I book online?
No. Our mantra has always been "Let Our Family Take Care Of Your Family" when we started the RFFC many years ago. It is our belief that in order to feel like you are a part of something special, we want to make you feel that way by having the "real world" interaction of speaking to you personally from the start of your reservation. By the time you depart the ship at the end of the week, it is our goal to make you feel like "Family" and we have been very successful working like this.
What about group dinners so we can get to know people better?
We have group dinners planned so that everyone can interact socially and get to know each other, these and all other on board events may need to be socially distanced or cancelled as we must adhere to the NCL guidelines while on board.
Mandatory Medical Insurance Coverage.
Insurance Coverage- Medical insurance coverage per person will be required in order to participate. Coverage available for purchase is through Norwegian Cruise Lines and details can be found here https://www.ncl.com/ca/en/freestyle-cruise/booksafe. This insurance must be purchased prior to the final payment date of October 1st, 2022 for your cruise with NCL. If you book your cruise after October 1st, 2022 insurance coverage must be purchased at time of your cruise reservation. This insurance coverage does not cover the Run Package. The NCL insurance only covers passengers for the cruise only and the dates booked on board the ship for that specific vacation. This is limited coverage and it is recommended that every passenger purchase enough coverage as they see fit to be covered adequately from additional sources. Run For Fun Cruise Tours Inc will not be held responsible for inadequate insurance coverage for any passenger. Failure to purchase medial insurance will prohibit you from participation in the Run For Fun Cruise. NCL insurance is mandatory to participate with a RFFC Run Package.
Will there be shore excursions?
We hope to be able to offer and are working on providing the group options for things to do after the run/race events are finished in the mornings for additional costs.
I'm a runner but the rest of my family does not run. Will there be things for them to do?
Yes there will. Family and friends are the cornerstone of the trip as they provide the most energy at the events. Information provided to the runners/walkers through continued email updates can be passed along to family and friends so they can "stay in the loop" We welcome them will provide additional info.
This sounds awesome! Is is better to wait to book for a better deal?
No. The group space we have blocked is based on a first come first serve basis. Once particular categories are sold out, people are then moved to the next category at that available rate. It is best to book the cruise early with a low refundable deposit, then register for your Run Package.
I'm a member of a running club; can I promote to them?
Yes you can and we love the fact you want to spread the word of the RFFC! Talk to Kim at knewton@runforfuncruise.com for more details on working with running clubs and Thank You!
See you soon !!!