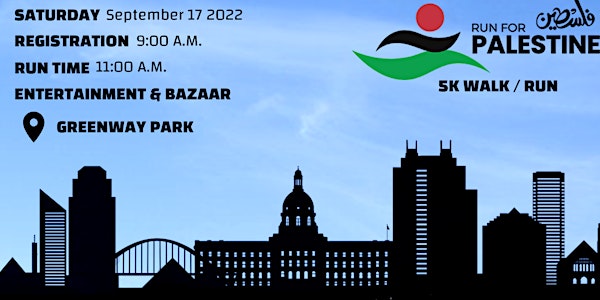 Run for Palestine - London 2022
Run for Palestine (RfP) is a family oriented, fun filled charity event that welcomes community members to walk , run, stroll or bike.
When and where
Location
Greenway Park 1E8 Terry Fox Pkway London, ON N6J 1E8 Canada
About this event
Run for Palestine (RfP) is a family oriented, fun filled day that welcomes all members of the community where participants can walk , bike, or run 5 Km to raise funds for much needed humanitarian projects helping the Palestinian people. This year we are raising funds for Alshifa hospital maternity ward in Gaza.
The event will take place on Saturday September 17, 2022 along the beautiful trail of Greenway Park, located in London. After the run, there will be food available, a bazaar, and entertainment. The trail accommodates wheelchairs and strollers. We encourage participation of all community members of different activity lifestyles and mobility backgrounds.
EVENT SCHEDULE:
Registration: 9:00 AM -10:15 AM
Run: 11:00 AM
Entertainment: STAY TUNED!
REGISTRATION LOCATIONS
Park Name: Greenway Park
Address: 1E8 Terry Fox Pkway
PURCHASE POLICY
Tickets CANNOT be refunded
Direct campaign donation (with tax receipts) can be made at
https://www.launchgood.com/campaign/team_yxu_london_ontario#!/
If you would like to be a sponsor our event, be a vendor at the Bazaar, or volunteer for RFP London 2022 apply at CPSALondon.ca
Help RUN FOR PALESTINE save the future of Gaza:
Impact the life of Palestinians by raising $160,000 for AlShifa hospital in Gaza.
Along with your help, we are aiming to ensure a protective and dignified environment for pregnant women and their newborn babies in the Gaza Strip by improving the provision of high-quality and accessible services in the maternity health sector.
Al-Shifa Hospital in Gaza is the only hospital that provides health and maternity services for the residents of the North Gaza, that is why we need your help to fund the equipment and furniture such as examination beds, blood pressure devices, ECGs, and wheelchairs, all of which will be provided by Islamic Relief Canada.
We need your help to fund medical equipment and furniture for the maternity department at Al-Shifa hospital in Gaza.