Sales Have Ended
Ticket sales have ended
Thank you for your purchase and for supporting 2 great charities. This event will run rain or shine.
Sales Have Ended
Ticket sales have ended
Thank you for your purchase and for supporting 2 great charities. This event will run rain or shine.
Description
RUN, ZOMBIES ARE COMING......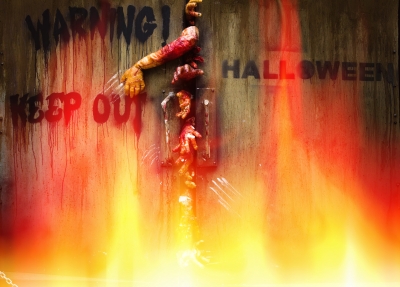 Again Brockville and the world is being overrun by Zombies and its time for you to run for your life. But don't worry there are ways to save yourself. Outrun the zombies, make it to the finish line and you will be decontaminated.
This year's Run For Your Lives 5K is to benefit two great charities, St. John Ambulance and Making Play possible. Both of these great organizations are funded by donations from the general public and do great things in our community. Below is what each organization does in our community.
---
---
We have had some questions asked and here are the answers.
Q. What time is the race/registration?
A. The race itself starts at 9am, but you can preregister at or the morning of at the event for $30.
Q. Are there zombie 'runners' or zombie people?
A. The zombies are people who will come out and chase the runners along the trail. If you have people who want to be zombies please let me know.
Q. If so, do they get made up at the race by other people?
A. We will have some makeup done, but anyone who wants to come pre-zombiefied that is great too.
Q. Would it cost for zombies?
A. There is no cost for the zombies, but if they are students they can get community hours.
Q. What's the age limit- can kids run too?
A. There is no age limit for those who want to run the zombie run.
---
---
Making Play Possible
Making Play Possible provides financial support for registration fees, equipment, transportation costs for any organized recreational activity for children and youth in Leeds and Grenville. It gives them the chance to participate in recreation regardless of the barriers they may face. By helping families access recreation we are raising children and youth who will grow up physically and mentally strong. We help with finding appropriate recreational providers for families with special needs. We support children, youth, or families coping with mental health challenges that hinders participation, and referrals to community services or other supports when necessary. We provide a warm, friendly face-to-face service that is confidential and accessible. It was originally founded by Children's Mental Health of Leeds & Grenville (CMHLG), aimed at providing at-risk children and youth access to recreational activities to help alleviate their symptoms, and help build healthy self-esteem. It has grown to include all children throughout Leeds and Grenville, regardless of their involvement with CMHLG. We are a committee of volunteers who are passionate about access to recreation and are responsible for the strategic oversight of Making Play Possible, and the fundraising for the program.
---
---
St. John Ambulance
Medical First Response Services
Well-trained and well-equipped, St. John Ambulance Medical First Responder (MFR) volunteers attend countless public events across Ontario to provide basic and advanced first aid. We work hand in hand with allied agencies such as EMS, Police, and Fire Fighters. In the case of a medical emergency, our volunteers are prepared to provide the first response casualty care necessary to save a life, prevent further injury or provide comfort until emergency medical services arrive.
Car Seat Teams
The St. John Ambulance Car Seat Safety Teams are made up of trained and certified volunteers. Our volunteers educate and coach parents/guardians in the use of child restraint systems. Our goal is to help children travel safely all the time, by ensuring the restraint is properly install and used correctly every time the child travels in the vehicle.
We provide workshops and clinics in our communities which allow parents to have their seats inspected. We assist with the correct installation if needed.
Therapy Dog Services
St. John Ambulance knows there are few things in life that inspire as much joy in people as a wet nose and a wagging tail. Research has shown that visits from Therapy Dogs help people recover more quickly from surgery, and strokes; and can reduce feelings of loneliness, depression and anxiety associated with an illness. The unconditional love of a Therapy Dog can also assist with prescribed therapy and lowering blood pressure.
That's why for nearly two decades St. John Ambulance has been proud to provide the Therapy Dog Program. The Therapy Dog Program has well-behaved canine ambassadors and their handlers visit people in hospitals, special needs programs or in long-term care facilities.
Each of the dogs in our program is carefully evaluated to ensure the best temperament for the task. There is no size restriction for participating canines.
Youth Services Program
St. John Ambulance's Youth Services Program is a structured health-oriented program that provides young people with opportunities for social, educational and personal development, through training, community service opportunities, leisure activities, and participation at special events.
The Youth Services Program evolves to meet the maturing needs of its participants. Activities range from health-oriented learning (ages 6-10), community involvement (ages 11-15), advanced first aid training (ages 16+), to leadership development (ages 18+). The opportunities grow with the members.