Join us on Sundays at 9:00am for a 30-60 minute run, starting and ending at The Village Health Clinic in Mount Pleasant Village!
About this event
All attendees will get to enjoy coffee post-run stretches led by Endura Performance outside the clinic.
Please register on JaneApp: https://thevillagehealthclinic.janeapp.com/locations/the-village-health-clinic/book#/discipline/4/treatment/181
Runners of all levels are welcome!
**Please note- we will be social distance running and masks are required to be worn to and from the run. There is a maximum of 10 participants to ensure proper COVID-19 social distancing measures and safety.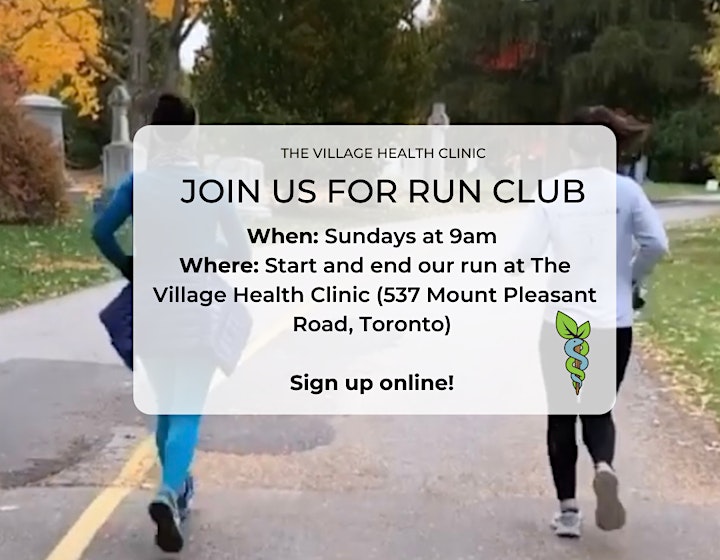 Organizer of Run the Village- Free Run Club
The Village Health Clinic (TVHC) is here to provide the Toronto community with its own team of multidisciplinary Healthcare Professionals. We are located in the heart of Mount Pleasant Village and are poised to become the community's local clinic. We believe in working with patients as a team and to optimize health on a public and individual level.
Your Village Health Practitioners aim to improve your health using functional medicine and holistic healthcare. Each practitioner at your Village Health Clinic has professional training in their respective field and continues to advance their proficiency in healthcare for the community. TVHC provides personalized, high-quality care in an integrative environment. We look to forward to working with you to build a supportive, collaborative and health-conscious Mount Pleasant Village. Visit our website at www.thevillagehealthclinic.ca for more information.