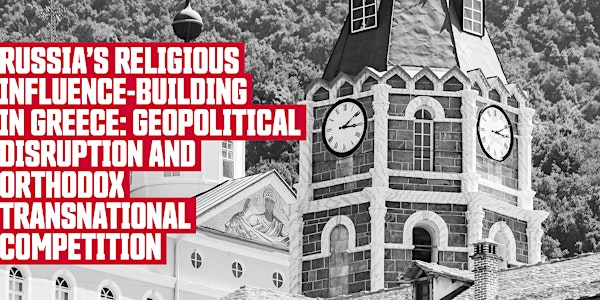 Russia's Religious Influence-Building in Greece
The Seventh Annual Edward and Emily McWhinney Memorial Lecture featuring Professor Elizabeth Prodromou
By SFU Stavros Niarchos Foundation Centre for Hellenic Studies
Date and time
Tue, Mar 21, 2023 7:00 PM - 9:30 PM PDT
Location
Segal Building Simon Fraser University Room 1200 - 500 Granville Street Vancouver, BC V6C 1W6 Canada
About this event
Russia's Religious Influence-Building in Greece: Geopolitical Disruption and Orthodox Transnational Competition
Seventh Annual Edward and Emily McWhinney Lecture
The Stavros Niarchos Foundation Centre for Hellenic Studies is pleased to present Elizabeth H. Prodromou, Visiting Scholar in the International Studies Program at Boston College and Non-Resident Senior Fellow at the Atlantic Council's Eurasia Center, for the Seventh Annual Edward and Emily McWhinney Memorial Lecture. Prodromou's public talk is entitled "Russia's Religious Influence-Building in Greece: Geopolitical Disruption and Orthodox Transnational Competition." The lecture will be immediately followed by an informal reception.
The event will be moderated by Global Humanities assistant professor James Horncastle, the holder of the Edward and Emily McWhinney Professorship in International Relations.
This event is free and open to the public, but registration is required. Please send an email to hscomm@sfu.ca if you have any questions. Dress attire should be business casual.
This programming is made possible thanks to the generous support of the Stavros Niarchos Foundation (SNF).
Simon Fraser University respectfully acknowledges the unceded traditional territories including, the Sḵwx̱wú7mesh Úxwumixw (Squamish), səl̓ilw̓ətaʔɬ (Tsleil-Waututh) and xʷməθkʷəy̓əm (Musqueam) Nations, on which SFU Vancouver is located.
Abstract
Since the end of the Cold War, religion has become a critical tool for Russia's geostrategy of maximizing normative legitimacy and protecting material interests in Europe and Eurasia. Greece is a unique target for Russia's religious influence-building and strategic disruption in the 21st century, given Greece's strategic importance within NATO and in bilateral relations with the United States, and because Greece enjoys unique linkages to the Ecumenical Patriarchate of Constantinople (Istanbul) as leader the world's 300 million Orthodox Christians. This presentation explores the soft and sharp power tools deployed by the Kremlin and the Moscow Patriarchate for influence-building in Greece's complex religious ecosystem, identifying the historical narrative and operational spaces of Russian activity in the Greek religious field. The presentation elucidates the importance of the Greek case for understanding religious influence- building as a form of geopolitical disruption and gaining purchase into the scope and significance of Orthodox transnational competition.
Speaker Bio
Elizabeth H. Prodromou
Elizabeth H. Prodromou is Visiting Scholar in the International Studies Program at Boston College and Non-Resident Senior Fellow at the Atlantic Council's Eurasia Center. Her research interests and policy work focus on the intersections of geopolitics, religion, and human rights, with particular focus on the Eastern Mediterranean and Middle East. Prodromou served a diplomatic appointment on the U.S. Commission on International Religious Freedom (2004-2012), and she was also a member of the U.S. Secretary of State's Religion & Foreign Policy Working Group (2011-2015). The author of two edited volumes and many book chapters, her most recent publication deals with Russian influence-building through religious soft power, in The Kremlin Playbook 3: Keeping the Faith. She has published widely in peer-review journals such as Journal of World Christianity, Journal of Democracy, Journal of the American Academy of Religion, Orbis, Survival, European Journal of Political Research. Prodromou is a frequent commentator and contributor in US and international media, and she has offered expert testimony and briefings to policymaking bodies such as the US Helsinki Commission, the European Parliament, the Organization for Security and Cooperation in Europe. She has held visiting research appointments at the Center for American Progress, the Hedayah International Center of Excellence for Countering Violent Extremism, the Hudson Institute, among others. She has taught at Tufts University, Boston University, and Princeton University, and she was a consultant member of the delegation of the Ecumenical Patriarchate at the Holy and Great Council of the Orthodox Church (2016). She holds a Ph.D. in political science from MIT. She is married to Dr. Alexandros Kyrou, and they are happy parents to their daughter, Sophia.
Moderator Bio
James Horncastle
James Horncastle was born and raised in New Brunswick, Canada. After attending St. Thomas University, he was inspired by its emphasis on liberal arts education, which he applied to his Masters studies at the University of New Brunswick, where he examined the social, political and military dimensions of Yugoslavia's collapse in the 1990s. Upon completion of his Masters at the University of New Brunswick, he set out for doctoral studies at Simon Fraser University, where he examined the Macedonian Question in the Greek Civil War. After serving as a limited-term appointment at Simon Fraser University for three years, he joined the Hellenic Studies Program as the inaugural holder of the Edward and Emily McWhinney Professorship in International Relations.
Edward and Emily McWhinney
The Edward and Emily McWhinney Memorial Lecture was established in 2017 to honour the memory of two long-time friends and supporters of Hellenic Studies at Simon Fraser University and is devoted to contemporary issues in international relations.
Both Edward and Emily were committed to academic excellence and public service and this now annual lecture is a lasting legacy for the couple at SFU. It is organized by the Stavros Niarchos Foundation Centre for Hellenic Studies to support public discussion of the topics that animated the McWhinneys' professional and intellectual lives.
Professor Emeritus Edward Mcwhinney, QC passed away in 2015 on his ninety-first birthday, following a short illness. He was predeceased by his wife Emily McWhinney, who passed away in 2011.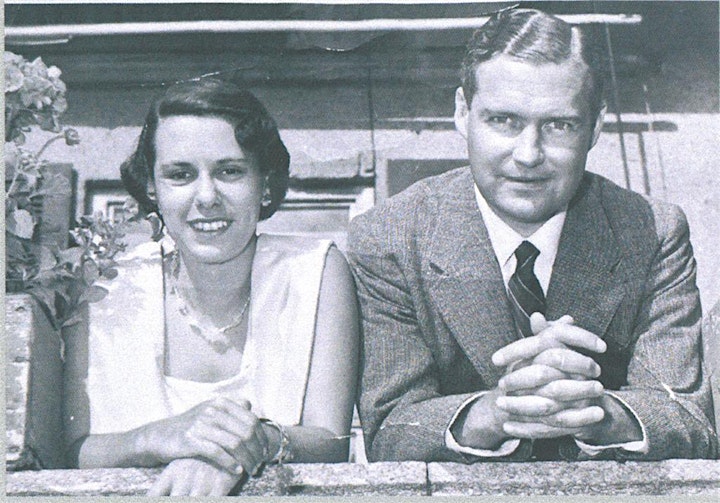 Audio and Video Recording
This event will be photographed and videotaped. Any photographs and video recordings related to the event may be published by the SNF Centre for Hellenic Studies at Simon Fraser University, or by any one of the event sponsors and organizers for illustration, promotion, art, exhibition, editorial, advertising, broadcast, trade, educational and other purposes related to publicizing SFU's activities, programs, presentations, ceremonies, performances, sports meets and similar events.
Accessibility
This event takes place on the ground level of the building and is wheelchair accessible.
Gender neutral washrooms can be found on the main level.
Public parking is available at many locations near the Segal Building. Street parking is free after 10 p.m. The closest parking lot is at 400 West Cordova Street.
Major public transit lines, the SeaBus, SkyTrain and West Coast Express, terminate at Waterfront Station, located in the historic Canadian Pacific Railway Station on Cordova Street, opposite Simon Fraser University at Harbour Centre. Transit schedules can be found at www.translink.ca. The Segal Building is also within easy walking distance of all street buses with a terminus in downtown Vancouver.
About the organizer
Stavros Niarchos Foundation Centre for Hellenic Studies is a part of SFU: The Canadian university that is Engaging the World