Sales Have Ended
Registrations are closed
Thanks! While you're at it, you should buy your ticket to SaaS Connect. It's our annual conference to bring together the SaaS Partnership Network to network, close deals, and talk through issues about SaaS distribution. As partnership executives ourselves, we run the Cloud Software Association to make it much easier for those of us scaling growth through partnerships and distributions. Buy your ticket and learn more here: http://www.cloudsoftwareassociation.com/saas-connect
Sales Have Ended
Registrations are closed
Thanks! While you're at it, you should buy your ticket to SaaS Connect. It's our annual conference to bring together the SaaS Partnership Network to network, close deals, and talk through issues about SaaS distribution. As partnership executives ourselves, we run the Cloud Software Association to make it much easier for those of us scaling growth through partnerships and distributions. Buy your ticket and learn more here: http://www.cloudsoftwareassociation.com/saas-connect
Description
The single best room to connect with SaaS leaders during
Dreamforce
In San Francisco for Dreamforce? Grab a drink and a bite with your peers. Meet other SaaS companies to network and create partnerships.

Located steps from Moscone center, this is the warmest room to build relationships at Dreamforce.
Want to meet other SaaS marketing and partnership professionals? We will make introductions!
Let us break the ice. We'll help you make the most of your time in San Francisco and Dreamforce by making introductions to anyone else coming to our cocktail party if you opt in.
Thank the hosts and sponsors!
This party is hosted by the Cloud Software Association and its partners Chargebee, ShipperHQ, ActiveCampaign, Kiite.ai, RevvSales, Vidyard, Nexmo / Vonage, FreshWorks and Celigo as a way of thanking our partners and meeting new people at Dreamforce. Give them a high five in San Francisco. :)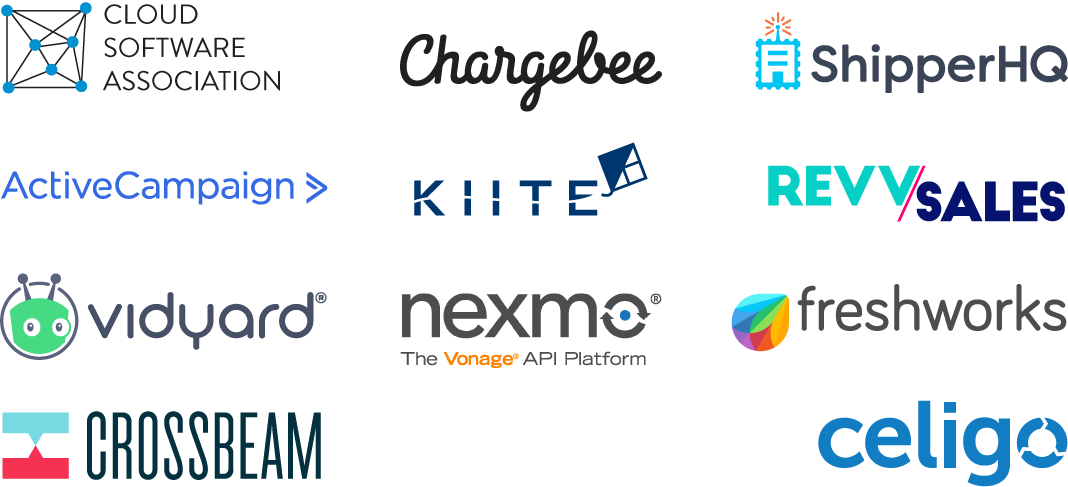 ---
Who is the Cloud Software Association and why are we buying you drinks?
The Cloud Software Association is the network of SaaS partnership leaders. With over 2,000 member companies, our mission is to build the market for SaaS distribution.

We're buying drinks because the partner teams of our hosts want to connect with more partners while we're all at Dreamforce. :)
Love all things SaaS partnerships and channel distribution?
Come to the 10th annual conference by and for SaaS partnership leaders, SaaS Connect, April 15-16, 2020 in San Francisco.