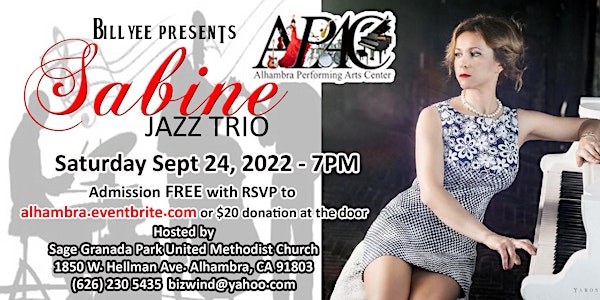 Sabine Jazz Trio
Featuring Sabine and her Jazz Trio
When and where
Location
Sage Granada Park United Methodist Church 1850 West Hellman Avenue Alhambra, CA 91803
About this event
Alhambra Performing Arts Center presents:
Sabine and her amazing jazz trio.
Sabine is a Russian-American Pianist and composer. Having any early start at age 6 on piano she was quickly identified as a prodigy and was raised with the finest classical piano training available. By age 15 she was quickly memorizing works of Rachmaninoff and collecting her repertoire of piano masterpieces. Sabine went on to win the Liszt Los Angeles International Competition, the IBLA Grand prize in Italy also the MTNA regional in Minneapolis and the Concerto competition at the Boston conservatory. Achieving her Bachelors in music at the Gnesnin school in Moscow she also completed her graduate certificate at the Boston conservatory and USC Thornton School of Music.
Sabine's first jazz inspirations came from a record collection she inherited. In the collection she found a Louis Armstrong and an Ella Fitzgerald album. The sound captured her imagination, from that day forward she knew her path had changed.
She spent time in the mid-west and D.C. where she was playing with Blue Note Bassist Butch Warren (Herbie Hancock, Dexter Gordon, Thelonious Monk, Wayne Shorter, Lee Morgan) and Fred Foss (Sax). Playing by ear she used her excellent memorization ability to master hundreds of Jazz standards. Sabine moved to Los Angeles and was on the scene playing with the "A" list of cats like, Henry "The Skipper" Franklin", John B. Williams, Zane Mussa, Scotty Barnhart (Director of Count Basie Orchestra), Clayton Cameron, Jacques Lesure, John B. Williams and others. Also the with diva's like Barbara Morrison, Sweet Baby Jai, and Michelle Coltrane.
Sabine's concert appearances include Vladivostok Jazz Festival, Florida Jazz&Bluess Festival (she was featured performer with Wycliff Gordon Quartet), Idyllwild Jazz Festival, San Jose Jazz Festival, LACMA Jazz series, Merle Kreibich Jazz Series< The Blue Whale, The Lighthouse, Baked Potato, Seabird Jazz Lounge, Vibrato, World Stage, Barbara Morrison Performing Arts Center, Yoshi's (SF), Kuumbwa Cultural Center (Santa Cruz), Piedmont Piano Store (Oakland), etc
Sabine recorded a live album in 2014 called "The Keys to The City of Lost Angels". She has produced a studio album called "Chasing The Dream". Backed by Tony dumas on bass, Jon Stuart on drums with additional production and mixing by Grammy winning engineer Bob Tucker (The Temptations, India Arie.). She loves the trio setting and feels it opens the music so each musician can really stretch out and play.
With her third album coming in fall 2019 Sabine is gaining momentum. She says, "Jazz is the greatest music, my music is all about Jazz!"
If you love jazz, then this is a concert you don't want to miss!
Admission is free with RSVP via Eventbrite or $20 donation at the door.
To be added on the RSVP list for entrance, state number of tickets, provide each guest members' name, and a phone number.
For assistance, contact Artistic Director Bill Yee at (626) 230-5435 or email bizwind@yahoo.com.