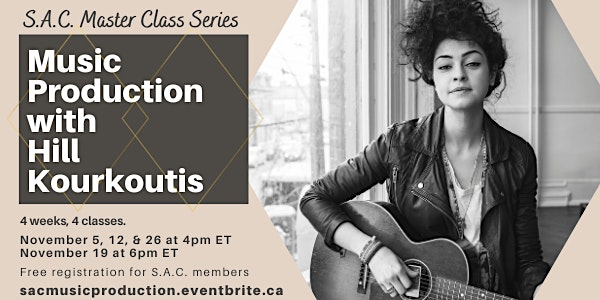 S.A.C. Master Class: Music Production with Hill Kourkoutis
Join songwriter and producer Hill Kourkoutis in this next edition of the S.A.C. Master Class: Music Production for Songwriters
Refund Policy
Contact the organizer to request a refund.
About this event
Week 1 - November 5 at 4pm ET: Overview
Attendees will be provided an overview of what steps go into producing a track: pre-production, production, mixing, mastering and their functions.
Week 2 - November 12 at 4pm ET: How To Build Your Home Studio Set-Up
Learn the components of building your own home studio set-up, types of software, hardware, microphones, MIDI controllers and more.
Week 3 - November 19 at 6pm ET: Production: How To Build A Basic Demo
Demonstrations covering fundamentals of recording, drum programming, MIDI, and resources provided for songwriters looking to produce their own tracks.
Week 4 - November 26 at 4pm ET: Post-Production: How To Mix and Master Your Demo
Demonstrations covering fundamentals of mixing (EQ, compression, delays, reverb, etc.) and mastering.