Sacred Motherhood ~ Creating Safe Space To Birth Your New Self

Sunday, September 8, 2019 from 11:00 AM to 4:00 PM (EDT)
Event Details
~ Sacred Motherhood ~
Creating Safe Space To
Birth Your New Self

Women gather all over the world in sacred relationships, especially during the rites of passage of becoming a Mother. North American society has desecrated this ancient long-standing bond between women. It's time to reclaim it, especially during preconception and pregnancy, when the body is open for change and in an evolutionary development both spiritually and emotionally.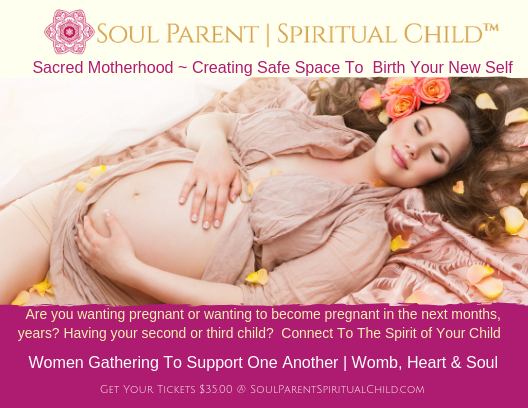 Preconception is the ripening aspect of a womens journey, to release old parts of self that were moulded by society, parents, family and institutions that hold her back to her true authentic self. Creating safe space IN the body is essential. This will allow the spirit of your child to feel safe also. Deborah Skye will be sharing simple steps that you can apply in your life to create this grounding space. 
To clarify, safe space does not mean that here is any immediate danger in one's life, rather it is the inner turmoil and loss of direction distractions that distracts you from your primary needs and desires. 

Women want to feel safe in her body, mind and spirit and have emotional security. The challenge is that our current social relationship to creating community, safety amongst women for the transformational changes that unfold during preconception are not met.

 During this Sacred Gathering of Motherhood, you will feel at home in the presence of other women, who care about their well-being and yours.

You will also be presented with a technique to connect to your womb during a healing journey that will bring awareness to what is blocking you from recieving what the spirit of your child is asking of you. If you are not yet desiring a child or have already had one, you can still connect the spirit of your child and learn from them.
Women are powerful, strong-willed and fierce protectors of their children, bodies, hearts, and minds. This is how women used to be thousands of years ago; women owned their power and knew how to hone their energy and boundaries with impeccably.
Who should attend?
Women who desire to have children and want to understand what it truly means to become a new mother. Learn more about her partner or future partner and what is needed to show up to be a vibrational match.

If you are wondering about the spiritual paths that support birth and conception, then this is a perfect place to understand what those avenues are. 
If you've have had a challenging relationship with your mother, and want to heal yourself so that your emotional wounds don't get passed onto your children, via epigenetics, this is the place to be as Deborah Skye will go into detail about the relationship of the mother-child bond, how this seeps into every relationship and how you view the world and yourself in it.  

Why you should attend
The world needs heartfelt, soulful, strong & vulnerable conscious women to take the lead in creating a new model of being a mother. Women are the decision-makers in the upbringing of their children when a Mother is empowered with the awareness of choices available to her and her child or pregnancy she can experience her life as a mother in a new way. 
To have a powerful connection with the spirit of your child from pre-conception throughout pregancy and beyond.  Soul Parent | Spiritual Child™ is a new method of parenting to honour each child's uniqueness and providing them with the opportunities to express their brilliance and beauty into the world.
Host & Speaker : Deborah Skye King 
Founder of Soul Parent | Spiritual Child™, CEO of Soul Therapy School®, Founder of Soul Therapy Healing & Trainings™, Creator of the 13 Mystical Wisdom Teachings~ An Apprenticeship Training for Women and Founder of Generational Healing™.
www.SoulParentSpiritualChild.com
When & Where

Soul Therapy School®
27 Broken Front Path
Elora, ON N0B1S0
Canada

Sunday, September 8, 2019 from 11:00 AM to 4:00 PM (EDT)
Add to my calendar
Organizer
Deborah Skye founded Soul Therapy in 1991 while living in the jungle alone. She is the world's leading authority on Soul Therapy and a planetary leader in personal and professional spiritual development.
As CEO of Soul Therapy School® she trains & mentors women globally with professional licensing programs such as our Licensed Soul Therapist Training, Soul Parent | Spiritual Child™ Evolutionary Educators Program, Apprenticeship Training in the 13 Mystical Wisdom Teachings and her Spiritual Mentorship to become a Certified Generational Healer® and Generational Healing® Teacher Initiation Training. Recognized as an international training institute, Soul Therapy School® is the only training facility on the planet that offers these certifications and licensings. Soul Therapy is at the heart of our evolutionary education for women and her family. 
Deborah Skye oversees the mentorship programs and development of trainings for her students as they progress and transform through any of the designed programs to meet the needs of women be in personal/spiritual development, evoutionary education enroll into Soul Therapy School®. Her mission is to eradicate fear and suffering from the human condition, liberating women and her children to live in a safe, just and harmonious world.
The focus within her programs and trainings is to awaken the parts of one soul lineage to enable conscious awareness leading to empowered choices based on kindness for all species. For women to live an authentic life, focusing on healing any emotional entangements that are inhereted and to release repressed self-expression that limits her from being her true spiritual self, expressed. 
By preserving nature and all ecosystems that sustain life on this planet, the future experiences of our great-grandchildren will be met with loving kindness, one that is harmony and leading life empowered, compassionately and with purpose. One only needs to receive the calling from within to recognize that she is being asked to uplift, transform, liberate and break past cycles of imbalances that run through familiy dysfunctions, emotional 
Her evolutionary educational platform at Soul Therapy School® provides women with the clarity and inspiration to become courageous in their leadership role to self-mastery, self-love and to share her spiritual gifts in the world.
Her Soul Parent | Spiritual Child™ Evolutionary Educational Program & Teacher Training along with her Licensing Soul Therapist Training & Self-Mastery Training creates a powerful gateway to leading an empowered life compassionately and with a clearly defined purpose for future generations.
http://www.SoulTherapySchool.com
contact@soultherapyschool.com