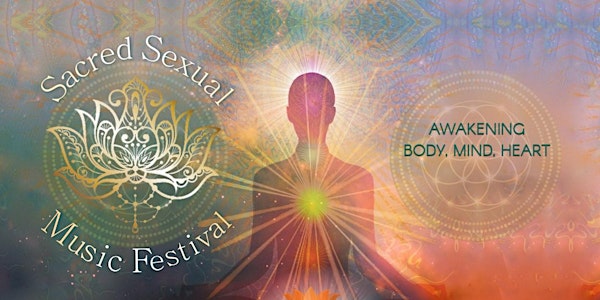 Sacred Sexual Music Festival - ONLINE
We're back for another epic weekend of learning and honoring our sexuality. Join the transformational Sacred Sexual Music Festival!
About this event
1 day 11 hours

Mobile eTicket
WE ARE THRILLED to invite you to the 3rd ...
GLOBAL ONLINE
SACRED SEXUAL MUSIC FESTIVAL !
APRIL 15 & 16, 2023
10 to 9 p.m. each day (PST - Pacific time)
Find YOUR time zone & watch it LIVE
https://www.timeanddate.com/worldclock/
OR
Watch at your leisure -- The recordings are available for 30 days after the Festival as part of your ticket price!
TICKETS HERE
or at
SacredSexualMusicFestival.com
Come to a festival with music to support your growth and healing.
Come and enjoy information and demonstrations and classes and safety and uplifting music.
Celebrate, explore, learn, grow, laugh, and cry.
Come to remember when our bodies were seen and known as sacred.
Sexuality can be a portal to spiritual awakening. It is our greatest power.
Let's learn how to harness this power to change our life and our reality in profound ways.
Together, let's explore the importance of:
- healthy, shame-free pleasure
- education around sexuality
- conscious divine awareness of our bodies
- info on tantra and sexual shamanism
- healing issues around sexuality
- respect and honor for our sacred bodies
Join a musically themed day and evening to celebrate, inform, and send a passionate wave of conscious sensuality into our communities.
The beautiful and healing theme of the Festival takes a step toward addressing and minimizing sexual guilt, shame, repression, and abuse.
The festival is open to anyone and everyone who is interested in conscious sexuality.
Sexuality is so often underground, ignored, or unconsciously acted out. ​The exploration of this territory -- consciously and respectfully -- tends to be liberating and powerful.
By stepping into a higher vibration, with a healing and joy-filled musical backdrop, the Sacred Sexual Music Festival not only informs that sexuality is to be respected, honored, and our birthright, but it also normalizes this concept and invites conversation that inspires us to create positive change in our communities.​
The Festival offers a respectful, safe, nurturing space that offers learning and connecting opportunities ...
All while being beautifully supported by nourishing music.
LEARN. EXPERIENCE. FEEL.
A new frequency of existence is HERE and is touching more people!
Join us at this transformational event.
It's time.​
SacredSexualMusicFestival.com