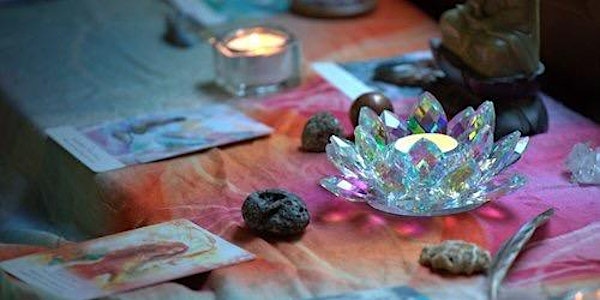 SACRED SISTERHOOD CEREMONY: 1 Day Women's Retreat on Bowen Island
Kundalini Dance, Cacao & Rose Medicine, Sacred Healing through Sound, Light & Colour
When and where
Location
Nectar Yoga 720 Gardner Ln Bowen Island, BC V0N 1G2 Canada
About this event
SACRED SISTERHOOD CEREMONY
With power and pleasure of Kundalini Dance, Cacao & Rose Medicine, Sacred Healing through Sound, Light & Colour
A 1-DAY WOMEN'S RETREAT
on Bowen Island
♥
You are invited to step into the sacred space of Sisterhood and Ceremony. Come dear one, immerse yourself in the extraordinary and connect deeper into yourself, Mother Nature, and the power of community.
This Sacred Sisterhood Ceremony will be an exquisite journey into the heart with Cacao and Rose Medicine that will weave beauty inside you and empower your inner sacred union of love through the soulful embodiment of Kundalini Dance, Womb Medicine, Sacred Sound and Vibrational Healing.
Drop deep into your sacred womb-heart and experience the medicine of these beautiful teachers and the radiant frequencies of love, beauty, creative expression, expansion, bliss, miracles, and compassion.
During this transformational 1-Day Retreat we will ask these sacred plant teachers to guide us to open our hearts, speak our truth, heal our wounds, expand our sacred gifts, and deepen our connection to miracles and wonder.
We dance our inner knowing through the sacred practice of Kundalini Dance™. This ceremonial movement medicine is a self-generating, white tantric, shamanic practice where you can authentically express yourself through movement, breath and sound. Each dance is a transformational ritual of deeper presence, self-healing and divine design. Dancing the deep ecstatic force of the Divine Feminine Earth and Divine Masculine light of Source, we invite these energies to unify and integrate inner sacred union within every cell of our being while opening ourselves up to living in alignment with more joy, love, peace and freedom. This ecstatic embodiment practice rejuvenates the body, purifies stagnant emotional energy, brings insight and clarity into limiting beliefs, and remaps pathways to love that support the awakening and integration of higher consciousness.
THIS TRANSFORMATIONAL EXPERIENCE INCLUDES:
~ Kundalini Dance
~ Ceremonial Cacao
~ Rose Medicine
~ Sound Journey
~ Womb Healing
~ Vibrational Light Language Healing
~ Healing Time in Nature
~ Sisterhood Ceremony
~ Deep Sharing & Witnessing
~ Nourishing Food
~ Fire Ceremony
♥
SUNDAY OCTOBER 9TH
12:00PM - 6:00PM
At Nectar Yoga on Bowen Island
* This offering is on Canadian Thanksgiving.
REGISTER
$180 EARLY ACTIVATOR BY SEPTEMBER 30th
$225 REGULAR
Registration includes Full Day Ceremonial Healing Experience with Martine and Melanie + Locally Grown Organic Meal. It does not include ferry to Bowen Island, or accommodation.
♥
15 spots available for women only. Pre-registration is required.
 Don't want to pay eventbrite fees? Register here instead
Or reach out to Martine to pay via e-transfer
____________________________________________
OUR HEALING SANCTUARY
Nectar Yoga is a healing space for inner connection and outer exploration that awakens and nourishes your body and spirit. Contained within 20-acres of untouched land on Nexwlélexwm - Bowen Island, it is a space to dream, a womb to deeply relax, and an exploration of freedom. It features locally-grown, organic meals made with love and intention.
www.nectaryoga.ca
________________________________________
♥
ABOUT YOUR GUIDES
Melanie O'Leary is an Earth & Soul Medicine Practitioner, Sound Therapist, Sacred Ceremony Facilitator and Creative Visionary.By combining contemporary and traditional wisdom, Melanie is committed to preserving ancestral wisdom traditions by restoring myth, creativity, ceremony, rites of passage and earth & soul medicine within her healing practice.With creativity and abundant gentleness, Melanie helps people to heal their past, dream their future, connect to their authentic self and support them in being or becoming who they really are.
IG @melanie_oleary_ | FB: Melanie O'Leary Soul Medicine | www.melanieoleary.com
Martine Kleissen is a Sacred Embodiment Mentor and Transformational Healer. As an Advanced Kundalini Dance Priestess of the Rose she has over 13 years of experience facilitating transformational healing ceremonies where women can reclaim inner sacred union, remember their wholeness and empower embodied freedom and radiant feminine frequency. She weaves a rainbow bridge of unique healing techniques through channelling sacred geometry and colour with Light Language, Akashic Records, Rose Code frequencies, and being an Andean Mesa Carrier. With deep reverence for those that have come before us, she calls upon ancient wisdom-teachings as passed on for Millenia and heart-leadership to support healing and empowerment for all of our relations.
IG @heartpreneur8 | FB: Kundalini Dance Vancouver | www.martinekleissen.com
__________________________________
TESTIMONIALS:
"I am still glowing from our last dance. What a magical celebration of the body and it's knowing. thank you for your wisdom and guidance, I feel you are a true blessing to our world and to me personally. THANK YOU" TJ
"Thank you for holding the space for unlocking my voice Martine. Your healing is mine, and I am forever grateful to be on this path of liberation with you. I love you." MRM
"I whole-heartedly recommend Martine's Kundalini Dance session for anyone wanting to experience more growth, love, peace and joy in their life. Martine creates a safe, sacred, and fun space to explore and dance!!" Rebecca
__________________________________
THE FINAL DETAILS:
One Nourishing Meal is provided.
Cancellation Policy: This transformational experience is non-refundable. If you are feeling under the weather - please don't come - and know that you are still deeply held and supported and will still receive all this magnificent transformational energy as a distance healing session instead which is also very powerful across time and space.
This is an alcohol and substance-free event. Throughout this sacred ceremony we work with the plant allies of Mama Cacao, Rose, Sage, Sweet Grass, Palo Santo, Copal, or essential oils to enhance and empower this activation.
Please connect with Martine if you are pregnant (or trying to conceive), or have specific injuries as the breath patterns/movements/energy may be adapted for you while we dance and raise Kundalini energy in our system.
By signing up for this experience you will be added to Martine and Melanie's personal newsletter ~ you can unsubscribe at any time.