Event Information
Refund Policy
Contact the organizer to request a refund.
Eventbrite's fee is nonrefundable.
Are these these questions uppermost in your mind?: "Now what?" "What's next for me?"
About this Event
~Do you find yourself becoming more and more frazzled because you keep putting yourself last and taking on more?
~Do you find that you continue to judge yourself harshly if things don't go as planned?
~Do you find that resentment keeps showing up related to your past decisions?
~Have you reached that point in your life where you may be "done" with work, or no longer needed as a caretaker, but you know for sure that YOU'RE NOT DONE YET? That you have more to offer?
Right NOW...are these questions uppermost in your mind:
"Now what?" "What's next for me?"
Join me for:
The Sacred Soul Centering
Recharge to Reactivate What Matters
This gathering is designed especially for women who want to set healthy boundaries, learn ways to give themselves self-care without guilt, be their own source of inspiration and step decisively into their own wisdom so they can live and give from their deepest values.
This 2-day retreat offers:

An opportunity to explore self-compassion, acceptance and forgiveness in a brave and supported space.

Personal gems of wisdom from other women who are motivated, courageous and committed to transform limiting beliefs. 

Resources through discussion, worksheets, guided meditations, and sound healing to guide you through the process of creating new neural pathways. 

Strategies to learn how to interrupt the flight/ flight response and pause in the face of limiting beliefs and negative thinking to make more empowering choices that will improve your relationship to yourself and others.
A clear framework for self-care, and an action plan to cultivate more self-compassion in your daily activities.
You will leave with:
An integrated plan to open and grow self-kindness 

The Elements of Self-Compassion 

Suggestions for healthy strategies to honour your needs

Your practice of loving-kindness to continue

Resources and techniques of sound healing and Self-Compassion

A measure of shifting your inner dialogue from heartless to nurturing

Meditations and movements to stay in touch with your Inner Wisdom.

This unique gathering will be an opportunity to set time aside for some self-care, contemplation and sharing in the company of other women, perhaps from your neighbourhood or from anywhere in the world.
Technology will allow us to come together in the safety and comfort and convenience of our own spaces.
It will be an experience of self-reflection, self-compassion and healing sound, led by Pamela Van Nest, Self-Compassion Coach and Leah Glatz, Sound Healing Facilitator.
On Friday night, we explore self-compassion and self-talk and sound healing.
On Saturday, we continue exploring our inner dimensions and integrate sound to explore self-compassion from your inner soul's wisdom.
The Details:
December 4 – 7 pm to 10 pm EDT and
December 5 – 10 am to 3 pm EDT
The cost is only $97 for the 2 days and includes a follow up call within 2 weeks after the retreat as routine life begins to invade and lull you back into old habits.
Still not sure? Contact me at pamelavannest@pvncoaching.com and we'll set up a time to discuss one-on-one.
My Promise to You:
You will deepen your commitment to self-care, self-understanding and self-compassion. You will have access to powerful coaching individually and in a group. You will broaden your understanding of the paradox of self-compassion and define your own Radiant Essence that will inform you of where to focus your efforts and impact.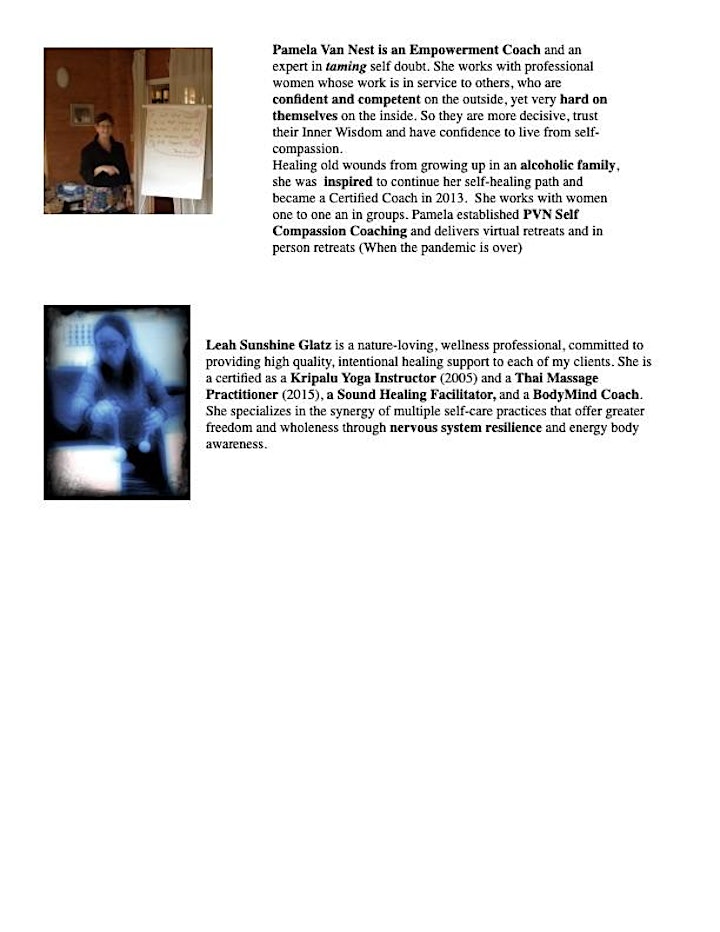 Date and Time
Location
Refund Policy
Contact the organizer to request a refund.
Eventbrite's fee is nonrefundable.