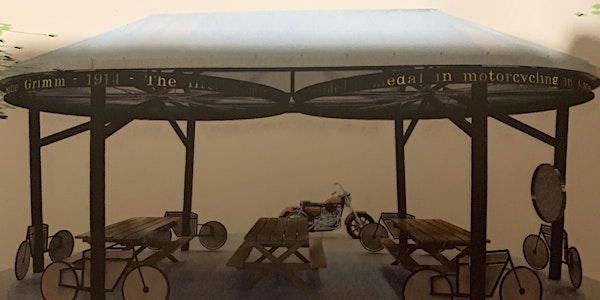 Sadie Grimm Commemorative Shelter Celebration and Ride
Sadie Grimm Celebration Committee is celebrating Sadie's 1914 gold medal ride constructing a commemorative picnic shelter in Wpg Beach.
When and where
Location
Royal Canadian Legion #215 ride through Interlake to Hunts Roadhouse RCL #215, 215 Maxwell King Dr - Rider Registration: Sun, Jun 12, 2022:10 AM - Noon Hunts Roadhouse, Hall Rd of Hwy 9 between Clandeboye and Petersfield, MB East St Paul, MB R2E 0C8 Canada
About this event
The Sadie Grimm Celebration and Ride event is in celebration of Sadie Grimm's 1914 victorious gold medal enduro ride from Winnipeg to Winnipeg Beach. To commemorate her victory, to celebrate women riders and motorcyclings' role in Canadian history, all monies raised in the event will be used to construct a picnic shelter on the waterfront at Winnipeg Beach Provincial Park. As of June 1, 2021, the Sadie Grimm Committee has raised just over $41 thousand towards the targeted cost of $45,000 (with all labour volunteered). All committee members are volunteers. 
 Our 2020 and 2021 events have been re-scheduled (due to COVID-19). All tickets purchased for the 2020 and 2021events will carry over to the 2022 Sadie Grimm Ride which starts at the Royal Canadian Legion #215, 215 Maxwell King Dr, East St Paul, MB between 9 & 11 on Sunday, June 12, 2022, and endingwith a live band concert at Hunts Roadhouse (on Hall Road between Petersfield and Clandeboye off Hwy #9) between 3 PM and 5PM . A suggested route map will be provided. $20.00 for Rider; $10 everyone else, except children under 16 are free. Donations welcome.
PS. Arrive early! Lees on DeVries makes a great breakfast!
The Sadie Grimm Celebration starts at 3 PM at Hunts Roadhouse. Music by Headingly Reunion with Rob Barg. There will be a 50/50 raffle (3 for $5.00), and a BIker blanket raffle so bring some extra cash. Draws will be held between 4:30 and 5 PM.
Hunts Roadhouse will be selling a "pork on a bun" for $15.00. a person. You can pay in advance at registration, or pay $15.00 cash at the event. BYOB. No refreshmneats are provided on site.
Pre-registration
All those who pre-register online will receive a small commemorative token that will be created and donated by one or more of the volunteers.
Pre-registrations will also be sold at the May 11 CMMG meeting, as well as end of the CMMG Safety Rally and Dealer Derby Saturday, May 14 , 2022. An early bird draw will be held for all who are pre-registered at that time! Congratulations to winners of the June 14, 2020 and June 13, 2021 early bird draws - a book donated by motorcyclist and auther, Liz Jansen.
Personalized Brick
All 80 personalized bricks that were pre-ordered and paid for prior to the 2020 order closure date are completed and ready for installation in the shelter. Construction of the base aggregrate was completed in fall of 2020. COVID lockdowns resulted in no further construction. The province has requested an engineers stamp on each segment of the shelter. A volunteer engineer is working on that for us. As soon as we receive the stamped documents, we will have obtain estimates for the necessary work. We expect the construction to begin this summer/fall with grand opening targeted for June 12, 2023 as part of next year's event.
Pre-Inscribed Personalized Bricks.
There are 5 pre-inscribed bricks remaining for sale for purchaser's personal use for their yard, or for Mother's Day gift, Father's Day gift, etc. Email wrcchair@gmail.com for details.
Should you not wish to pay online, you can send a cheque to CMMG A109-1345 Niakwa Rd East, Winnipeg, MB R2J 3T5. Make the cheque payable to CMMG with Sadie Grimm in the re line! Be sure to include your contact information: name, full mailing address, email, and phone number.
Sadie Grimm T-shirts/Tank Tops
Anyone wishing to order a T-shirt or tank top can do so by searching "Etsy Sadie Grimm".  You order and pay for them directly online. They will be custom made and delivered to your door. Many thanks to Blacknot Farm who created the design, and is marketing them for us so we can focus on other volunteer activities. 
Sadie Grimm Coffee Mugs/ Tote Bags
Anyone wanting a Sadie Grimm coffee mug or carrying bag (Blacknot Farm design) can order one directly from the following link, and it will be delivered to you directly:
https://society6.com/product/sadie-grimm
Invitation to women riders from across Manitoba, Canada, USA, and abroad! 
It'd be a great year for women riders, and their co-riders, from across Manitoba, Canada, and USA (and abroad) to make this an adventure of choice for 2022. We are surviving COVID!  If you have questions re accommodations, billeting, camping, etc, send us an email at wrcchair@gmail.com. 
PS Men and children are welcome too.
Even if you don't ride, you can join our celebration at Hunts Roadhouse for the $10.00 concert ticket, and the $15.00 "pork on a bun".
See you June 12, 2022!