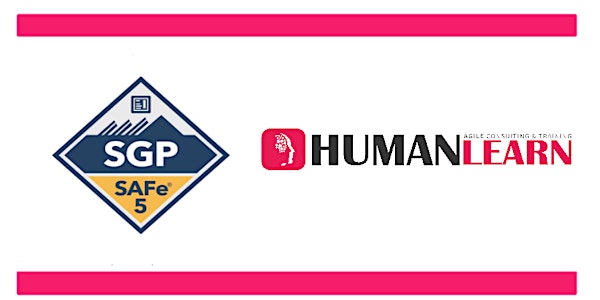 SAFe for Government / SAFe dans le contexte gouvernemental
Appliquer les principes Lean-Agile au secteur public avec le framework SAFe®
Refund Policy
Contact the organizer to request a refund.
Eventbrite's fee is nonrefundable.
About this event
(Formation dispensée en francais)
La transition vers des pratiques Lean-Agile pour le renforcement des capacités technologiques est particulièrement difficile dans le contexte gouvernemental.
Ces problèmes de gouvernance héritée, les contrats et les barrières organisationnelles peuvent être surmontés avec les bonnes informations et stratégies.
Durant ces deux jours de formation, les participants apprendront les principes et les pratiques du Scaled Agile Framework® (SAFe®), comment exécuter et libérer de la valeur via Agile Release Trains, et ce que cela signifie de mener une transformation Lean-Agile d'un programme à l'intérieur d'un organisme gouvernemental (gouvernement, municipalité/ville, parapublic).
Les participants acquièrent une compréhension de l'état d'esprit Lean-Agile et pourquoi c'est une base essentielle pour la transformation. Ils recevront également des conseils pratiques sur la création d'équipes et de programmes Agile multi-fournisseurs hautement performants, la gestion des investissements technologiques dans le flux Lean, l'acquisition de solutions avec des contrats Agile, le lancement du programme et la planification et la création de valeur à l'aide de SAFe. Les participants apprennent également comment des comportements de leadership spécifiques peuvent conduire à un changement organisationnel réussi au sein du gouvernement.
Ce cours vous prépare également à passer l'examen Scaled Agile et à obtenir la certification SAFe® Government Practitioner (SGP). Les frais de scolarité comprennent l'examen.
Vous apprendrez à :
Créer de la valeur pour les citoyens et améliorer le Time-To-Value.
Faire passer les programmes gouvernementaux des modèles traditionnels de développement de logiciels et de systèmes à l'état d'esprit, aux principes et aux pratiques Lean-Agile et DevOps à l'aide de SAFe.
Adapter les processus de stratégie technologique, de budgétisation et de prévision, d'acquisition, de conformité et de gouvernance aux pratiques basées sur les flux à l'aide des directives gouvernementales émergentes.
Organiser les programmes gouvernementaux en un ou plusieurs Agile Release Trains (ART) et les exécuter par incréments de programme (PI).
Explorez la coordination de grandes solutions dans un environnement gouvernemental et multi-fournisseurs.
Construire un aperçu préliminaire des prochaines étapes pour commencer et/ou accélérer la mise en œuvre de SAFe dans votre programme ou agence.
Public cible
Mettez votre agence gouvernementale sur la bonne voie pour une transformation Lean-Agile. Le cours SAFe for Government est destiné aux dirigeants et conseillers gouvernementaux qui peuvent guider la décision d'adopter SAFe au sein de leur agence ou programme.
Les participants au cours comprennent généralement :
Cadres, directeurs, chefs de succursale, professionnels
Responsables du développement, de l'ingénierie, de l'assurance qualité, de l'architecture, des opérations, du support
Responsables de programmes et de projets
Bureau de gestion des programmes/projets (PMO)
Note :
Examen inclus dans le prix
Certificat SAFe et badge numérique pour promouvoir votre accomplissement en ligne
Une adhésion certifiée d'un an à la communauté SAFe
Accès à une variété de ressources d'apprentissage pour vous accompagner tout au long de votre parcours SAFe