Safe Supply and Decriminalization of Drug Use: A Panel Talk
Interactive discussion on the evidence supporting safe supply and decriminalization of drug use to save lives.
About this event
Please join us for a panel discussion organized by the Substance User Network of the Atlantic Region on safe supply and decriminalization of drug use. Leading our talk will be: Giulia Di Giorgio, a passionate advocate with lived experience with substance use; Dr. Tiffany O'Donnell, co-founder of Doctors for Decriminalization; Petra Schulz, a founding director of Moms Stop The Harm; and Natasha Touesnard, Executive Director of the Canadian Association of People who Use Drugs.
Evidence will be presented as to how and why safe supply and decriminalization is needed desperately in our nation. Approximately 17 Canadians died each day in 2020 from apparent opioid toxicity, 96% of those being accidental. Sarah Peddle, the Service Learning Manager in the Faculty of Medicine at Dalhousie University will moderate the panel and direct questions from the audience to promote these critical conversations.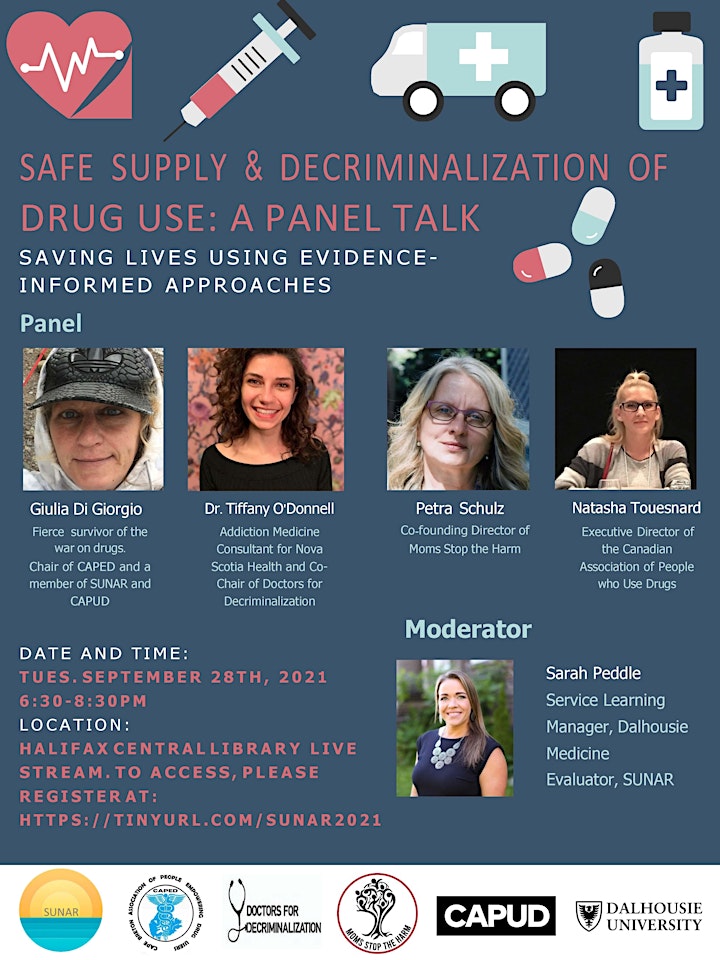 Giulia Di Giorgio
Giulia Di Giorgio is a fierce survivor of the war on people who use drugs. She was one of the original drug user advocates in Canada, lending her voice to the creation of various programs and services and research that support PWUDs. She is a founder and Chair of Cape Breton Association of People Empowering Drug Users, a member of SUNAR and the national DU group, CAPUD.
Having endured being criminalized, hospitalized, homeless, and more as a direct result of her substance use, she has had to unlearn stigma she had internalized and rebuild her life for the better.
Giulia aims to lend her voice in the process of securing evidence-based services for her community, as well as implementing programs to empower and undo the harms created as a result of the criminalization of people who use drugs, by being a voice around tables where decisions are being made about our lives.
Safe Supply Saved Her Life.
Tiffany O'Donnell
Tiffany O'Donnell is a family physician in Sipekne'katik First Nation and a consultant in Addiction Medicine for the Nova Scotia Health Authority. She a co-founder and co-chair of Doctors for Decriminalization (@docs4decrim), a national coalition of physicians advocating for health-centred drug and substance policy, and she provides medical care through the Elizabeth Fry Society of Mainland Nova Scotia for women who have experienced incarceration, and through Mobile Outreach Street Health.
Petra Schulz
Petra Schulz is one of the three founding directors of Moms Stop The Harm. They started the organization together in May of 2016 after the three women from Edmonton connected with a common bond; the loss of their sons.
Petra lost her youngest child Danny to an accidental fentanyl overdose in 2014, a result of our nation's failed drug policy.
Petra represents families with lived experience in Health Canada and CCSA advisory committees. She has been a speaker for TedX at MacEwan University, at conferences, community meetings, professional organizations, universities, and all government levels. She contributed to the anti-stigma campaign, "See-Beyond" and a research project on mother's advocacy.
Natasha Touesnard
Natasha Touesnard is the Executive Director of the Canadian Association of People who Use Drugs. Natasha believes in the organizations' mission and strives to reduce oppressive societal conditions people who use drugs face by raising their voices throughout the policymaking process. Prior to this role, she was the Site Coordinator and lead Case Manager at the Open Door Clinic, family practice and opioid agonist treatment clinic located in Dartmouth, NS.
Natasha was among several local people who use(d) drugs who formed the first drug user group in the Atlantic provinces. The Halifax Area Network of Drug Using People (HANDUP) was created through the member's collective vision, and she held the role of Project Coordinator for a number of years. She holds several volunteer positions where she is able to share her expertise and advocate for the health, and human rights of people who use drugs. Most notably Natasha was a Canadian Delegate at the United Nations 62nd Session Commission on Narcotic Drugs in 2019.
Natasha lives by the guiding principle of "Nothing About Us Without Us" is a strong proponent of harm reduction and advocates for the respect of and holds a commitment to people who use illegal drugs, who face insurmountable challenges due to drug prohibition-based laws and policies.
Organizer of Safe Supply and Decriminalization of Drug Use: A Panel Talk