Location
240 Matheson Blvd W
240 Matheson Boulevard West
Mississauga, ON L5R 3L7
Canada
Saigon Park Grand Opening
About this event
We left our home country with bare hands, boarded makeshift boats, and crossed the great ocean among scary waves. We are lucky to be alive and given a chance to start a new life in this peaceful country called Canada. Through our positive social and charitable contributions, the Vietnamese community has built a good reputation in the city. In dedication and appreciation, Mississauga has named its most recent park Sai Gon Park.
You are invited to Sai Gon Park Grand Opening Ceremony, to celebrate this important milestone and to thank the city of Mississauga for this honour. Now we have a place called "Sài Gòn" to exercise every morning, to take a scroll in the evening, and to look back and remember our very own glorious Pearl of the Far East in the past.
The grand opening will be hosted by the city of Mississauga. The program includes speeches, entertainment, free food, firework and many other fun family activities.
The organizing committee sincerely extends this invitation to all.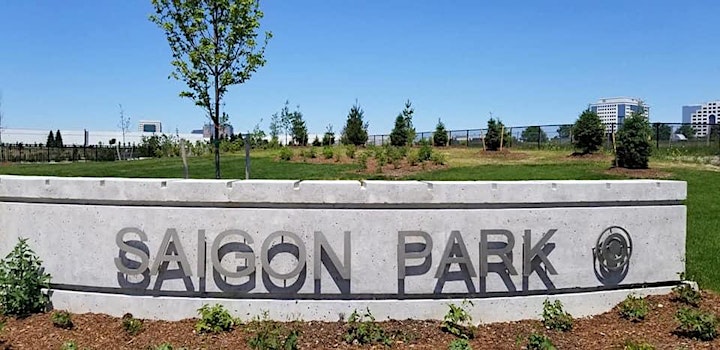 Lễ Khánh Thành Sài Gòn Park
May 14, 2-8pm
Chúng ta ra đi với bàn tay trắng, trên những chiếc tàu bè mỏng manh, vượt đại dương, sóng lớn. Chúng ta may mắn sống sót, và được tái ổn định cuộc sống nơi xứ sở Canada hiền hòa. Qua những đóng góp cá nhân lẫn hội đoàn mà chúng ta đã dành cho Canada, người Việt đã tạo dựng được tầm quan trọng trong xã hội bản xứ. Vì vậy, thành phố Mississauga đã ưu ái đặt riêng cái tên Sai Gon Park cho công viên mới được xây cất trong thành phố.
Kính mời quý đồng hương tham gia lễ Khánh Thành Sài Gòn Park thật đông đủ để cảm ơn thành phố Mississauga, và cũng để cùng nhau mừng cột mốc đáng nhớ rằng giờ đây, chúng ta có một nơi chốn gọi là "Sài Gòn" để sáng sáng tập thể thao, để chiều chiều đi dạo, và hồi tưởng lại Sài Gòn Hòn Ngọc Viễn Đông thưở nào.
Chương trình lễ Khánh Thành sẽ được chính thức điều hành bởi thành phố Mississauga. Chương trình bao gồm phát biểu, thức ăn, văn nghệ và bắn pháo bông.
BTC Trân trọng kính mời.