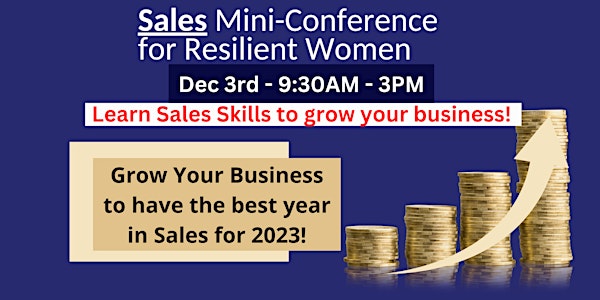 Sales Mini Conference for Resilient Women
Resilient Women Mini-Conference for women who want more out of their business & Life. Do you want 2023 to be your best year to date? YES!!!
When and where
Location
Sonrise Church 5588 188 Street Surrey, BC V3S 4N7 Canada
About this event
This event is for you if ...
You are a woman who either has a business or wants to get into a business.
You are wanting to get to the next level of your success.
You have the desire to make more income/revenue.
This event is all about assisting you in learning tips and strategies to ensure you have an outstanding 2023 in your business and your Life! January 2023 is right around the corner! You will gain more focus, clarity, and confidence from this event.
No matter what is going on with us or our businesses, and in this economy, there are always opportunities to shift a situation, optimize our chances, and/or start all over again.
You will be learning tips and strategies to implement which will assist you to have a great 2023!
Would you like to learn more about sales? Honestly, you can never learn enough about sales. There is so much to learn in Sales, there is:
You will learn some key tips in sales, and you will learn how Sales Psychology is important for you to learn! Business and Sales are all about Psychology.
You will learn how to overcome objections.
You will learn phone skills.
How to approach people
How to follow up effectively
How to introduce yourself effectively to get a good response
How to communicate effectively
How to overcome objections
How to sell online
How to be great at client service
How to deal with an upset client
How to pick up the phone
And on and on.
You will learn how to become focused on your goals and how you can achieve what you want and desire to achieve.
You will learn some daily processes that will assist you to grow your business and so much more!
This event is all about assisting you to have a successful 2023!
You will have the opportunity to network with some of the attendees. You never know when you will meet your next best friend, business partner, or client.
Throughout the breaks, you will have the opportunity to view some vendor tables of products/services that could be Christmas Gifts for the loved ones on your Christmas list.
You will leave this event Inspired, Motivated, and Educated to grow yourself and your business to the next level!!
Let's have fun together and show the world we are strong when we are together!
What you will receive by attending:
A special GIFT - value is priceless
A ton of education
What you need to bring:
Water bottle
Bag lunch and snacks
A Ton of Value for only $32.00!!!
Note:
1. The venue has lots of parking and it is free.
2. No food available and not much in the area. Bring a bag lunch.
3. This event is to encourage, inspire, motivate, and educate you to have a great 2023!
4. This event will sell out therefore we encourage you to get your ticket before you get disappointed.
5. The venue is like a gymnasium so we have a ton of space. The venue is a church, if you are not a church goer do not allow that to discourage you. This event is not classified as a Christian event.
Let's have a fantastic time! See you there!