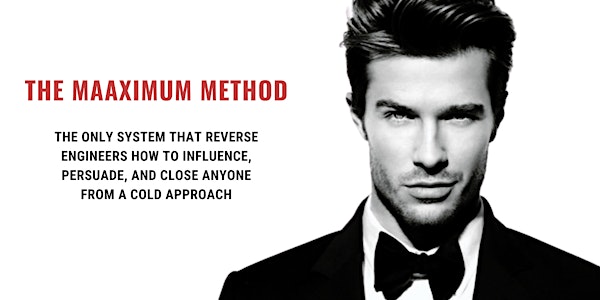 Sales training in Toronto - Learn how to "close" anyone from a cold pitch.
Learn the Maaximum Method. The #1 sales system to close anyone from a cold approach (on the phone or in-person).
Refund Policy
Contact the organizer to request a refund.
About this event
Learn the Maaximum Method. The Top sales training in Toronto, charisma and attraction strategies. The most fail-proof system to close anyone from a cold approach (on the phone or in-person).
The Maaximum Method is the most thorough cold attraction and sales system in the world. It was developed by Omar Khan. It is the result of his 20 + years of experience, "reverse engineering" the mindset, body language, and step-by-step process behind cold approaching, attracting, and "closing" anyone within minutes of pitching them. You can now learn this world-renowned system used by 1000s of people to become master communicators, persuaders, influencers, and closers in life, in the dating game (if you're a guy), and in business. Learn from the top cold sales and attraction trainer in Toronto how to sell yourself, your ideas, vision to anyone, communicate better, build your social acumen, self-confidence, and much more. 
 During my quick 2-hour sales training in Toronto...
You will learn
The Truth about what "drives" people to act on an idea or vision they see or hear. This will SHOCK you! It's not what you think! 
You will learn my 4-step system to cold approach, trigger attraction, and "convert" anyone into your loyal fan, follower, client, and even romantic partner, if you're a guy, within a few moments of a first meeting.
How to "instantly" trigger attraction in someone for you or your idea, within minutes, simply with your voice and body language.
How to make someone feel a "pull" towards you when they first meet you.
How to know whether someone is "emotionally invested" in you or your message vs. is just giving you lip service. You'll learn my "breakthrough" Compliance Checking System of Questioning to determine this.
How to handle objections or "shit tests" like a boss, so that you can turn even the toughest customer into your loyal fan, follower, and even lover, within minutes.
How to get someone to "Act on" their interest or attraction for you, instantly and seamlessly with 0 hesitation to become your client.
How to develop unshakable self-confidence.
and much more...
Remember, the most important skill you can have in this world is the ability to sell your ideas, vision, and yourself to others. That's how you will get the job, love interest, deal, and the business success you know you deserve...
Less than 5% of people can "close" someone consistently, from a random cold approach. These are the ones who have the world in the palm of their hands. The remaining 95% don't achieve any success in life, love, or in business. What percentage do you want to be a part of?  
If you are a business owner, a salesperson, someone who wants to learn how to communicate effectively and powerfully, or someone who wants to be able to attract, influence, and lead others, you need to move from the 95% category consisting of "ordinary, just-getting-by folk" to the "extraordinary, small band of people" that own it.
Let me help you learn how to close anyone in life, in the dating game, or in business like a Boss! Come take my quick 2-hour sales training in Toronto and change your game and your life!
I normally charge several hundreds of dollars to over 1K for private training, however, I'm going to be giving you a sneak peek, intro into my method for only $35.00 CAD. For a limited time only! I'll honor Complete money-back guarantee if you are not blown away by my talk and walk out with a newfound understanding of how to close anyone on your ideas and vision. 
Reserve your spot today! Only 7 more seats left.