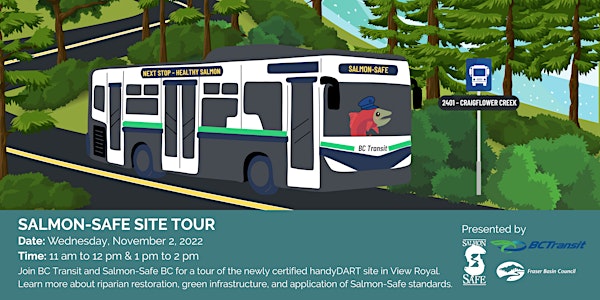 Salmon-Safe Tour of BC Transit's handyDART View Royal Site
Next stop, BC Transit's newly Salmon-Safe certified handyDART site in View Royal! Join us to learn more about Salmon-Safe in practice!
Date and time
Wed, Nov 2, 2022 10:30 AM - 3:30 PM PDT
Location
2401 Burnside Rd W 2401 Burnside Road West Victoria, BC V9B 6M7 Canada
About this event
Have you ever wondered what a Salmon-Safe development looks like and how it all works? Next stop, Vancouver Island's first Salmon-Safe certified site!
Join Salmon-Safe BC and BC Transit on November 2nd as they walk you through the incorporation of Salmon-Safe's standards for urban development on BC Transit's new handyDART View Royal site. Certification of the site was announced on September 26, 2022, by the non-profit Fraser Basin Council and its Salmon-Safe program. Now that it's certified, the team would love to share the design, intentions, and vision for others to adopt more progressive, environmentally friendly land and water management practices in BC
The new handyDART site is currently home to the largest riparian restoration project in the Craigflower Creek Watershed which was important for the salmon-bearing stream that runs along the perimeter of the site. Redevelopment of the property came with environmental challenges. When the Island Highway was built in the 1990s, a stream crossing the property and contributing to Craigflower Creek had previously been re-routed once or twice. Water flow was variable, and the riparian zone was overgrown with invasive plants. Under BC's Transit's development plan, the stream was realigned to the western and southern edge of the property to reconnect it to Craigflower Creek, and both the stream and streamside habitat were expanded and improved.
Learn from the team that designed the site to promote biodiversity and treat stormwater through an extensive system of nine rain gardens. Register today to secure your spot in one of the two tours taking place!
Tour 1 - 11 am to 12 pm
Tour 2 - 1 pm to 2 pm