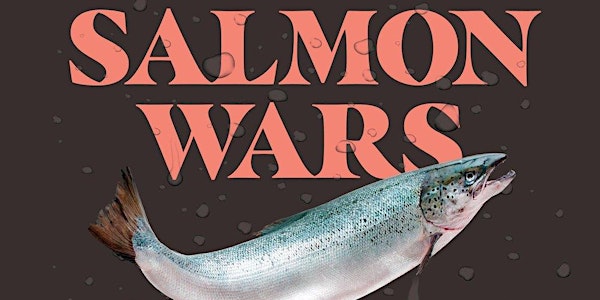 Salmon Wars: Book Launch & Sustainable Seafood Social at the Brewery Market
Award-winning journalists Doug Frantz and Catherine Collins uncover the hidden side of sea-cage salmon farming in this alarming exposé.
When and where
Location
Halifax Brewery Market 312-1496 Lower Water Street Halifax, NS B3J 1R9 Canada
About this event
Sea-cage salmon farming expansion is back in Nova Scotia.
If seen to fruition, existing industry plans will quadruple the amount of farmed fish produced in our waters. With government approvals on the horizon, coastal communities are forced to fight to protect the bays they love from the sea lice, disease, pesticides and waste that factory fish farms leave in their wake.
Spurred by fish farm expansions proposed nearby their Lunenburg home, award-winning investigative reporters Doug Frantz and Catherine Collins turn their attention to this disturbing topic in their latest book. Salmon Wars: the Dark Underbelly of Our Favorite Fish, is an alarming exposé uncovering the dirty secrets of an industry that misleads consumers and profits at the expense of marine ecosystems.
On the evening of October 13th, we're saying NO to sea-cage salmon farming, and calling on our leaders to put a stop to salmon farming industry expansion in Nova Scotia.
Doors open at 6pm. Join us for a book-signing and a meet-and-greet with the authors, and your copy of Salmon Wars available for purchase. Three attendees drawn at random will get a free and signed copy . Seafood snacks courtesy of Afishionado will be provided. Two drink tickets for each attendee courtesy of Alexander Keith's!
From 7-830pm, we'll host a moderated discussion with the authors, followed by a panel discussion and Q&A with representatives of the Ecology Action Centre and the Atlantic Salmon Federation (ASF).
Finally, we're offering beautiful made-in-Nova Scotia wild salmon artwork and some sweet Patagonia swag to the winners of our raffle contests. Reminder to bring cash if possible. It's a celebration of investigative journalism at its best: speaking truth to power. Can't wait to see you there!
Check out the Salmon Wars website for more information on the book and the authors.
On-site registration is available.