Salon de l'emploi - Le 2 décembre 2021 à 13h30 Job Fair - December 2nd, 2021 at 1:30pm
About this event
Salon de l'emploi! | Job Fair!
Pour vous inscrire : | To register:
forms.office.com/r/QgbAW4h4VF
Le 2 décembre 2021 à 13h30, les CJE de l'Ouest-de-l'Ile et Lachine tiendront un salon virtuel de l'emploi pour les jeunes adultes! Plusieurs employeurs seront présents et de nombreuses opportunités d'emploi vous attendent. De plus, deux ateliers vous seront offerts pour vous aider à la rédaction de votre CV (30 novembre à 13h30) et à la préparation aux entrevues (1e décembre à 13h30)
Inscription aux ateliers : forms.office.com/r/Pa2Krthd4W
...
On December 2nd, 2021 at 1:30 p.m., the CJE de Ouest-de-l'Ile and Lachine will be hosting a virtual job fair for young adults! Several employers will be present and there will be many job opportunities. In addition, two workshops will be offered to help you create your CV (November 30 at 1:30 p.m.) and prepare for interviews (December 1 at 1:30 p.m.)
Workshop Registration: forms.office.com/r/Pa2Krthd4W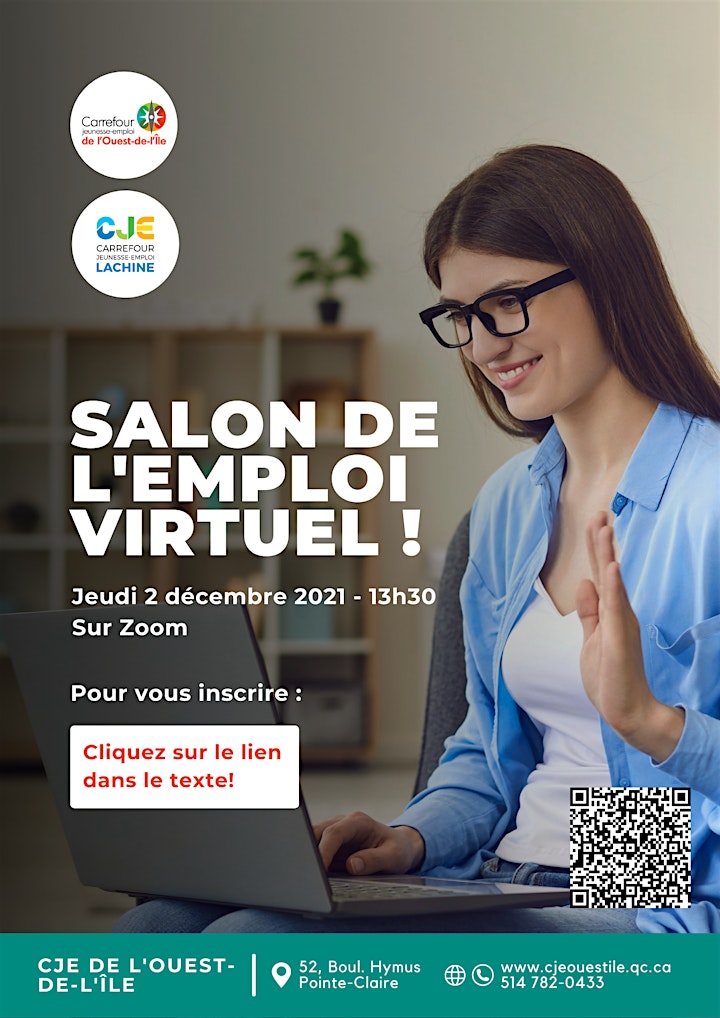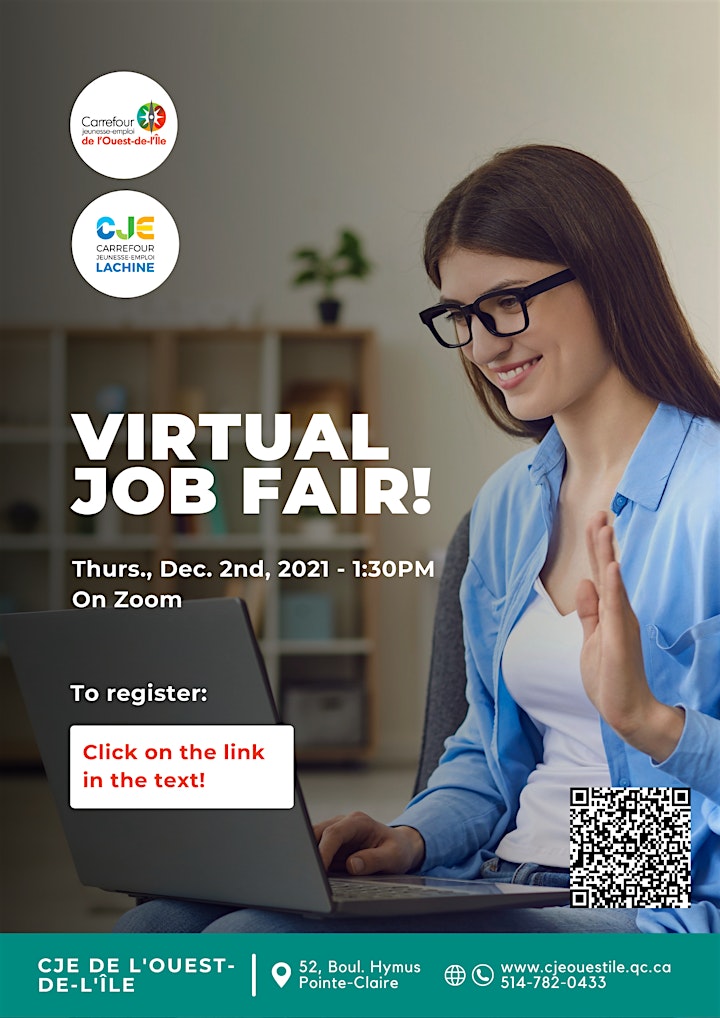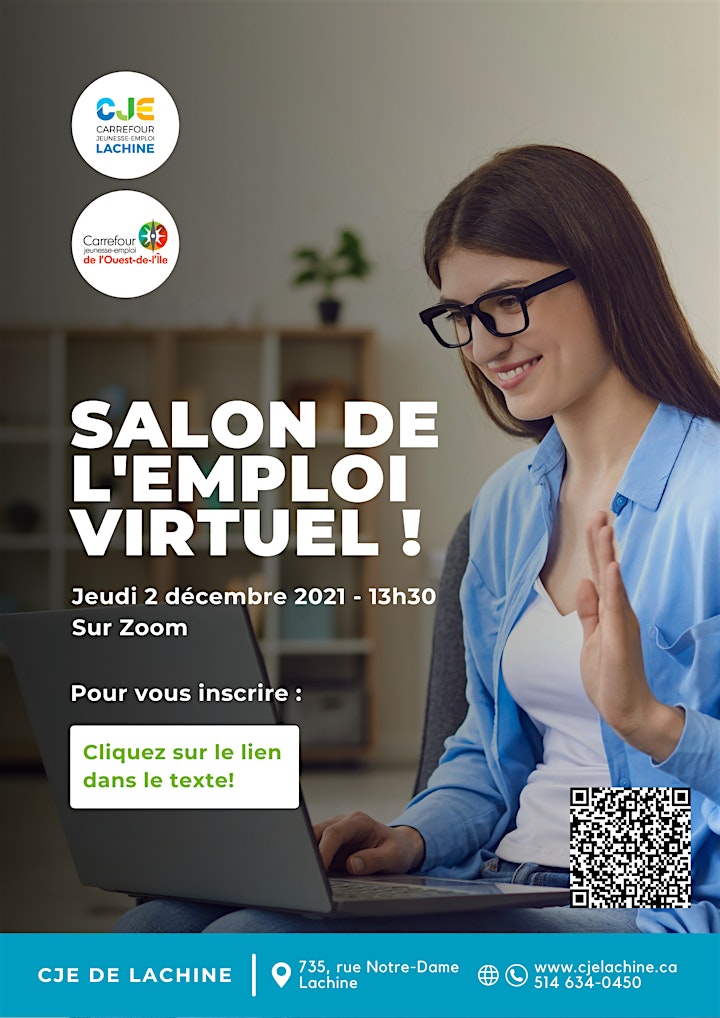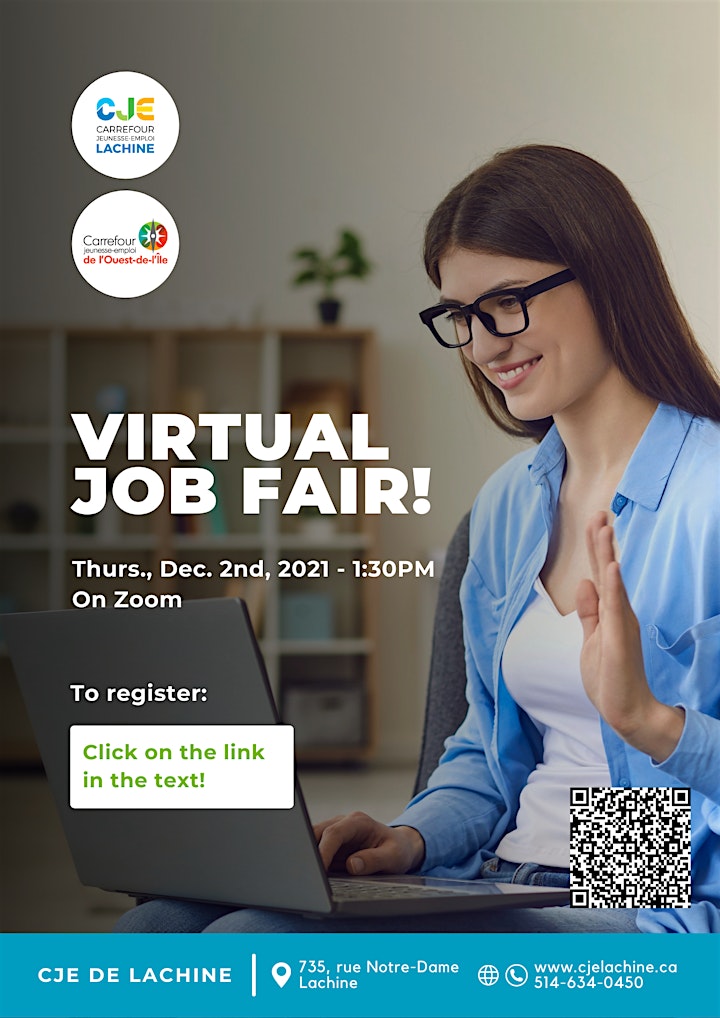 Organizer of Salon de l'emploi | Job Fair
La mission du CJE de l'Ouest-de-l'Île est d'appuyer les jeunes adultes avec la participation des partenaires du milieu en offrant une gamme gratuite de services bilingues et de programmes en matière de réinsertion sociale, de recherche d'emploi, de retour aux études et de sensibilisation à la réalité entrepreneuriale.
​Notre vision est d'être une organisation reconnue et un partenaire engagé dans sa communauté pour l'insertion sociale, scolaire et professionnelle des jeunes.Tout jeune adulte âgé entre 16 et 35 ans est admissible aux services du CJE. Que le jeune ait abandonné l'école ou qu'il soit détenteur d'un diplôme, qu'il soit sans emploi ou en quête de formation.

Notre organisme s'adresse à tous sans égard à la situation économique ou sociale.
...
Carrefour jeunesse-emploi de l'Ouest-de-l'Île truly believe that there is nothing more important to our future than the support of our young adults today! For over 20 years, our organization has served a community of more than 200,000 citizens and actively helped youth, age 16-35, reach their employment, education or social goals.

Our organization is for everyone, regardless of economic or social situation.