Salon Series : Answers vs. Questions

Wednesday, 1 November 2017 from 6:30 PM to 10:00 PM (EDT)
Event Details
Join us and speakers Salim Ismail, Jill McAbe Sonny Kohli as we ponder Answers Vs. Questions, inspired by Futurist Gerd Leonhard, who argues that "computers are for answers and humans are for questions",  a seminal distinction that questions what it is to be human. Because we now live in a world where artificial intelligence, robotics, and wearable technologies are becoming commonplace, we see the concept of humanity beginning to blur, so we ask the question:
"In order to preserve our humanity do we need to focus less on the invention of new technology and focus more on the creation of provocative questions?"
Meet Our Speakers: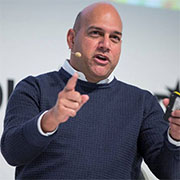 Salim Ismail
A technology strategist, a software engineer, and a successful entrepreneur, Salim travels extensively sharing a global perspective on the impact of breakthrough technologies. Having spent the last seven years building Singularity University as its founding executive director and current global ambassador, he focuses on how organizations can leverage disruptive technologies to grow ten times faster than their peers. His captivating, educational, and downright jaw-dropping presentations have been called "mind-blowing" and "the best talk I think I've ever heard." His book, Exponential Organizations, quickly reached number one on Amazon's "Best-Sellers in Business Management" and was named Frost & Sullivan's "Growth, Innovation, and Leadership Book of the Year."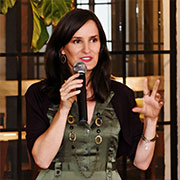 Jill McAbe
A neuroscience-based strategy, performance and growth expert, Jill is the creator of MINDCODE™––a neuro and behavioral science-based strategic planning process specifically tailored for Entrepreneurs. Over the past 15 years, she has worked with small and mid-sized companies from around the globe, utilizing her expertise in neuroscience and behavioral science methodologies to powerfully drive business performance. Her background as an entrepreneur enables her to provide powerful methods, specifically tailored for entrepreneurs,  Jill is a certified as a Business Coach by Royal Roads, a Team Coach by Adler, and a trainer for the award-winning change leadership program, Influencer.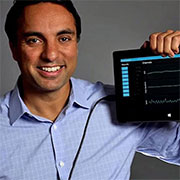 Sonny Kohli
Dr. Sonny Kohli is a practicing Physician in Internal Medicine and Critical Care, and is faculty at McMaster University in Canada. In 2008/09, Sonny was an Astronaut Candidate at the Canadian Space Agency (CSA) and is an alumnus of the International Space University, a trained flight surgeon with the Canadian Forces, and was awarded a CSA scholarship to Johnson Space Center & Wyle Labs. While studying at ISU, he helped deploy the Image Reversal In Space (IRIS) experiment on the International Space Station. In 2010, while volunteering in Post-Earthquake Haiti, Sonny experienced first-hand the perils of inadequate health care faced by Earth's most marginalized peoples. Intrigued by space-age solutions to the world's health problems, Sonny co-founded Cloud Dx to create a fully autonomous 'digital doctor' called Vitaliti. Vitaliti was awarded as XPRIZE's first Bold Epic Innovator as part of the Qualcomm Tricorder XPRIZE.

When & Where

2nd Floor Events
461 King Street West
Toronto, ON M5V 1K4
Canada

Wednesday, 1 November 2017 from 6:30 PM to 10:00 PM (EDT)
Add to my calendar
Organizer
Talk Boutique is the catalyst for change-makers. We help individuals, teams and organizations communicate with clarity and authority. We work with leaders, academics, scientists, technologists and artists helping to translate their knowledge into powerful ideas, transforming them into thought leaders.
We discover and create platforms from which to share ideas, impacting the world one conversation at a time.