Event Information
Location
Institute Of Traditional Medicine
553 Queen St. W. 2nd Fl.
Toronto, ON M5V 2B6
Canada
Description
TRADITIONAL MEDICINE SALON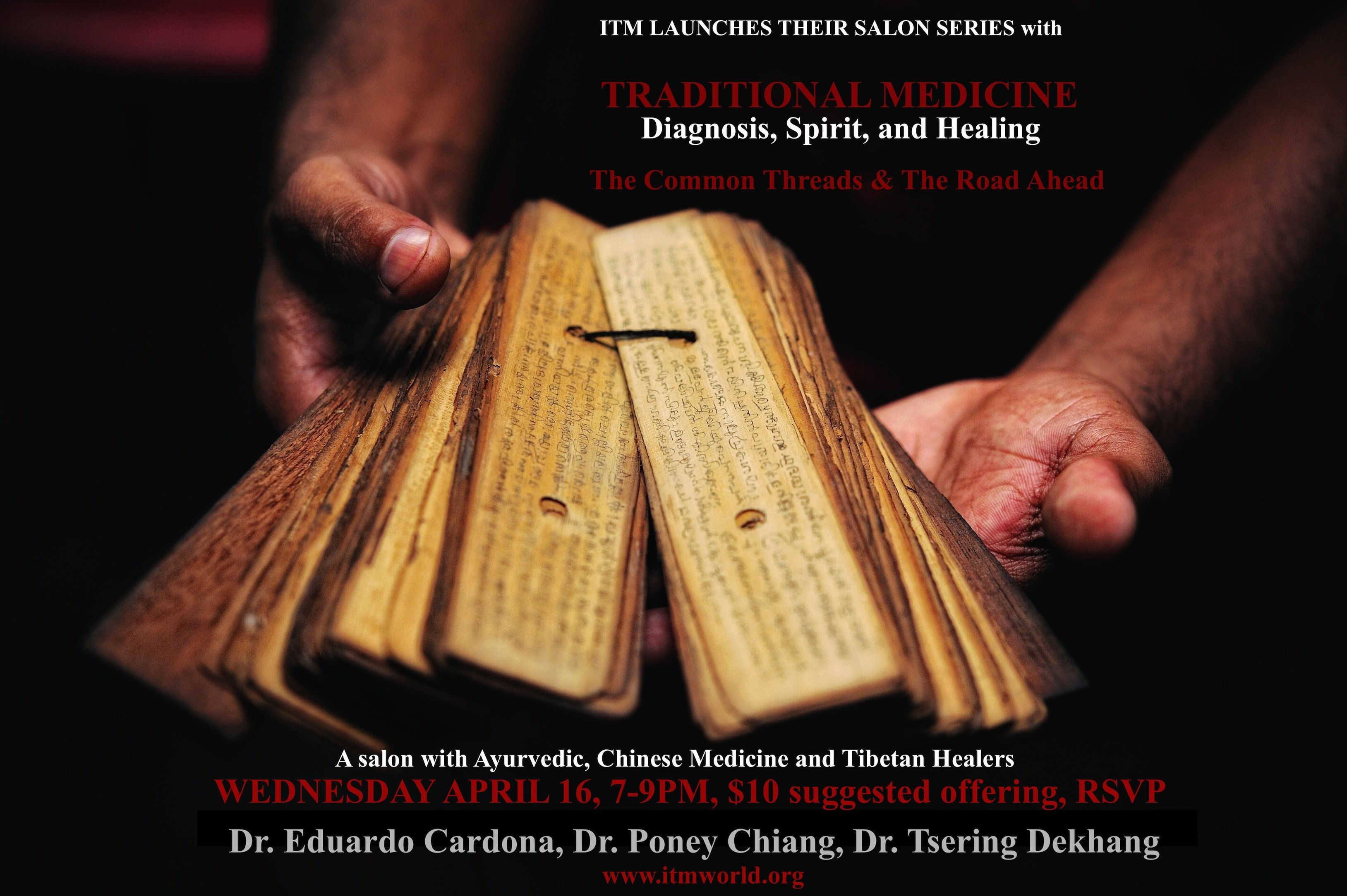 Diagnosis, Spirit & Healing
The Common Threads & The Road Ahead
A Salon with Ayurvedic, Chinese & Tibetan Healers
Join us for an evening that explores the essence of traditional medicine - diagnosis, spirit and healing. We have
brought together three incredible, and highly skilled healers from some of the oldest medical systems existing today - Ayurveda, Chinese, Tibetan Medicine. This evening will offer a fascinating discussion and comparison of how these medicines have addressed healing in the past and how they are essential in maintaining health and balance in modern society. We will explore ways to maintain the spiritual essence of healing, and the diagnostic processes that we are each able to apply to our own lives in understanding our conditions and illness.
7-9pm, $10 suggested offering
*All proceeds to Healers.
AYURVEDA:
Dr. Eduardo Cardona
career spans professorships and senior teaching and research posts at some of Europe's most distinguished medical schools including Institut Pasteur; Salpêtrière Hospital; Institut Biomedical des Cordeliers, Institut Français de Chiropractie, Paris; University of Perugia Medical School, Italy; King's College London and St. Bartholomew's Hospital Medical College, London, UK.
After graduating in Medical Sciences he completed his Masters in Clinical Biochemistry, studying the role of different types of vegetarian diets on cholesterol level management. His PhD was on the Mechanism of Uptake of Neurotransmitters and his Doctor of Science (Docteur d'Etat) was in Physiology of Nutrition.
His Masters in Ayurvedic Medicine (with internships at AVP Hospital, Coimbatore and Udupi, India where he holds a Visiting Professorship) includes a dissertation correlating Obesity under the light of Ayurveda and Modern Medicine.
He is Research Committee Director of the Ayurvedic Practitioners' Association (APA) and is an Ayurvedic Practitioner.
Dr Cardona is a Fellow of The Royal Society of Medicine (UK) and a Member of The College of Medicine (UK).
CHINESE MEDICINE:
Poney Chiang finds spiritual fulfillment as a practitioner of Oriental medicine. He is humbled and honored to be a part of his patients' wellness. He is the program director and lead instructor in the Integrative Acupuncture Certificate Program at the Canadian College of Naturopathic Medicine. Poney began teaching in 2008 and has been asked to teach his unique training at professional development events to acupuncturists, naturopathic doctors, physiotherapist and chiropractors.
Poney has been an author to Oriental Medicine Journal, European Journal of Oriental Medicine and Oriental Medicine Newsletter on a wide range of topics. He has appeared numerous times on local television (OMNI News) as an expert in Chinese medicine. Poney has been invited as a speaker for the Canadian Dermatology Nurse Association, Canadian Skin Patience Alliance, York Region Police Association, Asian Integrative Medicine Symposium and Contemporary Medical Acupuncture Symposium. (
PhD. (Biomedical Science), Institute of Medical Science, UofT,
MSc.(Traditional Oriental Medicine.
BSc. (Microbiology), University of Toronto).
TIBETAN MEDICINE: Tsering Dorjee Dekhang has successfully completed six years Tibetan doctor's degree (Kachupa Degree) from the Tibetan Medical College of His Holiness the Dalai Lama, Dharamsala, India. After graduation he received further training in herbal medicine formulation under the guidance of late Dr. Tenzin Choedak, who was the personal physician to His Holiness the Dalai Lama. After several years of working at the Tibetan Medical College, he did further studies and examination and received (Menrampa Degree) with honours in Tibetan Medicine in year 2005. Dr.Tsering Dorjee Dekhang has authored the book "The Handbook of Tibetan Medicinal Plants", 2008 and co-authored the book, "Tibetan Medicinal Plants" published by Medpharm scientific publisher, Stuttgart, Austria, 2000. He also translated several other books related to Tibetan Medicine as well as other health related books. He has given lectures on Tibetan Medicine at various international conferences and workshops. He contributed his expertise towards David Suzuki's Nature of Things documentary film on Tibetan Medicine titled "The Blue Buddha, Lost secrets of Tibetan Medicine". In addition, he has also contributed for Tibetan medicine documentary film crew from Dana, Germany.
Date and time
Location
Institute Of Traditional Medicine
553 Queen St. W. 2nd Fl.
Toronto, ON M5V 2B6
Canada