Event Information
Refund Policy
Refunds up to 7 days before event
Eventbrite's fee is nonrefundable.
We all know that road salt is bad for our beloved Speed River. But what about that seemingly invisible source in our basements?
About this Event
Water softeners can compete with volumes of road salt that we pour into our rivers. The added salt is bad enough, but these softeners also mean we use more water to operate them. All of this impacts our environment including climate change.
Water softeners are seen by many as an almost necessary piece of household equipment in Guelph. They provide several real and perceived benefits, but come with a few drawbacks.
What are we to do? ... Lots.
Learn how you can cut your salt use by up to 60%, benefit our rivers, fight climate change and save money
Steve Gombos, from the Region of Waterloo, will illustrate how softeners work, how softeners contribute to chloride pollution in Region of Waterloo waterways, show us different types of smart water softeners and conditioners available to homeowners and the smart way to soften efficiently to save water, salt and money.
Steve Yessie, City of Guelph Water Department, will discuss the Guelph perspective of household softener use, the benefits and challenges of water softeners, as wells as ways to reduce related water and salt use.
Salty Softeners, Salty Rivers
Wednesday , Nov. 18, 2020
7:00 PM - 8:30 PM
Our presenters will lead a discussion on reasons for softening your water, types of water softeners, salt-saving alternatives, and answer your questions.
_______________________________________________________________________
Join us as we host: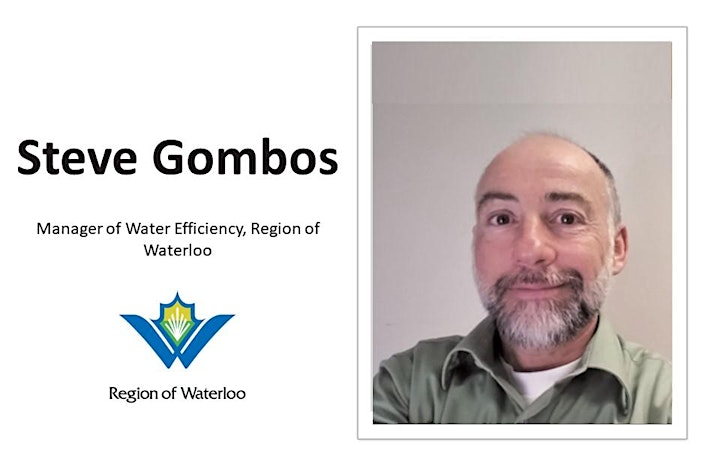 Steve Gombos| Manager of Water Efficiency, Region of Waterloo
Steve Gombos helps conserve the Region's vital drinking water for the future, while also helping people reduce water consumption today. Steve has served on the Board of Directors for the Alliance for Water Efficiency, and as Chair of the Ontario Water Works Association Water Efficiency Committee. Steve has authored numerous articles for trade publications related to water efficiency, waste management and the environment. He frequently provides topical presentations to international, national and local audiences.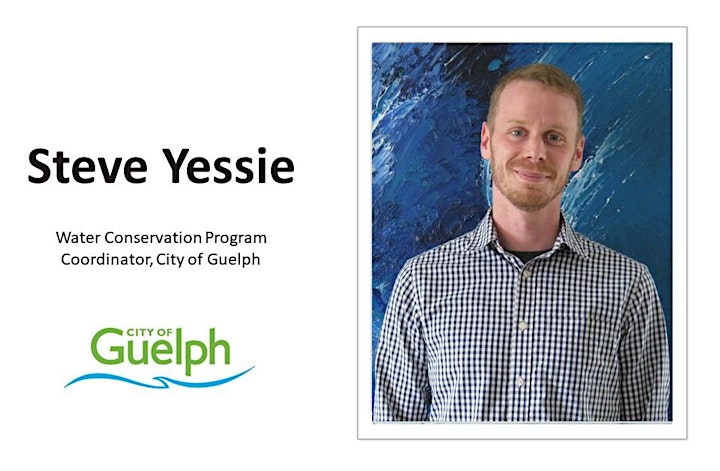 Steve Yessie| Water Conservation Program Coordinator, City of Guelph
Steve Yessie has worked in the sustainability field for the past 7 years. In 2018 he joined the Water Conservation and Efficiency team with the City of Guelph. In his role at the City Steve coordinates the Multi-Residential Water Audit and Water Sub-Meter Rebate programs. In addition to these programs he focuses much of his time toward community education. This finds Steve leading tours of the local Water Services facility and in front of classrooms at schools across the City discussing source protection, conservation, efficiency and best practices related to water.
_____________________________________________________________
This is a pre-registered event. To simplify the process we're asking you to register via Eventbrite so that we can do a better job of keeping track of registered candidates.
There are three ways to register: paid, free or donation.
$5 ($7.14 including all fees) for each event
Free
Donation of your choosing
As you can imagine, the pandemic has brought challenges to eMERGE. If you are able to afford it, we would appreciate you purchasing a ticket for at least $5 - or a donation in an amount of your choosing. (note that we are a not-for-for-profit - , but not a registered charity. As a result we are unable to provide tax receipts).
We also want this event to be accessible to everyone. For this reason we also have a 'Free' ticket for those of you that may not be able to afford the ticket price.
_____________________________________________________________
The sponsors of this event:

_____________________________________________________________

_____________________________________________________________

Date and Time
Location
Refund Policy
Refunds up to 7 days before event
Eventbrite's fee is nonrefundable.