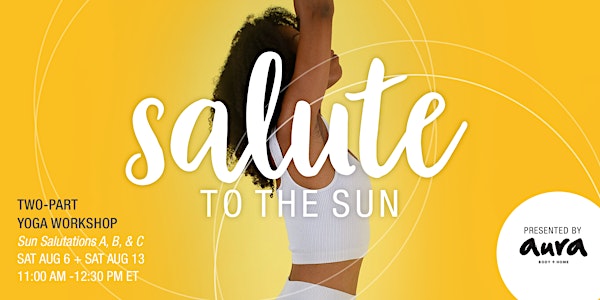 Salute to the Sun: Two-Part Yoga Workshop
​​A two-part Saturday workshop to learn three traditional yoga pose sequences and ways to customize them for your very own personal practice
Refund Policy
Contact the organizer to request a refund.
Eventbrite's fee is nonrefundable.
About this event
Hosted and facilitated by Erica Gittens of AURA BODY+HOME, together we'll deconstruct and practice three traditional yoga pose sequences known as Sun Salutations (Surya Namaskar) over two Saturdays virtually on Zoom from 11:00 AM - 12:30 PM ET (90 minutes).
Part 1: Sat August 6 - Sun Salutation A&B [Completed] ✅
Part 2: Sat August 13 - Sun Salutation C (or Classical)
Translated to Salute to the Sun in Sanskrit, Surya Namaskar sequences work to build heat, strength, and mindful awareness of our breath and body in motion.
​​Each workshop will begin taking a look at the sequence(s) for the day from the provided Salute to the Sun Guidebook (PDF), a warm up, and progressive practice introducing poses one at a time until we can repeat rounds of the sequence to feel and remember the rhythm of the flow.
A detailed agenda will be provided to registered participants.

​​​​Intention
​​To learn the basic foundation and name of poses (in English and Sanskrit)
​​To equip you with three sequences to create your own yoga practice and knowledge of how to personalize them for your body.
​​To encourage your continued practice with the Salute to the Sun Guidebook (PDF) featuring each sequence, pose by pose, and options.
​​To empower you to lead your own private practices, be your own teacher
Who Can Attend
​​​​​All are welcome! Whether you are new to yoga, have an interest in deepening your knowledge of poses and flows, or are looking for a way to get into (or back into) a regular personal practice.
Workshop Registration Options
As this is intended as a two-part workshop, proceed to checkout to register for the Full Two Part Workshop which includes the Salute to the Sun Guidebook (PDF) sent a day before the first workshop.
With Part 1 completed, you can still sign up for Part 2 this coming Sat Aug 13. Proceed to checkout to see the only option for Single Workshop. Guidebook is not included in this single day registration.
If interested in gaining access to the recording of Part 1 and the Salute to the Sun Guidebook (PDF) please contact Erica (facilitator).
Microphones, Video, and Sound
To ensure participants can hear, to reduce distractions, and in consideration of those who may watch the recording, it is asked that all microphones be muted during the workshop. The facilitator will be available for questions or for you to share any concerns 15 mins before and after the session.
Having your video on is recommended to support the facilitator to watch out for your safety and towards building a space for community. Video on is not mandatory. During practice, instrumental music may be played in the background.
Livestream Recording
This is a virtual event held over zoom that will be recorded. Each session will be recorded and available to registered participants for 48 hrs to re-watch or to watch later if you are unable to attend live.
Only the speakers will appear in the recording. Therefore, should you share your voice during the recording, you consent to being recorded. An email will be sent within an hour of a completed workshop with info on how to access the password protected video.
What you'll need/tips
Yoga mat or fitness mat for padding
Wearing comfortable, stretchy, or loose clothing is recommended
Blanket to pad knees (optional)
Yoga blocks or books to place hands on for support (optional)
Strap, scarf or resistance band (optional)
Best to eat after the session
Have water handy
About the Facilitator
Erica (she/her) is a Toronto-based mindfulness artist and founder of AURA BODY+HOME for Yoga, Meditation, and Mindfulness. Through movement and stillness, Erica creates imaginative, mindful experiences to support the connection of mind and body as an act of self-love. Erica is a 500-level yoga facilitator with continuing education in Yin Yoga and Restorative Yoga.
Learn more about Erica and AURA: