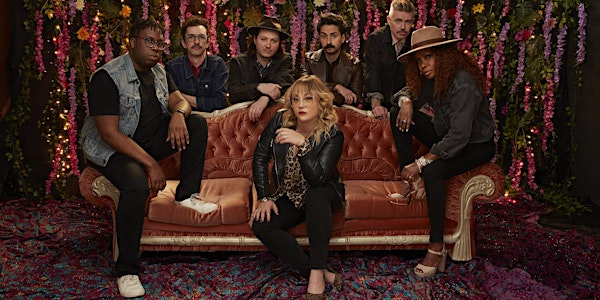 Samantha Martin & Delta Sugar
Ages 19+
Mills Hardware Presents
Samantha Martin & Delta Sugar with guest Mattie Leon — Live at Mills Hardware!
When and where
Location
Mills Hardware 95 King Street East Hamilton, ON L8N1A9 Canada
Performers
Samantha Martin & Delta Sugar
About this event
With the worldwide pandemic wrecking utter havoc upon the careers of many musicians, Samantha Martin & Delta Sugar elected to release the astonishingly powerful, funky and deeply soulful The Reckless One in November 2020. Samantha Martin & Delta Sugar's debut release, 2015's Send The Nightingale, was a stripped-down affair consisting of Martin, her two co-singers, and two guitars. For 2018's Run to Me, Martin elected to augment the core of Delta Sugar's gospel-infused harmonies with a full rhythm section, piano, organ and an ever-so-soulful horn section. The Reckless One continues in the same trajectory, further expanding the palate of sounds with vibes, mellotron, Wurlitzer, Hammond and Farfisa organs plus strings. Send the Nightingale was a stunning achievement which was regularly featured on the CBC, topped the blues charts on Stingray radio and propelled the group onto the stages of all the major Canadian festivals and clubs. Continuing to build on the group's steam rolling momentum, in 2019 Run To Me garnered another four Maple Blues nominations, a Juno nomination and paved the way for Samantha Martin & Delta Sugar's assault on European club and concert stages. A dynamic front woman, she possesses a stunning voice that is capable of summoning up tidal waves of spine-tingling emotion in one instance while delicately bringing out the nuances of a gut-wrenching lyric in the next. A torrid force of nature, night after night she takes audiences to emotional peaks while leaving them stunned with her sheer pin-you-against-the-wall power.

While Martin is a powerhouse unto herself, the vocal alchemy of Delta Sugar is not the work of a single talent. In combination with what she likes to term her "co-vocalists," the vocal blend that Delta Sugar produces is pure, unadulterated gospel-tinged, neuron-tingling magic where the sum is even richer than the already soul-melting parts.
Instagram | Facebook | Twitter | Spotify | Apple Music
•
A craftsman with a guitar, Hamilton singer/songwriter Mattie Leon refuses to leave the past behind. His sensibilities are informed by the songwriting of the '60s and '70s. His voice, whether soaring or soulful, is his own. The result is a fresh take on a classic form; familiar but unmistakably new. Mattie is no stranger to the road. He's brought his music to stages across Canada, from the Atlantic to Pacific coasts. At his side is Mike Leon, Mattie's drummer and longtime collaborator. Together, they've become a captivating example of the unique thing that happens when siblings perform together Mattie worked with JUNO-award winning producer, Gavin Brown, on his recent LP, In Natural Light (released April 2021 on Inside Pocket).
Instagram | Facebook | Spotify | Apple Music