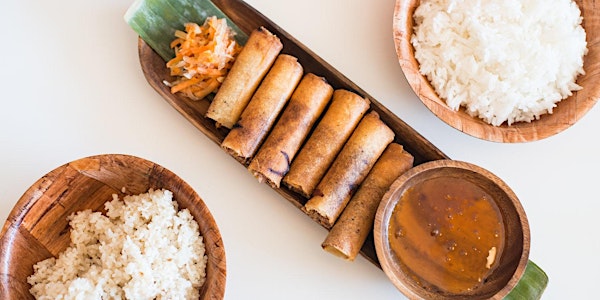 San Miguel Beer Presents Dishing Up Toronto™: Kain Na! A KULTURA Passport
Description
San Miguel Beer presents Dishing Up Toronto™: Kain Na! A KULTURA Passport Experience
CAN'T WAIT FOR KULTURA? GET A TASTE BEFORE THE FESTIVITIES! PRESENTED IN PARTNERSHIP WITH THE TORONTO WARD MUSEUM AND THE CULINARIA RESEARCH CENTRE, DISHING UP TORONTO™ WILL TAKE YOU ON A TOUR OF TORONTO'S NEWER FILIPINO FOOD SPOTS!
San Miguel Beer presents Dishing Up Toronto™: Kain Na! A KULTURA Passport Experience in partnership with the Toronto Ward Museum and the Culinaria Research Centre. This unique passport-style program will highlight three Filipino restaurants in Toronto to give a deeper understanding of Filipino food, culture, and the diverse diasporic communities that have established themselves across the city. Your hosts, Joyce and Nastasha, want to share the deep passion the Filipino community has for food, how central it is to the Filipino experience, and how it binds community and identity. Over a casual dinner, our goal is to open conversations about Filipino food in Toronto - how it's grown, where it's going, and flavours from the Philippines we're excited to share with the city. Each night, we combine a performative storytelling experience with stimulating conversation, and of course, great food. You will also be introduced to a special guest speaker from one of the participating restaurants and we will go beyond the story of the Filipino diaspora: how many Filipinos left their homeland in search of a better life for themselves and their families, and what it was like for those to grow up in a country where their culture was not reflected anywhere but at home, in the food lovingly prepared by their parents. The special guest will share their experiences as a Filipino-Canadian working in one of the most risky industries, food, and together we will explore the ever-growing landscape of Filipino cuisine in Toronto.
Each dinner will be accompanied by a tasting of San Miguel Beer!*
PARTICIPATING RESTAURANTS

LASA by Lamesa (634 St Clair Avenue W)
Monday, July 24th, 2017 from 6-8PM
Tito Ron's (Wong's Ice Cream, 617 Gerard Street East)
Tuesday, August 1st, 2017 from 6-8PM
Dolly's Mojito Bar (1285 Bloor Street W)
Tuesday, August 8th, 2017 from 5-7PM
HOW IT WORKS

Each event will cost you $25 to attend! Your passports can be picked up at your first destination (LASA by Lamesa).
Visit all three destinations and receive one free dish at your final destination: the KASAMA Tent at Kain Kalye: Filipino Street Eats at Daniels Spectrum (August 13th, 2017)!**
To complete your passport and to be eligible to win one case of San Miguel Beer***, you must visit the KASAMA Tent and drop off your passport at the San Miguel Beer Patio!
What if I can't make it to all of the dinners?
No problem! You can sign up for just one or two dinners without the pressure of having to attend all of them!
YOUR HOSTS
Joyce Voegler is an emerging arts professional committed to creating inclusive spaces for emerging artists, community arts, and arts-based education. Although blessed with a European-trained chef as a father, the dish she finds most comforting is not his Filet Mignon, but the Sinigang soup prepared by her Lola. Since joining Kapisanan Philippine Centre for Arts & Culture last summer, Joyce has learned to embrace and speak about her roots as a young Filipina, and that one of most powerful ways to tell her story is with food. Through this tour she hopes to reach back and share stories of Filipinos in her community yearning to explore their roots and foster pride in the dishes they grew up eating.
Nastasha Alli writes about food culture and hosts a podcast called "Exploring Filipino Kitchens", where she talks to chefs, home cooks, farmers, educators and everyday people about food in and from the Philippines. Her writing has been featured in NOW Magazine and The Filipino Food Movement. Visit her at nastasha.ca and say hello on Twitter or Instagram!
---
ABOUT THE 12TH ANNUAL KULTURA FILIPINO ARTS FESTIVAL

Energized by cultural pride and a progressive outlook on the Filipino-Canadian experience, KULTURA has captivated the broader Toronto public for over a decade with its innovative programming of live performances, traditional and modern cuisine, curated interactive art installations and a bustling marketplace.
ABOUT THE TORONTO WARD MUSEUM

The Toronto Ward Museum is a community-engaged museum that facilitates the preservation and sharing of personal stories of migrants in Toronto's history. We utilize collaborative processes to identify community needs and opportunities, then use those insights to create programming that promotes empathy and curiosity between storytellers, community members and the larger public. The museum also creates forums for dialogue relevant to migration, citizenship and pluralism within an urban context. Finally, we act as a catalyst in community initiatives and forge partnerships between individuals, communities, and organizations toward our collective empowerment.


ABOUT CULINARIA

Culinaria is a University of Toronto Scarborough initiative bringing together students and faculty in partnerships with community organizations and other institutions. The Culinaria Research Centre is interested in the cross-disciplinary engagement with the meaning, practice, and ongoing evolution of global cuisine. To learn more about the Culinaria Research Centre's activities and its members, please visit our site here.
---
*Dinner attendees must be over the age of 19 years to claim their drink.
**To claim your free KASAMA dish (their $3 competition item), visit the Kapisanan Booth at Daniels Spectrum on August 13, 2017 to pick up your voucher.

***Contestants must be over the age of 19 years to be eligible to participate in the draw.