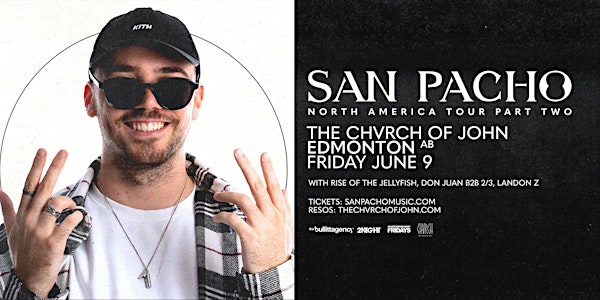 SAN PACHO Spring 2023 Tour - FRI JUNE 9 at The Chvrch of John [Edmonton]
Ages 18+
The Chvrch of John presents
SAN PACHO - FRIDAY JUNE 9 LIVE at THE CHVRCH OF JOHN [Edmonton]
Date and time
Fri, 9 Jun 2023 21:00 - Sat, 10 Jun 2023 02:00 MDT.
Location
The Chvrch of John 10260 103 Street NW Edmonton, AB T5J0Y8 Canada
About this event
5 hours

Ages 18+

Mobile eTicket
The Chvrch of John presents
SAN PACHO (Croatia)
[SINK OR SWIM/ TERMINAL UNDERGROUND]
THURS APRIL 6
[EASTER LONG WEEKEND]
w/ support from
RISE OF THE JELLYFISH
DON JUAN B2B 2/3
&
LANDON Z
xxxxxxxxxxxxxxxxxxxxxxxxxxxxxxxxxxxxxxxxxxxxxxxxxxxxxxxxxxxxxxxxxxxxxx
TICKETS & BOTTLE SERVICE AVAILABLE AT
www.thechvrchofjohn.com
Doors 9pm. Tickets on sale Thurs Feb 16 at 11am . https://SanPachoChvrch.eventbrite.ca
xxxxxxxxxxxxxxxxxxxxxxxxxxxxxxxxxxxxxxxxxxxxxxxxxxxxxxxxxxxxxxxxxxxxxx
Basement . 10260 103 St NW . Edmonton. AB.
BIO
SAN PACHO
[Croatia]
Born and raised in Croatia, San Pacho is quickly ascending the throne of tech house throughhis boundary-pushing production style. Heavily influenced by house music during hisadolescence, San Pacho was on a mission of creating his own project and making beats.This developed into a deep passion for electronic music, as he was watching live streamsand being influenced by acts such as Skrillex, Diplo, and Dillon Francis... Pacho's productionskills rapidly grew. Eventually, Pacho was noticed by superstar Tchami and the two got intouch.
In April of 2019, Pacho delivered his debut single on Tchami's prominent labelConfession.Working on his craft since then, Pacho's releases are commonly incorporated with genressuch as tech house and club house, all of which hits a sweet spot that is hard to directlydescribe. Top-tier artists like Chris Lake, Tchami, DJ SNAKE, SIDEPIECE, and dozens ofother staple DJs started giving him an approval that his sound is actually on point and thusthey were supporting it. Though rare, his remixes are always eye and ear-catching and theycommonly reach hundreds of thousands, if not millions of plays around the globe.
Notable 2021 chart-topping hit "La Pasion", a collaboration with fellow countrymanMatroda, was Pacho's introduction to the masses as it has received major worldwide radio,festival, and club support. 2022 has also started off properly for Pacho as he made a debuton legendary deadmau5's imprint hau5trap with "Pieces Of Me". Just a few months later,Pacho returned to hau5trap with his house heater "Pride".
Another amazing project from Pacho is his Mixtape "The Vault". The groovy compilationimmediately garnered attention from his fanbase, known for Pacho's selection of his owninfectious unreleased music. Showing no signs of stopping, Pacho has continued his streakof high-quality club music with "Elektro" - a self-released track that the big league playersthemselves, such as Tiësto Club Life, Diplo's Revolution, and many more, had to play intheir radio show.
Following up viral sensation "La Pasion", Pacho's 2022 "Amor" has turned the heads of fansall around the globe, slowly rising to become an even bigger hit for him. Both "Elektro" and"Amor" were the first solo Beatport chart toppers for Pacho, with "Amor" even reaching atop 10 spot on the renowned tech house chart. Not to mention his latest jaw-droppingsingles "Trompeta", "Voy", "Party People", and "Tequila".
Through exponential growth, Pacho has surpassed 20 million streams on Spotify alone, withover 800k monthly listeners. The producer and DJ has recently become a symbol of hopeand inspiration to young artists, via his "Unlock Yourself" mindset. With his debut tour setfor take-off in November, industry figures are watching San Pacho and he's refusing to wastea second of the opportunity bestowed on him.