Description
A Shared Table invites you to our first Sunday Dinner Pop-Up: "SANKOFA," an evening inspired by the FOOD + STORIES + ART of the African diaspora!
Together we'll explore the beauty of culture and the power of human connection over a delectable and authentic, family-style Ghanian meal.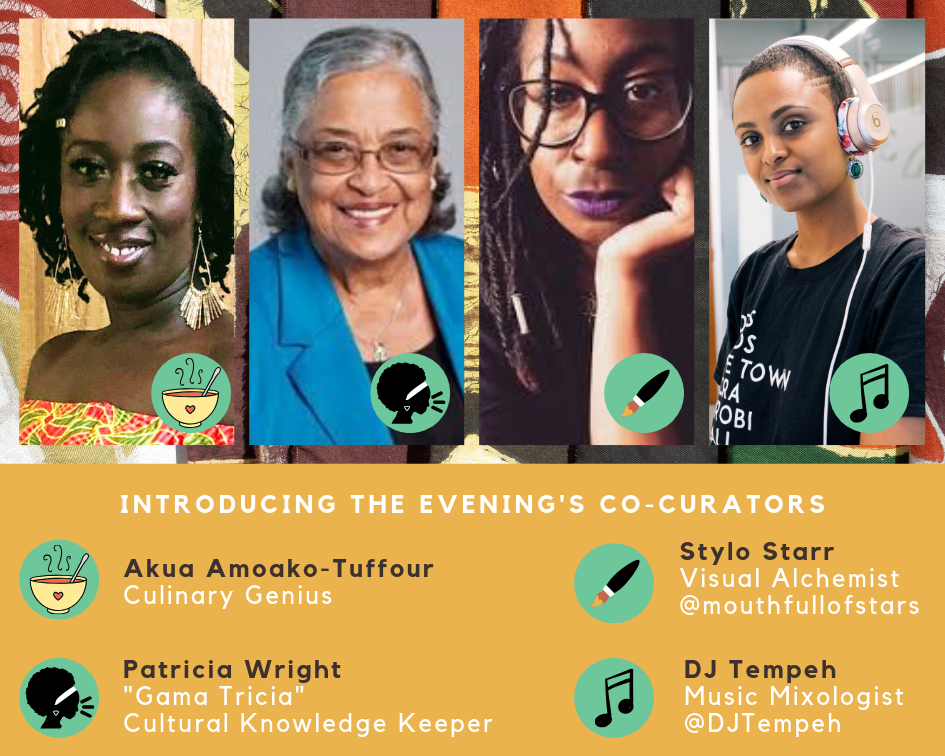 See you around the table,
Bernadette Arthur
Owner and Chief Experience Officer
---
Event Ethos
A Shared Table events centre IBPOC (Indigenous, Black, Persons of Colour) people, is Trans/Queer inclusive, and is welcome to all who are willing and able to be welcoming to all.*
---
FAQs
How does the Sunday Dinner Pop-up work?
We invite Hamilton's traditional and non-traditional, "amateur" and professional cooks, storytellers, and artists to co-curate an evening of human connection with us. These are beautiful humans who hold and practice their indigenous communities' cultural arts and are willing to share those gifts with others.
We then convene a table that's open for all. Our "guests" participate in co-curating the evening by engaging and connecting what they see, hear and feel, with their own cultural narratives. We emphasize the practices of mutuality and reciprocity as a means of holding vulnerable space that promotes authentic participation, connection and belonging.
What should I expect at the event?
We aim to design a fun night of meaningful human connection. You will have the opportuntity to eat authentic and delicious cuisine, listen to stories, and engage with various forms of artistic expression. Each event will be unique, because of the unique mix of beautiful people who attend. You can participate as little or as much as you like, all we ask is that you come with a posture of openness and curiosity.
A Shared Table events offer a space of ...
Presence - where we seek to see, hear and be with each other;
Practice - where we practice radical hospitality, mutual reciprocity and authentic belonging;
Play - where we allow our whole selves to practice fun, curiosity and spontaneity; and
Possibility - where we use our imagination as a guide for helping us consider what could be.
If I'm racialized as white or don't identify with a specific race can I attend?
Absolutely! We intentionally CENTRE the voices, experiences and personhood of IBPOC (Indigenous, Black, Persons of Colour), but it is not to the exclusion of anyone else. All people who are willing to contribute to maintaing our event ethos, are invited to the table.
Event Ethos
A Shared Table events centre IBPOC (Indigenous, Black, Persons of Colour) people, is Trans/Queer inclusive, and is welcome to all who are willing and able to be welcoming to all.*
Why are A Shared Table events IBPOC (Indigenous, Black, Persons of Colour) centred?
We intentionally CENTRE the voices, stories, experiences and personhood of IBPOC people, because we want to increase the number of community spaces that racialized minority people have to authentically share their narrative and cultural arts. We do this in recognition of the fact that IBPOC people in Hamilton have traditionally experienced barriers to contributing to the overall cultural landscape of the City. Our events offer an opportunity for all of us to divest from the dominant narratives that centre white Anglo-Saxan culture, so we can begin to imagine and practice what it means to live in an intercultural, inclusive community.
What should I wear to the event?
Whatever you feel comfortable in. Casual attire works, but wear what makes you feel comfortable.
Do I need to bring anything?
Yes! Bring your whole and entire self.
There will be the opportunity to support the work of the co-curators by purchasing their products. If you are in a position to, bring funds so that you can tangibly support local artists that are producing beautiful, culture shaping work.

I'm shy, introverted or have social anxiety, should I attend?
You are welcome and there's a place around the table for you. Participation at A Shared Table events is by invitation and not force. The event is meant to connect people together, but that happens based on each person's terms and comfort levels.
Are children welcome to attend the event?
We recommend finding alternative arrangements for the evening for little persons over the age of 1. Stay tuned, because A Shared Table plans on hosting a child-friendly and focussed Sunday Dinner Pop-up in 2020.
What are my transportation/parking options for getting to and from the event?
The venue, the Perkins Centre, is located on the northeast corner of Kenilworth Ave. N. and Main St. E. It is easily accessible by public transportation. There is free parking in the lot at the back of the venue (off Crosthwaite Ave. N.) that should be able to accommodate all of our guests. In the event that the parking lot is full, street parking is free on Sundays.
Is the venue accessible?
The venue, the Perkins Centre, is a clean, safe and wheelchair accessible environment. Please contact us directly at info@asahredtable.ca if you require any accommodations.
Do I have to bring my printed ticket to the event?
We are trying to have a paperless event. If possible, please present your e-ticket at the door.
Is it ok if the name on my ticket or registration doesn't match the person who attends?
Yes, please just send us an email to inform if there will be any changes. Please note that we will only be able to make changes to meals if we are informed of the change 72 hours in advance of the event.
How can I contact the organizer with any questions?
We'd be happy to hear from you! Please email us at info@asharedtable.ca and we'll return your contact within 24 hours.
* adapted from the Mystic Soul Project website. Check out their amazing creative and healing work, which has inspired the way A Shared Table seeks to hold space.