Event Information
Refund policy
Contact the organizer to request a refund.
Eventbrite's fee is nonrefundable.
Join me for two 1.5 hours live coaching sessions where we will take all your knowledge and turn it into a One-Page "Advocacy Bomb!"
About this event
Do you find you have to regularly self-advocate or advocate on behalf of somebody you are supporting for essential day-to-day supports across many settings?
Do you feel exhausted by the constant educating and advocating you must do to ensure that you or the person you support is fully included in the world and think "there must be an easier way"?
What if I told you there was a resource that you could create that would take all the information that you wish to convey to the world around you or the person you support, and no matter what the setting, the person reading it would immediately understand how best to support you or the person that you are supporting?
Then you are in the right place!
One-Page Profiles are brief, well-articulated, single-page insights into who a person is, what their strengths are, and how to support them in different environments – a snapshot of their current support needs.
One-Page Profiles articulate a person's character and are developed by involving those closest to them to help identify their strengths, challenges, and support needs in order to flourish in a particular environment.
One-Page Profiles aren't intended to express a person's likes or dislikes, rather, they outline what is important to and for that person.
One-Page Profiles are NOT diagnosis dependent. Although we all strive for a diagnosis, it does not change the content of a One-Page Profile because we are not our diagnoses nor do our diagnoses determine the supports we as individuals need to be included in society.
The single most important support intervention is the one that is specific to that person, that captures appropriate and specific support strategies for them and combined with their identified strengths, empowers them to be autonomous, independent, and successful across all settings.
This is what a One-Page Profile can do and it is within your grasp with a little help from me, Sarah.
_____________________________________________________________________________
I am Sarah, a teacher, a wife, a mother, and an advocate for my 12-year-old daughter Hannah. I have used One-Page Profiles for many years to advocate for Hannah's inclusion and I truly believe in the power of One-Page Profiles.
Join me for two 1.5 hours live coaching sessions, where we will take all the knowledge that you have and turn it into a One-Page "Advocacy Bomb" for you or the person you support!
THIS IS FOR YOU IF:
• You are advocating in the medical, employment, education, preschool, or daily living systems.
• You have a visible disability, invisible disability, mild/moderate disability, and/or complex needs.
• You are neuro-typical.
The One Page Profile Project is for EVERYONE
The first time we meet, we will dive deep into the vision, purpose, and creation of the One Page Profile.
When we meet again the next week, we will have the foundation and framework from collaborating with others and we will use it to flesh out and perfect the One-Page Profile you wish to create first, whatever the setting and whomever it is for.
At the end of the 2 sessions, you will have completed your One-Page Profile. You will also be provided with access to custom One-Page Profile templates so you can visually tailor its look to suit the personality of its owner.
I am so excited to share the wealth of knowledge I have gained from creating and utilizing One-Page Profiles while advocating for Hannah and I know that you will not be disappointed by investing in this project and joining me in the parent momentum.
Sarah xoxo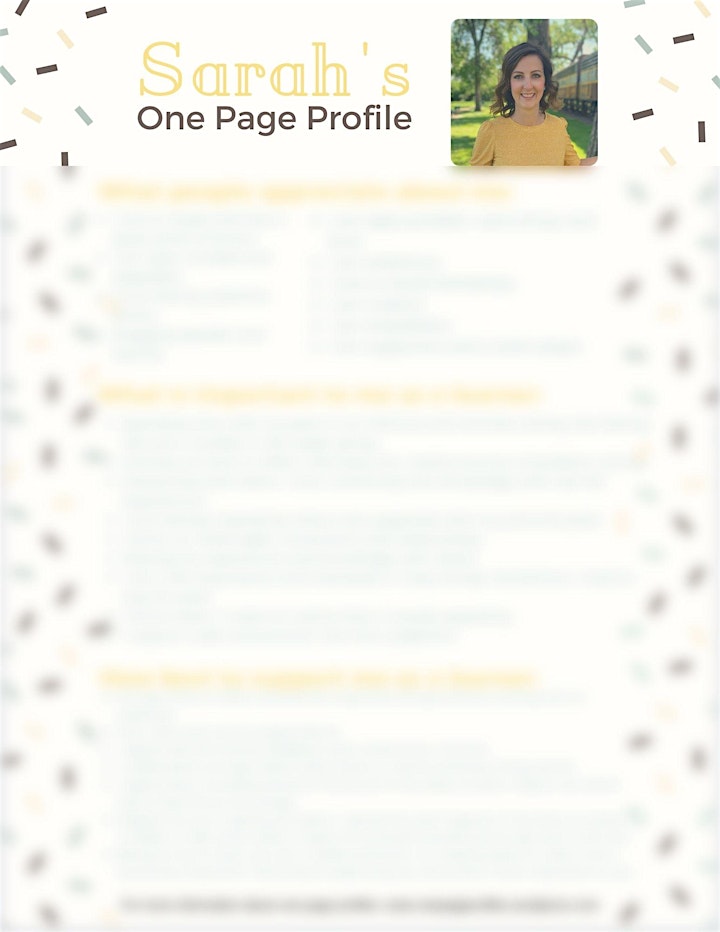 Date and time
Location
Refund policy
Contact the organizer to request a refund.
Eventbrite's fee is nonrefundable.