Join us in celebrating a year of Sarisha Beauty! Let's kick off summer with music and skin care!
About this event
Join Jacqueline, the founder of Sarisha Beauty, in celebrating a year of business & the release of our new Green Goddess Glow Oil!
We'd like to invite you to our Toronto Summer Launch Event & Pop Up
The juiciest kick off to a beautiful summer:
Date: June 23rd 2019
Location: Juice, 426 Ossington Avenue, Toronto
Time: 3-5 pm
DJ: Chuck Woodward
Photographer: Candace Cosentino
DJ & Photographer
DIY natural beauty workshop (while supplies last)
Contouring & highlighting
Goodies to be won
If you'd like to support the event's theme, come dressed in your favourite shade of green!
*In addition to the celebration, we are looking to promote Sarisha Beauty and our new Green Goddess Glow Oil. All we ask is that you show up, enjoy the event and post your experience on Instagram by tagging us (@sarishabeauty), while using the geotag for the event space Juice Toronto. We also ask that you mention the launch of the Green Goddess Glow Oil. This is a 19+ event.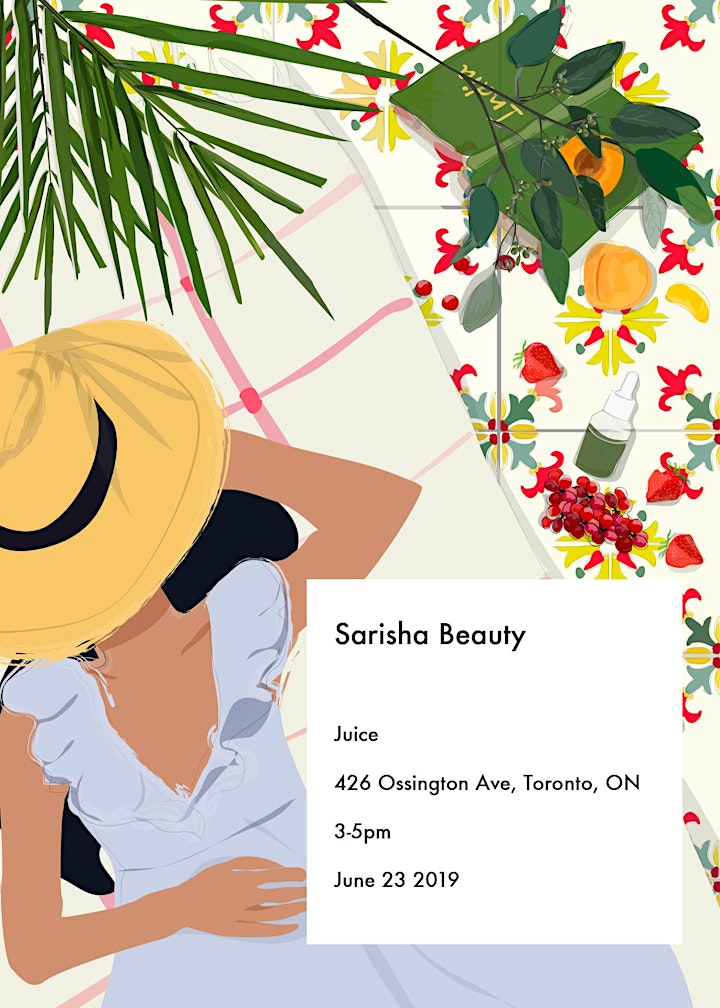 Organizer of Sarisha Beauty- Summer Launch Event & Green Beauty Pop Up
Sarisha Beauty was created to solve the problem of not finding affordable, gentle, plant-based and travel-friendly formulas to use during trips abroad and while living a busy city life back home. Sarisha means charm and elegance in Sanskrit, a name that fits our brand and the feeling we aim to create. 
A fusion of French simplicity and ancient Indian beauty traditions. The process of creating and testing formulas began in 2016 and in 2018 the brand was finally shared with the world. Inspired by a fusion of my Indian roots and my partner Grégoire's French roots, SARISHA offers formulas that are simple to understand and implement into one's daily routine. By using natural and plant-based ingredients that go back to ancient rituals, we aim to slow down time and offer a chance for customers to focus on their self-care, even if just for a few minutes. 
Art & Design: Through our love for travel, beauty, art and health, we have created a line of natural yet effective formulas that are easy to use and that are adaptable to different environments and climates. We strongly believe that natural formulas should still look and feel luxurious. Our graphic designer Dasha puts effort into creating beautiful designs that are minimalistic yet still incorporate our personal style. Our line of coconut & soy wax candles is a beautiful addition to the aesthetic of one's home. The scents are composed of non-toxic, paraben-free & phthalate-free fragrance oils and essential oils. They are inspired by travel and cities that we love. 
GREEN: All of the ingredients used in our formulas are plant-based and cruelty-free. We package our products in paper, never using plastic. We strongly believe that in order to achieve progress, one should not have to sacrifice their own health. Living a plant-based lifestyle is a huge part of who I am and this brand is an extension of my beliefs. I ensure that the ingredients I use are certified cruelty-free and sourced through sustainable circumstances.