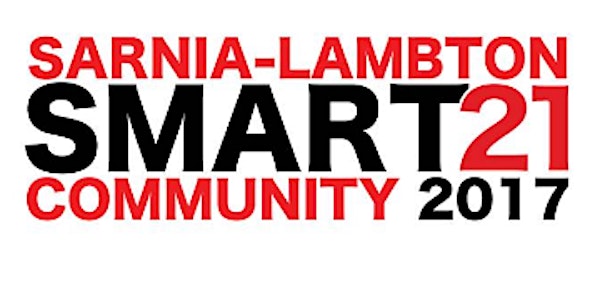 Sarnia-Lambton Intelligent Community Breakfast
When and where
Location
Sarnia Lambton Research Park 1086 Modeland Road Sarnia, ON N7S 6L2 Canada
Description
The Sarnia Lambton Intelligent Community team consists of members from education, public and private sectors all working together with the common goal of building a smarter and more connected community.
In seeking the highest possible Intelligent Community Forum designation, we are creating new opportunities that could benefit everyone in our community. Having been recognized globally as a Smart 21 community in both 2016 and 2017 we are building the momentum, support and collaboration that will last for years to come.
We are hosting this event to educate and collaborate further with leaders of the community.
---
AGENDA
7:30 am - Hot Breakfast
8:00 am - What is the Intelligent Community Forum and why should you care?
Guest Speaker: John Jung
8:15 am - The value of Open Data
Guest Speaker: Kevin Tuer
8:45 am - About Sarnia-Lambton ICF initiative
9:00 am - Open discussion Q&A

---
John Jung
ICF Chairman and Co-Founder
Former President and CEO of several of Canada's largest economic development organizations such as in Toronto (GTA), Calgary and the Waterloo Region, John is also a former urban planner and developer in several cities, especially on their waterfronts and in their city-centers. John's extensive global exposure leading hundreds of international investment attraction delegations and city evaluations, and writing and delivering keynote addresses globally on behalf of ICF have helped to raise awareness of the Smart City and Intelligent Community movement, now involving over 160 Intelligent Communities around the world. John is also helping to develop national organizations such as ICF Taiwan and ICF Institutes in several locations in North America, Europe and Asia. In Canada, John is helping ICF Canada to develop as a national non-profit to assist Canadian ICF members in their quest as Smart21 and Intelligent Communities.
Kevin Tuer
Managing Director, Canada's Open Data Exchange (ODX)

Kevin Tuer is Managing Director of Canada's Open Data Exchange, a national initiative launched in May 2015 with a mandate to help the private sector adopt and commercialize data from public and private sources for the purpose of enhancing their current products or creating new products. Previously, Kevin was the founding Managing Director of the Canadian Digital Media Network (CDMN), a federal Centre of Excellence for Commercialization and Research, which is dedicated to establishing Canada as a world leader in Digital Media by enabling connections and collaboration of people across the country and bringing more digital solutions to market.
Sponsored By: