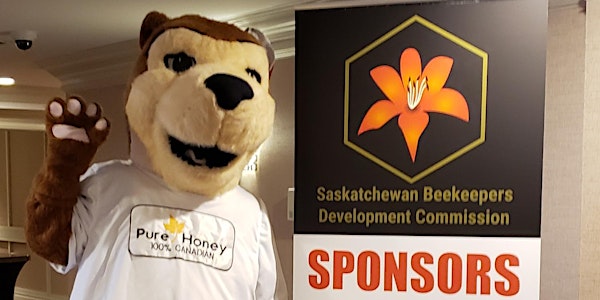 Saskatchewan Beekeepers Development Commission 2022 Convention & AGM
SBDC presents " Bee Health & Sustainability" and the 2022 Annual General Meeting
When and where
Location
Delta Hotel by Marriot-Downtown Saskatoon 405 20th Street East Saskatoon, SK S7K 6X6 Canada
Refund Policy
Contact the organizer to request a refund.
Eventbrite's fee is nonrefundable.
About this event
Thursday December 8, 2022
Welcome – Nathan Wendell – SBDC PresidentPresentation by WCVM Honey Bee Health Research Lab Moderated by Dr. Sarah Wood & Dr. Elemir Simko
1. Emergence and spread of oxytetracycline-resistant Paenibacillus larvae acrossSaskatchewan- Oleksii Obshta and Michael Zabrodski
2. Development of quantitative PCR method for the rapid quantification of Paenibacilluslarvae spores in pooled, extracted honey- Muhammad Fahim Raza
3. Are adult worker bees asymptomatic carriers of European foulbrood? – MidhunSebastian Jose
4. Oxytetracycline, tylosin, and lincomycin can protect honey bee larvae fromoxytetracycline-resistant Melissococcus plutonius isolates – Fatima Masood
5. What factors drive European foulbrood disease in honey bee colonies pollinatingblueberries? – Jenna Thebeau and Ivanna Kozii
6. Is Fumagillin-B effective against Nosema ceranae colony infections after fall treatment?Insights of a one-year field study- Sarah Biganski
7. Comprehensive investigation of pesticides in honey, pollen, bees and soil collected fromcanola fields in Saskatchewan- Marcelo Polizel Camilli and Sofiia Markova
8. Histopathology as a risk assessment tool for gonadotoxicity in honey bee drones- MarinaBezerra da Silva
9. Serving Saskatchewan Beekeepers as Research Chair in Pollinator Health– Sarah WoodInsect issues in 2022 and forecasts for 2023 in Saskatchewan - Dr. James Tansey – Provincial Specialist -Insect/Pest, Government of Saskatchewan
Bee Health and Sustainability Session -1
TBA - Dr. Meghan Milbrath, Assistant Professor, Department of Entomology, Department of Entomology College of Agriculture & Natural Resources, Michigan State University, East Lansing, MI, USA
Saskatchewan (SK) Honey Bee Health Plan: Enhancing Bee Best Management Practices for European Foulbrood (EFB) Disease. Dr. Medhat Nasr – SBDC Tech- Adaptation Program
Saskatchewan Crop Insurance Corporation (SCIC) - Presentation and Q&A
Pesticide Survey of Beebread Samples Across Different Crop Regions in Saskatchewan – Dr. Renata Raina-Fulton (Presenter), Iman Salehi (Presenter) and Murray Belyk, University of Regina , Department of Chemistry & Biochemistry
Queen Storage - Maggie Lamothe Boudreau Les Apiculteurs et Apicultrices du QuébecSaint-Adrien d'irlande, Quebec
Foraging and Pollinating Abilities of Honey Bees– Graham Parsons – Pollinator Biosecurity Specialist, Government of Saskatchewan
Friday December 9, 2022 - 8:30 a.m.
Sponsored by ADOPT Program &Strategic Funds Projects8:30 Vita Bee Health Products in Canada.
9:00 Keynote Speaker: The mind of a Bee. DR. Lars Chittka, Professor in Sensory and Behavioural Ecology, School of Biological and Behavioural Sciences, Queen Mary, University of London, UK.
9:45 Effects of exposure to agrochemicals during development on the reproductive health of honey bee queens and drones. Dr. Juliana Rangel, Associate Professor of Apiculture, Department of Entomology, Texas A&M University, College Station, TX, USA
11:00 Queen Production in Saskatchewan: Quality Matters - Dr. Medhat Nasr – SBDC Tech-Adaptation Program
11:30 Lessons Learned from Four Years of Research on Amitraz Resistance in VarroaDestructor. Dr Frank Rinkevich, Research Entomologist at the USDA-ARS Honey BeeBreeding, Genetics, and Physiology Laboratory in Baton Rouge LA, USA.
1:15 Apivar (Amitraz) Resistance in Saskatchewan ----– Geoff Wilson – Provincial Specialist in Apiculture, Government of Saskatchewan, Prince Albert, SK
1:45 Annual General Meeting• Financial Presentation• Provincial Apiculturist Report- Geoff Wilson – Provincial Specialist in Apiculture, Government of Saskatchewan, Prince Albert, SK• Director's Report• Election• Election Results
5:00 Day Session Ends6:30 Open Bar and Banquet
Saturday December 10, 2022 8:30 a.m.
8:30 Biosecurity Course: Geoff Wilson and Graham Parson
10:00 Coffee Break – Sponsored by: Ridgedale Coop
10:30 Varroa General info: Geoff Wilson
10:45 Options and how it works - Medhat Nasr & Hard Chemical – Geoff Wilson
11:00 Keeping Healthy Bees: Management of Varroa, Nosema and Foulbrood – Open Discussion(Geoff, Sarah, Graham and Medhat)
12:00 Day Session End