Save Our Sudbury Car Rally - Sauvons Sudbury rallye d'auto
About this event
Join us in a car caravan to show your support for the students, faculty, and workers that make Laurentian University great. Decorate your car with signs and flags and join students, faculty, staff, workers, and concerned community members as we come together to show the provincial government how important Laurentian University is to the people, economy, and cultural community of Sudbury.
Following a safe and slow drive through the city, we will convene in our cars for speeches from those who are directly affected by the potential dismantling of Laurentian University and to demand the province #FundLU.
Join us to show your support and to demand public funding and a public recovery.
---------------------
Joignez-vous à nous dans une caravane pour montrer votre soutien aux étudiants, aux professeurs et aux travailleurs qui font de l'Université Laurentienne ce qu'elle est. Décorez votre voiture avec des enseignes et des drapeaux et joignez-vous aux étudiants, aux professeurs, au personnel, aux travailleurs et aux membres de la communauté touchés par les derniers développements alors que nous unissons nos forces pour montrer au gouvernement provincial à quel point l'Université Laurentienne est importante pour la population, l'économie et la communauté culturelle de Sudbury.
Après une promenade lente et sécuritaire à travers la ville, nous nous réunirons dans nos voitures pour les entendre les discours de ceux qui sont directement touchés par le démantèlement potentiel de l'Université Laurentienne et pour exiger la province à #FinancerULaurentienne.
Joignez-vous à nous pour montrer votre soutien et réclamer un financement public et une reprise publique.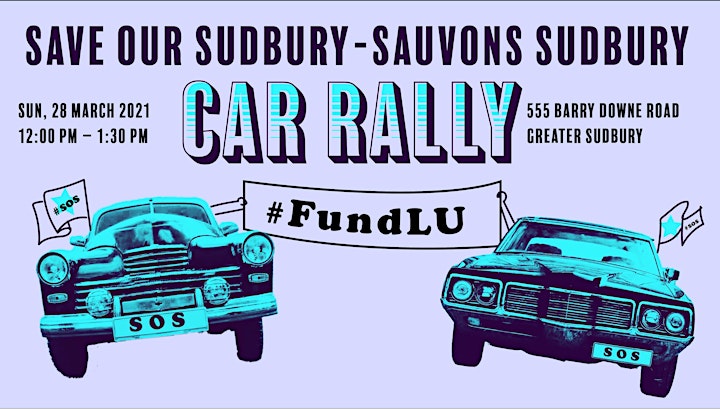 Organizer of Save Our Sudbury Car Rally - Sauvons Sudbury rallye d'auto