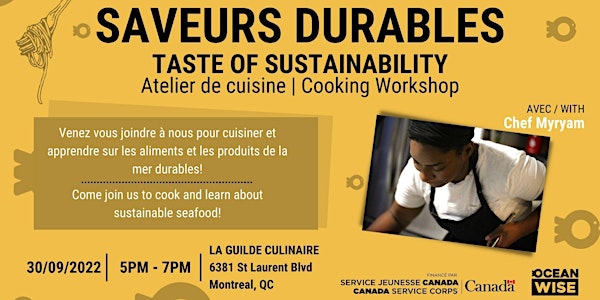 Saveurs durables / Taste of sustainability
Saveurs durables / Taste of sustainability
When and where
Location
Culinary Guild 6381 Boulevard Saint-Laurent Montréal, QC H2S 3C3 Canada
About this event
Le vendredi 30 septembre 2022, Ocean Wise organise un atelier de cuisine afin de sensibiliser les montréalais aux défis auxquels l'ocean est confronté.
Nous vous invitons donc à l'atelier Saveurs durables pour en apprendre sur la cuisine et la consommation de fruits de mers durable.
Les participants seront couplés en équipes de 2 personnes, alors invitez un ami pour profiter de cette expérience avec vous!
Sous la direction de Myryam Auguste, food blogger du compte Instagram @Unsuccessful Cookbook, vous allez avoir la chance de cuisiner et déguster un délicieux tartare de saumon et une linguine de crevette. Vous aurez également la chance de rencontrer et d'apprendre après des experts sur les animaux marins! Se joindront à nous sera biologiste Lyne Morissette avec l'expertise en mammifères marins, et Kayla Menu Courey de Ocean Wise Seafood qui nous enseignera sur les systèmes de produits de mer durables.
Nous vous invitons donc à l'atelier Saveurs durables pour en apprendre sur la cuisine et la consommation de fruits de mers durable.
Si vous ne pouvez pas vous y rendre, ne vous inquiétez pas. Vous aurez aussi la possibilité de vous joindre à nous en ligne!
Nous espérons vous voir en grand nombre!
Lien d'Ocean Wise:
https://ocean.org/learn-explore/
Ocean Wise Youth (@oceanwiseyouth) : https://www.instagram.com/p/CiSl1oou8h0/
@Oceanwise @oceanwiseresearch @OceanWiseYouth @LeadersToday, @LeadersAujourdhui @YouthToSea
Lien de The Unsuccessful Cookbook:
https://www.theusuccessfulcookbook.com
https://instagram.com/theunsuccessfulcookbook?igshid=NmNmNjAwNzg=
____________________________________________________________________________
On Friday, September 30, 2022, Ocean Wise youth ambassadors will be hosting a cooking workshop to grow awareness among Montrealers about the challenges facing the ocean.
We therefore invite you to the Taste of Sustainability workshop to learn about sustainable seafood cooking and consumption.
Participants will be partnered in teams of 2, so invite a friend to enjoy this experience with!
Under the direction of Myryam Auguste, food blogger of the Instagram account @Unsuccessful Cookbook, you will have the chance to cook and taste a delicious fish tartare and shrimp linguine. You will also have the chance to meet and learn from experts on marine wildlife! Joining us will be biologist Lyne Morissette with world-renown expertise on marine mammals, and Kayla Menu-Courey from Ocean Wise Seafood who will be teaching us about sustainable seafood systems.
If you can't make it, don't worry. You will also have the opportunity to join us online!
Participants attending the event in-person and online will also get a chance to win a variety of prizes!
Can't wait to see you!
Links to Ocean Wise:
https://ocean.org/learn-explore/
Ocean Wise Youth (@oceanwiseyouth) : https://www.instagram.com/p/CiSl1oou8h0/
@Oceanwise @oceanwiseresearch @OceanWiseYouth @LeadersToday, @LeadersAujourdhui @YouthToSea
Links to The Unsuccessful Cookbook:
https://www.theusuccessfulcookbook.com
https://instagram.com/theunsuccessfulcookbook?igshid=NmNmNjAwNzg=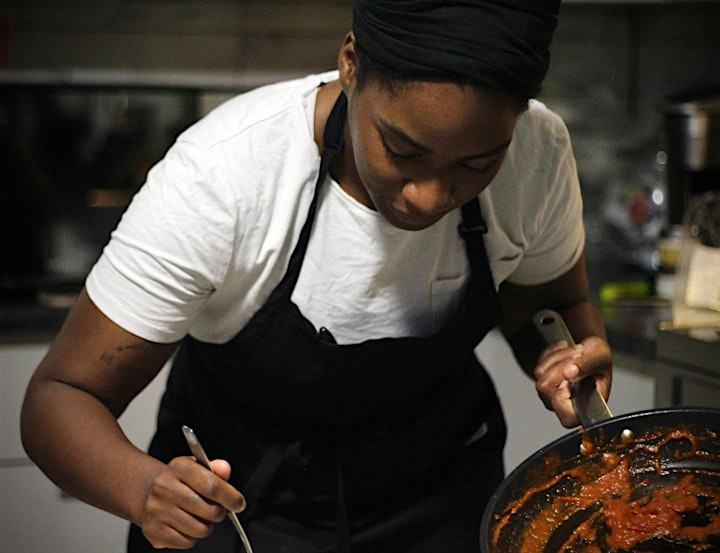 (Myryam Auguste, 22, cook and food blogger)