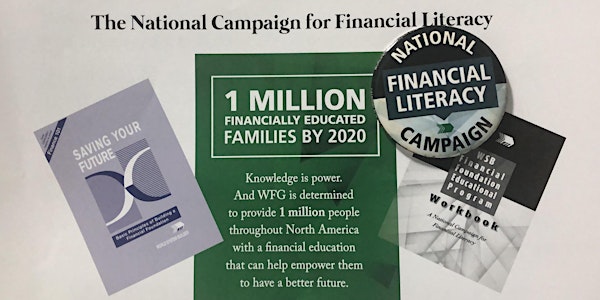 Saving Your Future (Financial Literacy Workshop) Opportunity
Turbulence Times Lead to Solutions For A Stronger Financial Future!
About this event
Uncertainty on the Horizon
THE WORLD IS CHANGING IN UNPREDICTABLE WAYS, AND SO IS OUR FIANCIAL FUTURE!
ERA OF THE INFORMED CONSUMER!
OBSTACLES AHEAD:
Retirment Crisis
Education Crisis
Spending Crisis
As a SOLUTION to the financial crisis, we are coming together as a community to offer a free NATIONAL FINANCIAL LITERACY NIGHT ONLINE via zoom. This is offered as part of our National Financial Literacy Campaign in both the United States and Canada.
We are commited to helping families of all walks of life create a strong financial foundation. Financial Security Is not a Dream. It is a Priority!
WORKSHOPS:
INCREASE CASH FLOW & DEBT MANAGEMENT
BUILDING A STRONG FINANCIAL FOUNDATION & PROPER PROTECTION
BUILDING WEALTH & ASSET ACCUMULATION
RETIREMENT & EDUCATION PLANNING
ESTATE PRESERVATION & WEALTH TRANSFER
OUR MISSION:
TO BUILD AND PROTECT WEALTH FOR FAMILIES. WE WANT TO HELP PEOPLE MOVE FROM FINANCIAL INSECURITY TO FINANCIAL INDEPENDENCE.
If you seriously want to change your life, you MUST fill out information to REGISTER FOR event,
LINK below click:
Or contact Kim @ 604825722 or email kimgiantwsb@gmail.com
Thank you.
This is a Business Environment. Dress: Business Casual please. We look forward to meeting you. Bring a Friend. Share With Friends
SPOTS ARE LIMITED, please book early to secure your spot.
"If you are born poor, it's not your mistake. But if you die poor, it's your mistake."
- Bill Gates