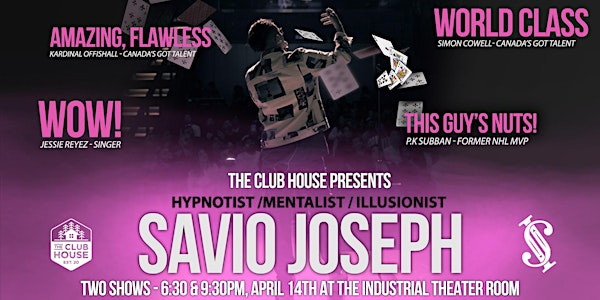 Savio Joseph Live at the Industrial Theatre Room
Join us for a mesmerizing experience by Savio Joseph, master illusionist, hypnotist and mentalist!
Location
100 Kellogg Ln 100 Kellogg Lane London, ON N5W 2T5 Canada
About this event
**Both shows are sold out**
Prepare to have your minds blown and your perceptions altered as the one and only Savio Joseph - finalist on Canada's Got Talent - comes to 100 Kellogg Lane!
Step right up and witness the unbelievable feats of this master of illusion and manipulation. A fun and highly interactive show that contains bits of magic , comedy, and mentalism to provide the audience with the ultimate level of entertainment.
But that's not all - prepare to witness select volunteers be hypnotized and taken on an often hilarious journey. You'll be amazed, confused, and gasping for air from laughing so hard as this master of the art of suggestion takes control of your thoughts and actions, leaving you in a state of awe and wonder.
This isn't your average magic show - it's an immersive experience that will leave you gasping in amazement and begging for more. So gather your friends, family, and anyone else who's up for a wild ride, and come witness the magic and hypnotism of a true master. You won't believe your eyes - or your mind!
Two shows, one night only! 6:30-8pm or 9:30-11pm. Make sure you select the right time for your tickets.
QUICK DETAILS
General admission tickets at $49.00 + HST ($55.37 incl. tax)
Doors open approximately 30 minutes before each show
Free parking
Drink tickets available for purchase - canned beer, wine and well shots
This is an all ages event
General admission tickets and seating are on a first-come, first-served basis, no reserved seating.
For group bookings (10 or more) contact Chrystal at cferguson@thefactorylondon.ca
Additional ticketing fees may apply.
*Please Note: Debit, credit and cash are accepted everywhere. No ATM onsite.
*All tickets are final sale - No refunds are available