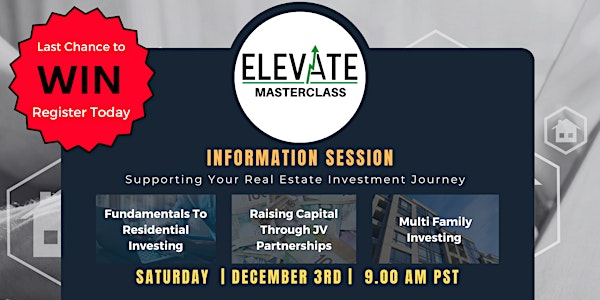 Savvy Investor Presents: Elevate Masterclass Information Session
If you're looking to get started in real estate investing or are serious about scaling your real estate investing business, this is for you!
About this event
For many investors, they are in the beginning and scaling stages of their investing careers and we've had several questions about our popular Elevate MasterClass programs.
We are so excited to relaunch our ELEVATE MASTERCLASS Series which is designed for investors who are looking to get started in real estate or for those that are truly wanting to seriously scale their real estate investing business but are lacking the knowledge/confidence to do so.
We've been asked by so many newbie and seasoned investors about training, so this is why we developed Elevate MasterClass to support those that are looking for guidance in some key real estate investing areas.
Elevate MasterClass is a program series which will be focusing on the following training topics:
Fundamentals To Residential Real Estate Investing (8 Weeks of Live Training)
Raising Capital Through JV Partnerships (10 Weeks of Live Training)
Multi Family Investing (8 Weeks of Live Training)
You will be trained by Michael Ponte who has trained and helped investors in these fields for over 15 years sharing his wealth of real estate investing knowledge by being an investor himself for over 21 years.
To help Elevate our students education, we've recently decided to bring our programs together and teach them in sequential order for some of the best real estate investing training over a 26 week period. This is a game changer as it gives our students the time to absorb the training, use the tools taught in the market while still attending class sessions and most importantly our students come out of the program investing in real estate with absolute confidence.
If this sound like something of interest to you and would like to know more, we will be hosting a live information session to provide more details of our upcoming Elevate MasterClass programs and answer any questions that you may have.
As a special bonus, for those that attend one of our LIVE information sessions your names will be entered into a draw to 1 of our programs (their choice) absolutely FREE!! Again, to be part of the draw, you will need to attend one of these information sessions on either November 24th or December 3rd!