Description
Join us for a free seminar to learn about the importance of small business bookkeeping and scaleUP Accounting, an exciting, new program from the Small Business Centre in partnership with Hawkins & Co. Accounting and Xero.
scaleUP Accounting equips entrepreneurs with the skills to use Xero, a fast-growing cloud-based accounting platform. Xero is perfect for startups and growing businesses of all industries. Receive hands-on training, discounted Xero subscription and 1-year of in-person support. Learn to:

- Create efficiencies in your business
- Use financial data to make wise business decisions
- Keep on top of paperwork, bookkeeping and compliance

why Xero?
ACCESS any place, any device with an easy-to-use interface
AUTOMATION significantly reduce bookkeeping time & effort
INTEGRATION links to a marketplace of 500+ third party apps
Take your numbers from zero to Xero. For more information about scaleUP Accounting, visit our website at windsoressexsmallbusiness.com/scaleup.
---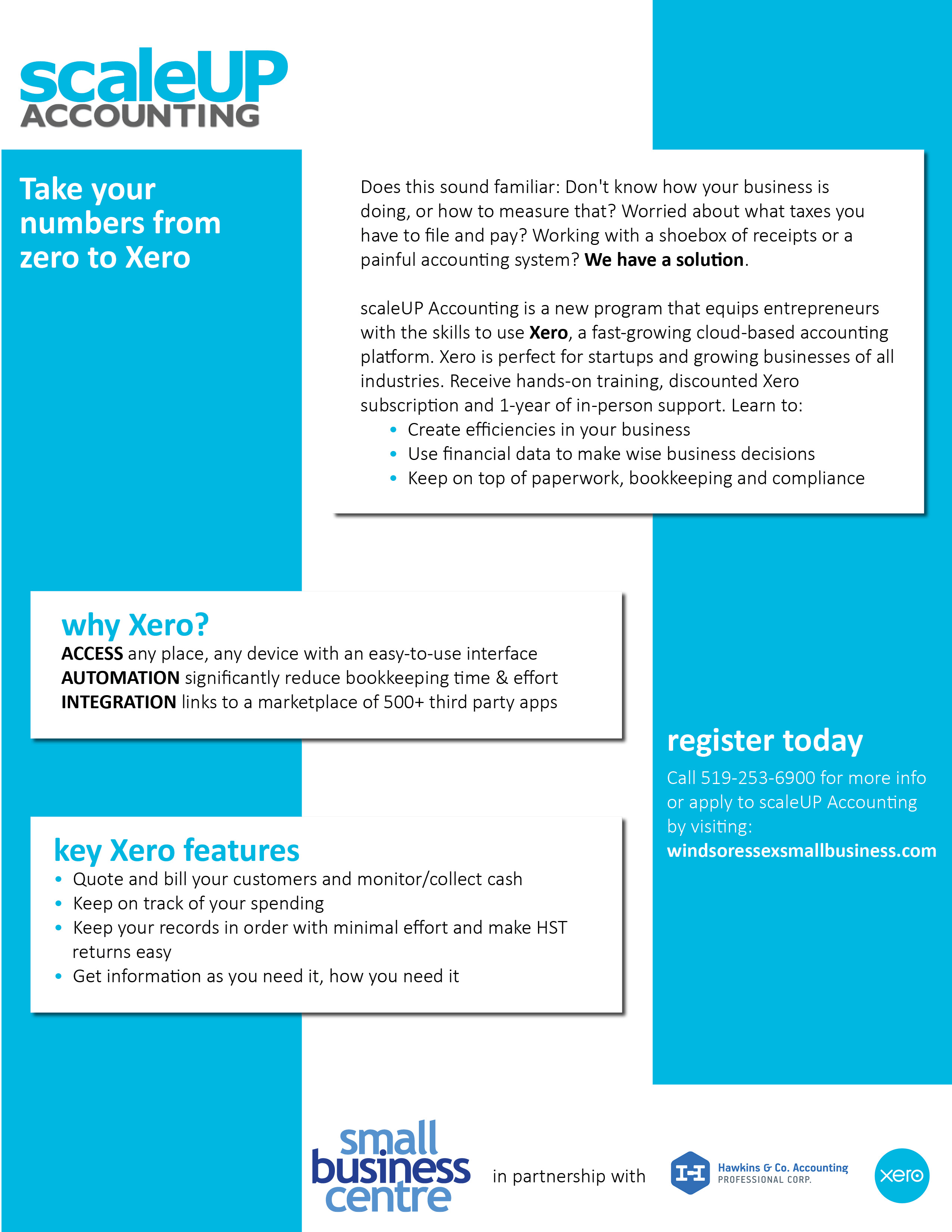 Parking
This session will be taking place at the WindsorEssex Small Business Centre's main office, located at 700 California Avenue. Complimentary parking spots are marked reserved for "GUESTS OF WEEDC and SMALL BUSINESS CENTRE" and are available in Lot EE, south of the Centre for Engineering Innovation, accessible from California Avenue.
NOTE: These spots are subject to availability. It is University of Windsor policy that the WindsorEssex Economic Development Corporation and Small Business Centre are allotted a certain amount of parking spots for its visitors. All other spots are subject to parking tickets from the university. The WindsorEssex Economic Development Corporation and Small Business Centre cannot be held responsible for tickets given in spots not marked for "WEEDC and SBC" guests.
Additional parking is available in the parking garage on Sunset Avenue and Wyandotte Street West (entrance off of Sunset) for $3/hr - payable only by credit card upon exit. As well, there is parking in the lot on Union Street and California Avenue for $2/hr, and metered parking on Wyandotte Street as well as Sunset Avenue, just west of California Avenue. Please see the university's parking map for more information: http://web2.uwindsor.ca/pac/campusmap/pdfs/ParkingMap.pdf